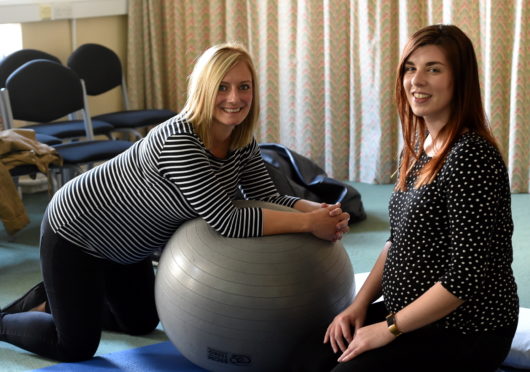 For most women, the thought of labour looming at the end of a pregnancy is something that conjures up images from TV dramatisations – blood, sweat, tears and screaming.
To combat their worries, many have been turning to the practice of hypnotherapy birthing.
Meghan Markle was rumoured to have taken part in classes in the run-up to the birth of her first-born son, Archie.
But the practice is renowned for its high costs – with a full course setting you back more than £150.
However, many north-east mums are no longer dreading the impending delivery of their babies thanks to a team of passionate and dedicated midwives at Aberdeen Maternity Hospital (ARI).
Antenatal relaxation classes, developed between ARI midwives and Robert Gordon University, aim to equip women and their birth partners with an understanding of the connection between a woman's emotional state and the function of the body, particularly during pregnancy and childbirth.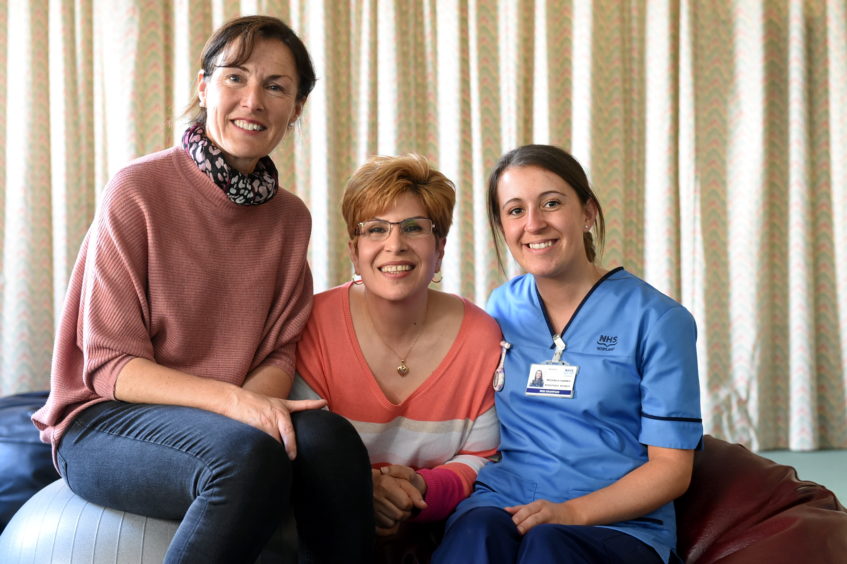 Essentially, the one-off, three-hour session teaches a variety of breathing techniques and birthing positions and helps expectant mothers learn mindfulness so they can listen to their bodies and relax through the birth.
Midwife Geraldine Stevenson has been involved with the classes for several years and many an expectant mother has commended her soft tones on reminding them to breathe, relax and listen to their bodies during the final stages before they meet their baby.
"We've had so many people come to these three-hour classes and not one has ever told us they felt it was a waste of their time," she said.
"It's been really positive and that's why I'm so passionate about it.
"Over the years I've had so many women come back to me after having their baby to share their story and how the classes had taught them how to relax, practise the techniques in advance and made for a calmer birthing experience.
"I have three children myself and there was nothing like this when I was preparing for that – I would have 100% used these techniques had I known about it."
With help from fellow midwife Mo Tabib, more than 2,000 women have taken a place in the warm, darkened and comfortable workshops since their inception in 2011.
And from what I discovered on my visit, it's clear to see why it is popular.
From walking into the hectic and emotional atmosphere of the Maternity Hospital, seeing people dashing about and gleeful faces rushing past you in the corridors, it was a stark change entering a room with calming music playing, curtains drawn and pregnant women stretched out on an array of bean bags, mats, blankets and pillows.
Women more than 28 weeks into their pregnancy can be referred to a session by their midwife, with most north-east expectant mothers being offered a place on one of the free sessions.
One of those who recently took part was 32-year-old HR worker Jessica Nicol, who was 34 weeks pregnant with her first child at the time.
She said: "I was referred on from my midwife who recommended it and I actually feel really empowered by it. The midwives really give you more of a sense that you're in control and prepared for what's to come.
"I will be recommending this to everyone. Some of the best bits were the practical exercises which I can now practise at home, and having the science explained so that everyone can understand it."
Classes have been shaped by existing evidence, adult learning theories and feedback from the ladies who have taken part in the sessions.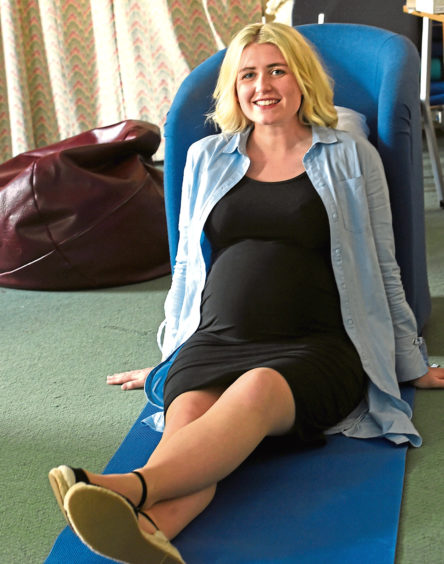 Michaela Harmes got involved after watching others put on the sessions and now conducts them herself – ensuring the classes will continue as the new generation of professionals step into the baby-delivering shoes.
Michaela said: "It's wonderful to see that every class affects the women so much, as it helps relieve their fears, teaching them how to breathe through everything and focus on their body.
"I would definitely love this myself if I was expecting, as people who practise relaxation seem to be more in control, even if they're just focusing on breathing."
Midwives Jordan Cooper and Laura Beattie were both taking part in the session with little ones on the way, and both found that even with years of experience in delivering babies, the three hours were invaluable in learning how to relax and prepare for the most special day of their lives.