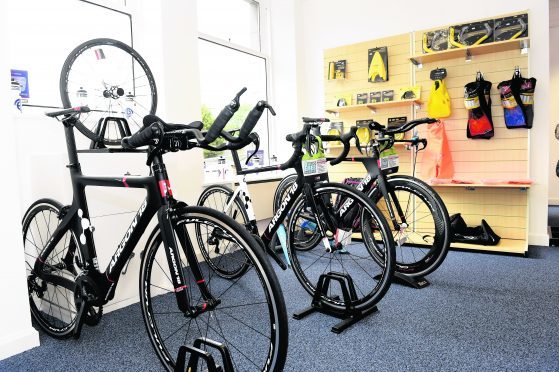 For many years, Ken Bryson had a keen interest in endurance sports. He would cycle, run marathons and duathlons and later progressed to triathlons. To improve his own abilities, he decided to look into getting some qualifications as a coach.
"I first got involved to see how I could get better myself," said Ken, who is now head coach and director of Total Endurance in Bucksburn, Aberdeen.
"So it was a learning process for myself initially but fairly quickly I started getting involved with other people and I saw what you got out of helping other people to develop and improve their performance.
"It developed into helping others rather than developing myself."
In 1994 he started coaching others in cycling part-time, while continuing his career in the oil and gas sector. It was an interest in remote controlled and underwater technology that led him into the energy world and a career spanning 27 years at Subsea 7.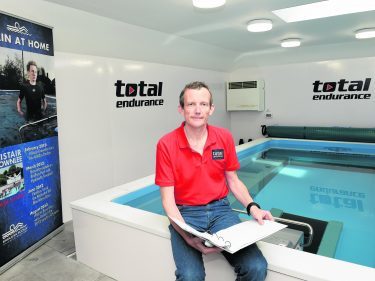 But when he was having to limit the amount of time he could offer coaching due to his full-time job, he began to have dreams of starting his own business.
And then an opportunity arose where he could do just that.
"It had been on my mind that I wanted to coach full-time for a quite a long time but last year I had the opportunity to ask for voluntary redundancy and it seemed like too good an opportunity to miss.
"We opened Total Endurance nine weeks ago, on May 21. It's been exciting, interesting and challenging at times. I guess it's a big decision to make when you have worked somewhere for 27 years but once I made the decision, it was full steam ahead, I just wanted to get on with it.
"I've learned a lot in the past few months but it's exciting."
The new permanent base has allowed Ken to really expand the business, offering services that he really wanted but never had the space to do it.
As well as a retail space selling equipment and clothing for triathlon, pool and open water swimming, cycling and running, it also has an endless pool, which is a bit like a treadmill for swimming.
"So you set up a current and people can swim on the spot effectively," Ken added.
"We do video analysis of swimming in that pool to help people improve their swim stroke and body position in the water. We also have a fitness room where we can do fitness testing for cycling and running and including VO2Max testing, and running gait analysis.
"I've always done a bit of the analysing aspects but we are doing a lot more of it. Part of it is learning what people are interested in and what services people would like."
Anyone can receive help from Total Endurance, from total beginners to those looking to make the sport into a profession.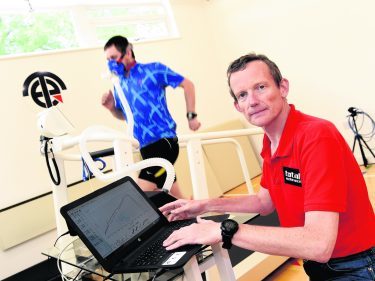 "We cater for all ages and abilities in the sports which we support and I also coach some members of the triathlon Scotland squad members," Ken said.
"We also host training camps and masterclass sessions with groups such as Triscape, led by Aberdeen Olympic swimmer David Carry. We also work very closely with our colleagues at Aberdeen Sports Therapy. They are based at the Total Endurance centre and offer physiotherapy, sports injury rehabilitation and sports massage.
"But everything from outright beginners right through."
Ken has now been joined by another full-time member of staff and one part-time but he's keen to remain very hands on, even as the business grows.
He added: "That was something I really wanted to get back to, something I had lost in the oil and gas industry. I was managing such a big group of people that I wasn't doing anything hands on myself. I wanted to keep the hands on approach in coaching. I don't want to get to the point where I am just managing lots of people.
"I want to be out there doing it. It's great watching people develop, it's very rewarding."
TOP TRIATHLON TIPS
Here are Ken's top tips for those looking to take on a triathlon:
1. Don't wait until you think you are fit enough – enter an event and work towards improving your swimming, cycling and running for your chosen event.
2. Set yourself a goal and write it down. Make it challenging enough that it motivates you to work towards achieving it.
3. Join a Triathlon club. Regardless of your current fitness you'll definitely find others of the same ability who share similar goals to you.
4. Learn to exhale and relax when swimming. The biggest thing holding people back in terms of swimming is a tendency to hold their breath and being unable to relax.
5. Work on your weaknesses. We all like to do the things we are good at but working on your weakest discipline will make a big difference
6. Practice Brick runs (running directly after cycling). This lets you get used to the 'jelly' legs feeling.
7. Find a local event for your first race.
8. Enjoy the process of working towards becoming a triathlete!