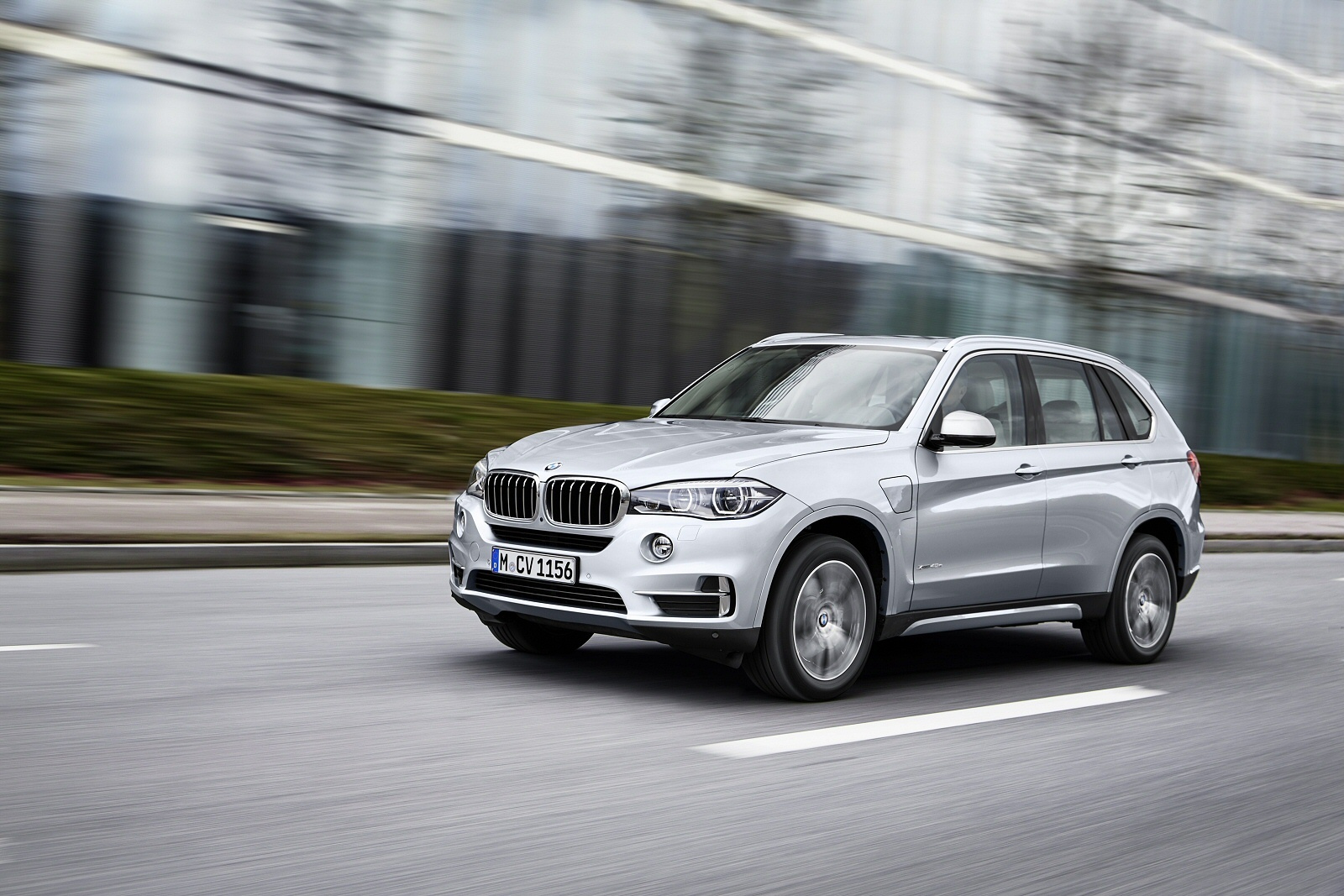 BMW's X5 gets the plug-in hybrid treatment with the xDrive40e.
The engine in this one probably isn't what you expect. It's a 2.0-litre turbocharged four-cylinder petrol unit that makes 242bhp and 258lb/ft of peak torque. It's backed up by an electric motor that's good for 110bhp, with instantly-on torque of 184lb/ft. When combined, these two units will punt the all-wheel drive X5 to 62mph in just 6.8 seconds and on to 130mph. Yes, you can drive in purely electric mode, but here the top speed is limited to 75mph, and short, everyday journeys in urban areas can easily be completed with zero tailpipe emissions. The combined power of the two drive units is deployed by an eight-speed Steptronic transmission with shift paddles on the steering wheel available as an option.
An eDrive button on the centre console lets drivers tailor the powertrain according to their own preferences and situation. When the vehicle is first started, the default AUTO eDrive setting is activated, with both engine and electric motor working efficiently together. The electric motor alone is used for setting off with normal power requirements, while the engine cuts in at around 44mph or when the driver wishes to accelerate a bit more sharply. In this mode, the intelligent operating strategy determines the most efficient drive combination at all times and switches to it automatically. The driver can also switch to the all-electric drive mode setting MAX eDrive, or there's also a SAVE Battery setting, which allows the driver to conserve or build up the high-voltage battery's reserves for later on. There's also a Driving Experience Control switch, which changes between Comfort, Sport and Eco Pro modes. These each have the effect of altering the throttle mapping, the steering characteristics and the responses of the eight-speed Steptronic transmission, as well as the characteristics of the Dynamic Damper Control included as standard.
Equipment levels are generous, with Dynamic Damper Control, self-levelling rear air suspension and a custom climate control system that preconditions the car prior to driving. Other standard features include Xenon headlights, LED fog lights, an automatic tailgate, leather upholstery, heated front seats and 40:20:40 split folding rear seats. You can't specify a third row of seats, but you can option in 'Design Pure Experience', 'Design Pure Excellence' or 'M Sport' packages.
Fortunately, you really don't need to tick too many other boxes on a car that already comes with satnav, a DAB radio, a cruise control system with braking function and BMW ConnectedDrive services, such as eDrive Services providing the driver with charging station details, BMW Online Services and Real Time Traffic Information. I would be tempted to put my hand in my pocket for the Head-Up Display but I could probably manage without Parking Assistant, Night Vision, or either 19 or 20in alloy wheels. The eighteen-inchers that are supplied as standard with the car look just fine.
How economical is the X5 xDrive40e? To be honest, we're not quite sure. That's because the NEDC economy test that normal cars undertake is completely hopeless when it comes to plug-in hybrids. BMW themselves hint at this when stating that undertaking short, urban drives of around 15 miles will see an average fuel economy figure of 94mpg, while long motorway journeys will see that consumption fall to just 25.4mpg. The first figure is largely due to the car being on electric power most of the time: the latter due to it running almost exclusively on petrol power. With that in mind, the official combined figure of 85.6mpg seems faintly ludicrous. The same goes for the carbon dioxide emissions rating of 77g/km, though that will certainly catch the eye of business users with a decent car budget. In comparison, the volume diesel X5 model, the xDrive30d variant, manages a combined cycle fuel return of 47.9mpg and 156g/km of CO2.
The X5 xDrive40e's high-voltage battery offers a gross energy capacity of 9.0kWh and can be topped up with energy from any domestic power socket, from a wall box that has been designed for higher currents, or of course from public charging stations. When hooked up to a conventional domestic power socket, the high-voltage battery can be fully recharged from flat in around three hours and 50 minutes. Get yourself the optional 'BMW i Wallbox Pure' home charging set-up and you'll be able to replenish this car's high-voltage battery at a charging rate of 3.5kW (16 A/230 V). As a result, it'll take just two hours and 45 minutes to fully recharge an empty battery pack. Charging progress can be checked on a graphic displayed in the vehicle's instrument cluster or on a smartphone using the BMW Remote app.
The days when people got a bit testy at your planet-destroying SUV are, to be honest, long gone. Modern diesel-engined and hybrid-motored sports utes have seen to that. While BMW has been good at developing the former, it has lagged with the latter until now. The X5 xDrive40e does all it can. We'd need to get our hands on one for a while to see what sort of 'real world' fuel economy figures it could generate, but the omens look cautiously promising.
Will it ever stack up on the balance sheet better than a diesel X5? That's another question that only real world usage is going to answer. Until we get definitive answers, we'd be wary of ordering this plug-in hybrid. It's clearly going to work really, really well for some buyers while others may find themselves disappointed. Until then we'll just have to dream of a 310bhp BMW SUV that really can average 85mpg.
Facts & figures
Model: BMW X5 xDrive40e
Price: To be confirmed later this year
Engine: 2.0-litre turbocharged four-cylinder petrol unit that makes 242bhp and 258lb/ft of torque
Performance: 0-62mph in 6.8 seconds, top speed 130mph (petrol and electric combined)
Economy: 85.6mpg combined
CO2 rating: 77g/km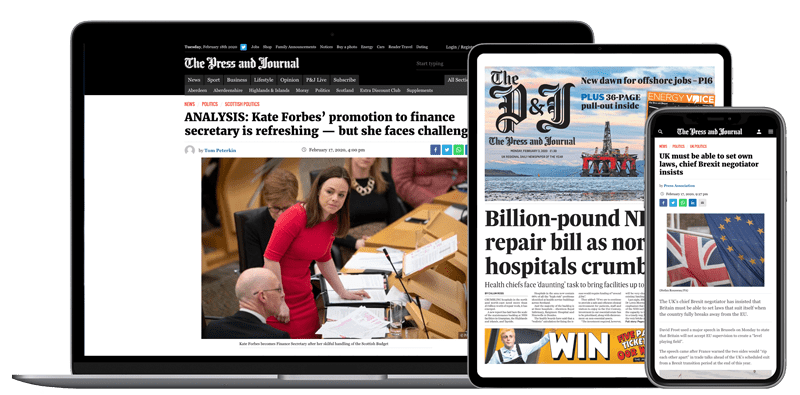 Help support quality local journalism … become a digital subscriber to The Press and Journal
For as little as £5.99 a month you can access all of our content, including Premium articles.
Subscribe