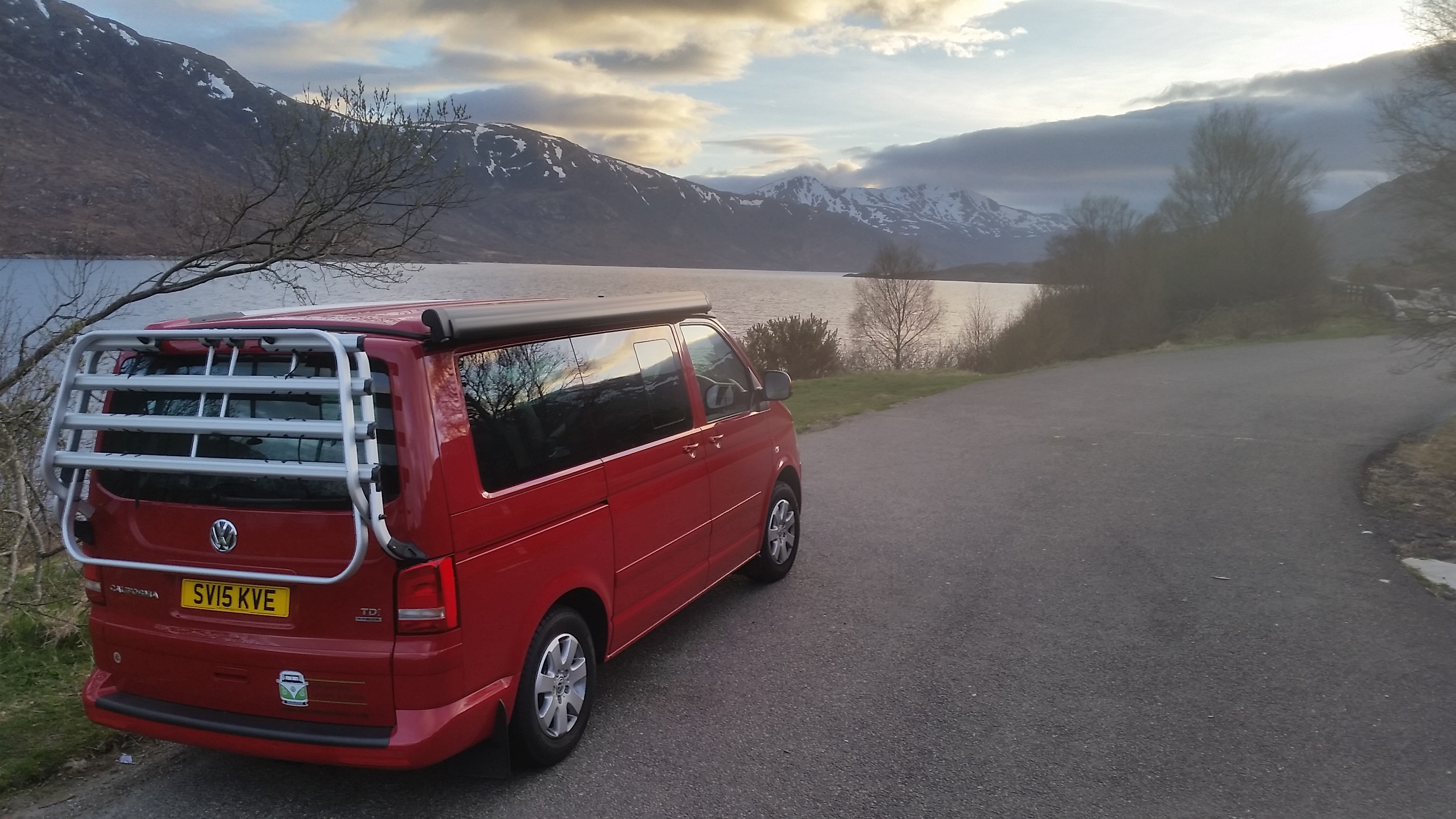 It's one of those hazy, early summer days and we're cruising on a twisting, nameless road on the West Coast.
The sea smells like it does in childhood memories of beach trips and the road is quiet save for a few vintage motors. The perfect holiday road trip. California – I love you.
But my fiancee and I are a long way from the Golden State and Big Sur. Nearly 5,000 miles in fact. No, we're trekking the inlets and sea lochs of Scotland's western shores in a luxurious campervan – the Volkswagen California.
When I volunteered for a week's holiday in a VW campervan I was expecting something vintage, the sort of mini motorhome so beloved by the 60s flower power brigade and modern day Glastonbury enthusiasts. How wrong I was.
When we arrived at John Clark Motor Group near Aberdeen airport early one morning to collect the machine, we were led through the garage (which in fact did house a vintage bug) to a state-of-the-art new California.
With more bells and whistles than a travelling one man band, the maroon camper was in all honesty better equipped than my house. It took the team from the showroom more than 30 minutes to give us the guided tour.
The California sleeps four people across two levels, has an extendable awning and camping chairs, and a fully kitted out kitchen space with fridge, running water and two gas hobs.
It was only then that it dawned on me how daunting the prospect of backing out of the car park was – let alone touring the B-roads of the Scottish wilds. I had never driven an automatic, never manoeuvred anything larger than a hatchback and certainly never been in control of a 3.5L engine.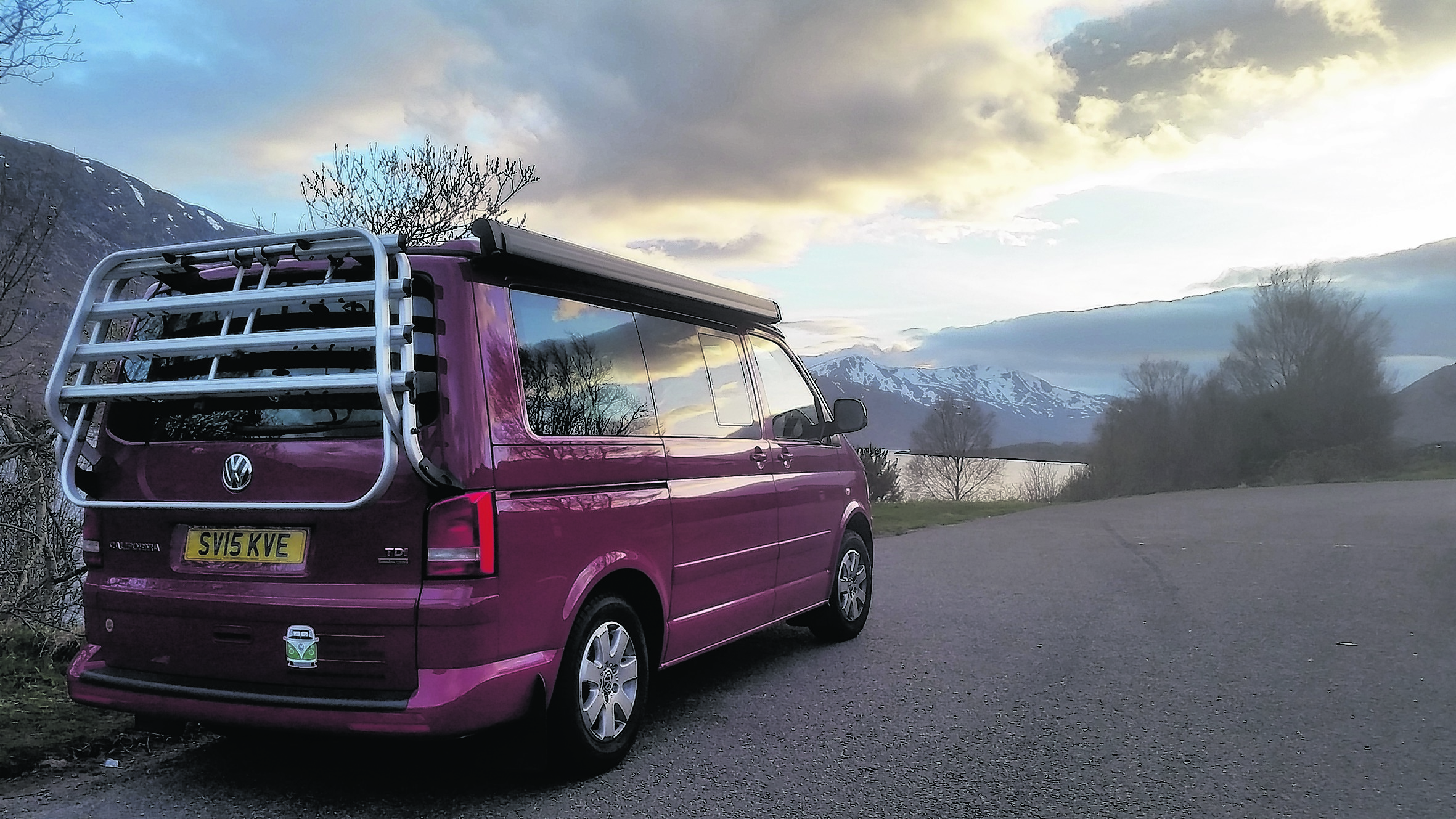 But once again my preconceptions proved misconceived. Driving the California was easy, smooth, and relaxing.
To be behind the wheel was a treat. In any other unfamiliar vehicle the prospect of traversing Aberdeen's Haudagain roundabout would have proved treacherous.
Not so in the California, and after an administrative snafu which would later sadly cut the trip short by two days it was not long before we had hit the open road.
Though I pitched the whole idea to my fiancee as a holiday, I also intended to push the California hard and find out if its luxury and comfort had a limit.
Scotland seemed like the perfect testing ground – around one fifth of the size of the California's namesake, it was quite conceivable that we could travel all terrains in the five days
we were given.
I've always wanted to set off on an east to west coast American road trip. What better practice than a tour of our homeland in the California.
All road trips have a few prerequisites without which the journey would lose some of the adventurous magic: a battered road map, snacks galore and – of course – a mix tape.
The gummy bears, crisps and lemonade certainly proved invaluable on a journey during which I spent a total of nearly 40 hours behind the wheel.
The map and mix tape, less so. With a built-in satnav and digital radio more advanced than Apollo 11 there was more than enough kit to keep us happy and on course.
From Aberdeen we headed north to Peterhead for a visit to the Press and Journal's district office and Scotland's most easterly point.
From there, onwards to Elgin, Inverness and finally Ullapool where we set up camp overlooking Loch Broom and spent an evening sipping cider in the famous Ceilidh Place.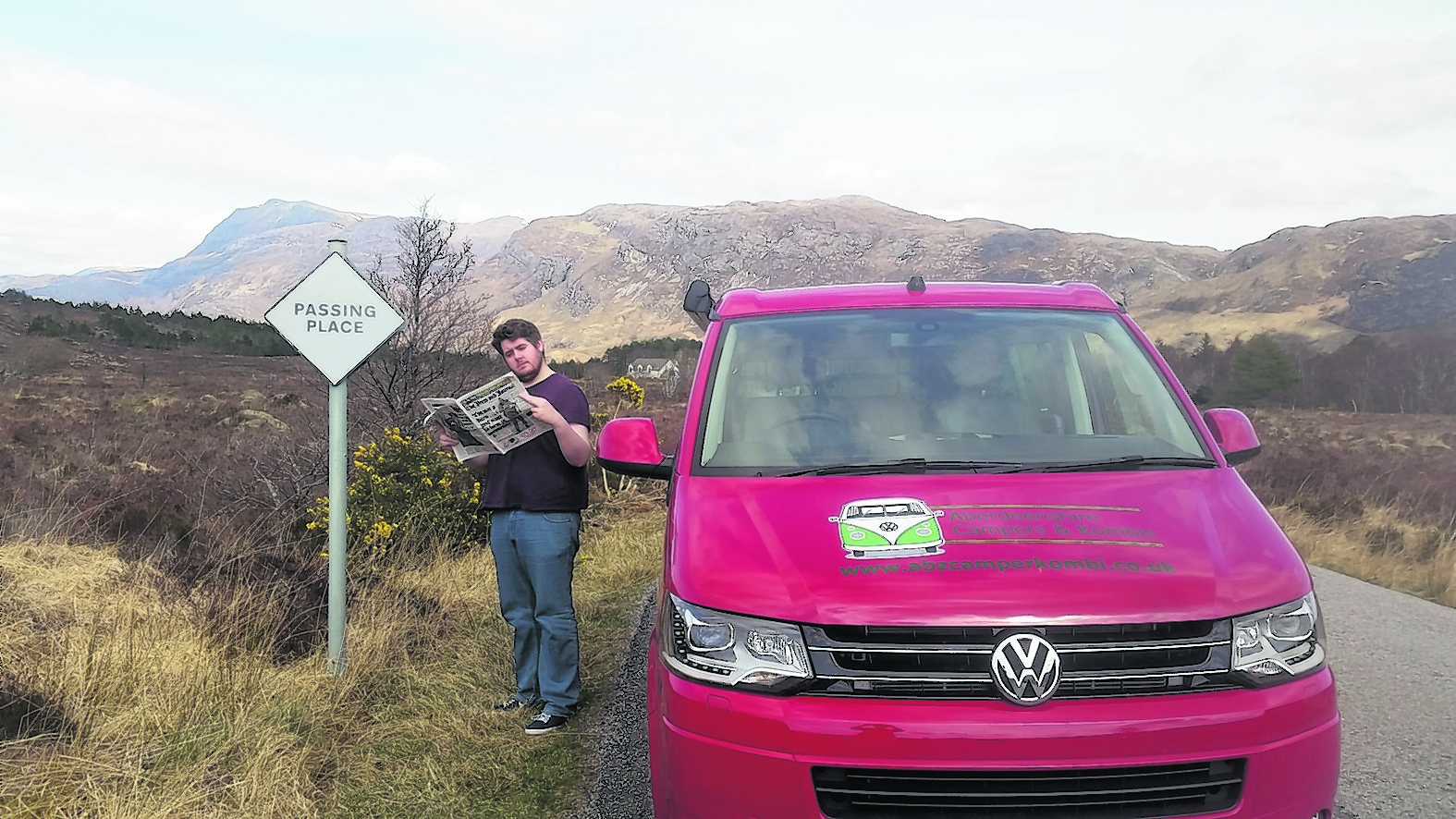 Upon our return the transformation from van to camper – with an elegant origami of folding furniture – proved easy even in our worse-for-wear state.
What's more, the California comes equipped with a separate diesel heater which can be left on over night without endangering the battery life. And as a final flourish – Volkswagen have added a remote control for the heater to the key.
Out for a hill walk? Hit the button from as far as a mile away and return home to a cosy camper.
From Ullapool we headed south, bound for Applecross and Scotland's most dramatic road.
The twisting 11-mile ribbon of Tarmac that clambers from sea level into the clouds and back down again to the quiet shoreside village is an adventure all of its own and the finest place to test the California imaginable.
Dramatic warning signs herald the start of the climb – "NOT ADVISED FOR LEARNER DRIVERS, LARGE VEHICLES OR CARAVANS".
Could the California do it? You bet it could. We meandered up narrow hairpins which would not look out of place in the Swiss Alps, all the while with the Mamas and Papas cheering California Dreamin' from the stereo.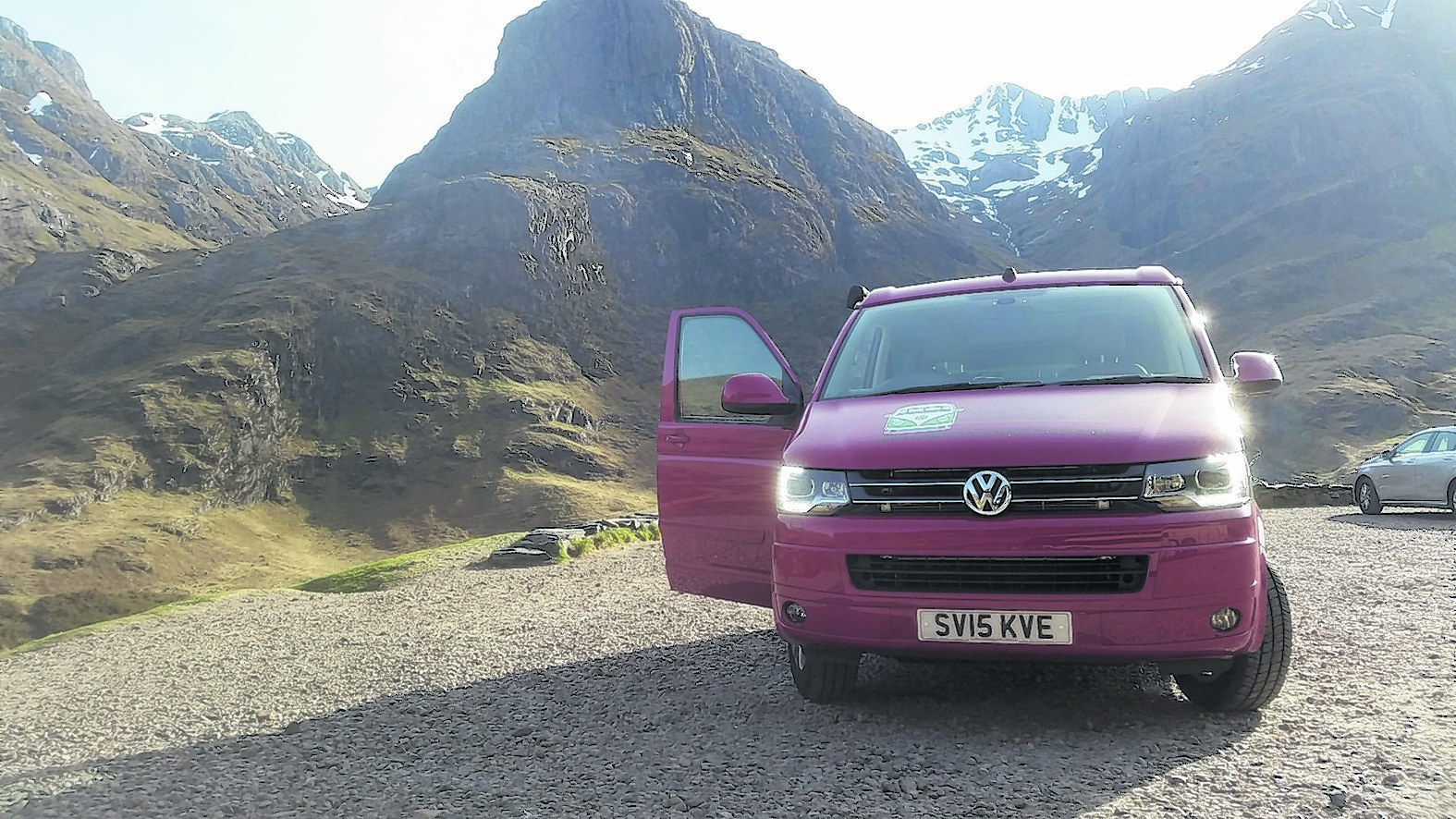 It was quite a moment, and worth it for the view out across Loch Carron towards Skye.
From there we turned south and made for Glasgow and an evening with friends. The drive through Glen Coe – now as famous for that shot from Skyfall as any massacre – was majestic.
And – despite the ever increasing number of vehicles as we approached the city – a journey along Loch Lomond's bonny, bonny banks is always a delight.
In Glasgow the California proved its worth again as the ultimate Goldilocks tourer – not too big to traverse the traffic, not so small a night in the beds could be described as cramped.
For the remainder of the trip we set off on a whistle stop tour of the central belt and Fife, taking in the Kelpies near Falkirk, Murrayfield Stadium, Edinburgh Castle and Arthur's Seat, the Forth bridges and St Andrews.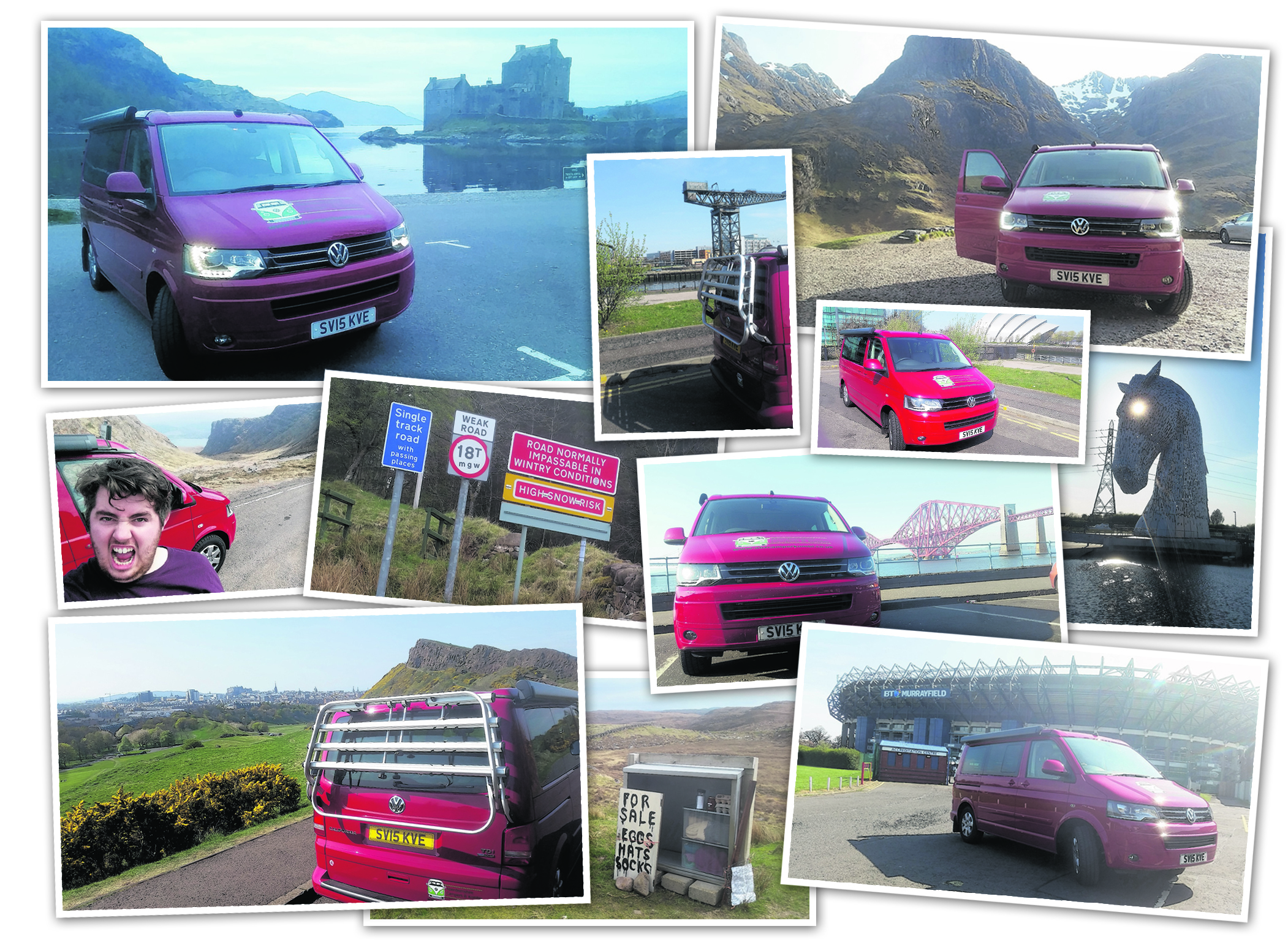 Then home to Aberdeenshire and, sadly, to John Clark Motors to return our now beloved VW.
One day we will make that journey up the California coast to Big Sur. But I'm in no hurry, I'd much rather clamber back into the VW and head west for the perfect holiday road trip – California Dreamin'.