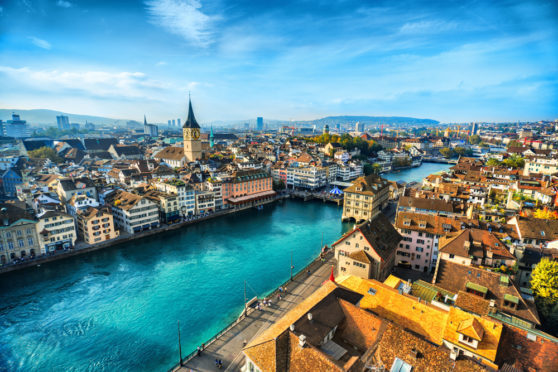 Inverness Airport's latest direct flight offers passengers an unmissable summertime opportunity to explore Switzerland's largest city, Zurich, and the stunning surrounding scenery.
Direct return flights with Edelweiss will be running every Tuesday between 3rd July to 28th August 2018, from Inverness Airport to Zurich, giving holidaymakers a week to explore the riches of this great city, get out into the surrounding mountains, or visit neighbouring towns such as Bern and Lucerne. Return flight prices start from £190.
With temperatures between 15 and 25℃, July and August are the perfect months to visit. You can stay in exquisite boutique hotels, indulge in gourmet food, visit the Lindt chocolate factory, relax amid breathtaking mountain scenery, cruise the rivers, and join in the city's fascination with urban swimming and health spas.
Cultural attractions range from the ancient – the grand church of Fraumunster, with its exceptional stained glass windows by Marc Chagall, to the FIFA museum, and the extensive Swiss National Museum, offering invaluable insights into the country, major events and way of life. Get a sense of the city's history by exploring the Old Town, and check out the calendar of special events, including the world's largest techno party, which consumes the entire city for a day, a fringe festival for the performing arts, and the four-day open air music festival.
Swiss chocolate and spectacular cakes and pastries aside, Zurich's famous dishes tend to be rich in dairy products and meat, from fondue and raclette to Zurcher Geschnetzeltes and potato rösti. There's a wealth of high quality restaurants to explore throughout the city, many with magnificent views over the streets and towards the mountains.
If you're planning on getting out into the wilds, the Swiss mountains offer unparalleled scenery, nature, and activities for people of all ages to enjoy. There are mountain-top cafes, mountain huts and plenty of trails and runs for walkers, hikers and bikers.
Down in the valley, there are river cruises to enjoy, spas and gardens to relax in, and parks where you can take a break and soak up some summer sunshine. And when it's hot in the city, there are over 40 urban swimming venues called Lido and Dive Bars for cooling off.
Zurich also offers great temptations with its fabulous exclusive and luxury shopping destinations. Getting around the city is easy with a comprehensive public transport system and a special travel card, which grants 24- or 72-hour access to all the delights of the city, and builds in lots of extra perks along the routes!
Inverness Airport's weekly direct flights, running throughout July and August, make reaching Zurich both easy and affordable – and with a whole week at your disposal, you can really get to know this fascinating European city and sample all of its delights, from the culture, shopping and superb food, to the magnificent mountains surrounding it.
Even better – there are no long drives down the A9 or A96 at either end of your holiday – you can simply hop in the car, drive to Inverness Airport, and let the holiday begin!
Flight information:
Outbound: Tuesday 14:20 arriving at 17:50
Inbound: 11:55 arriving home at 13:30
Return flight prices from £190.

To book a week in Zurich, go to www.swiss.com now!