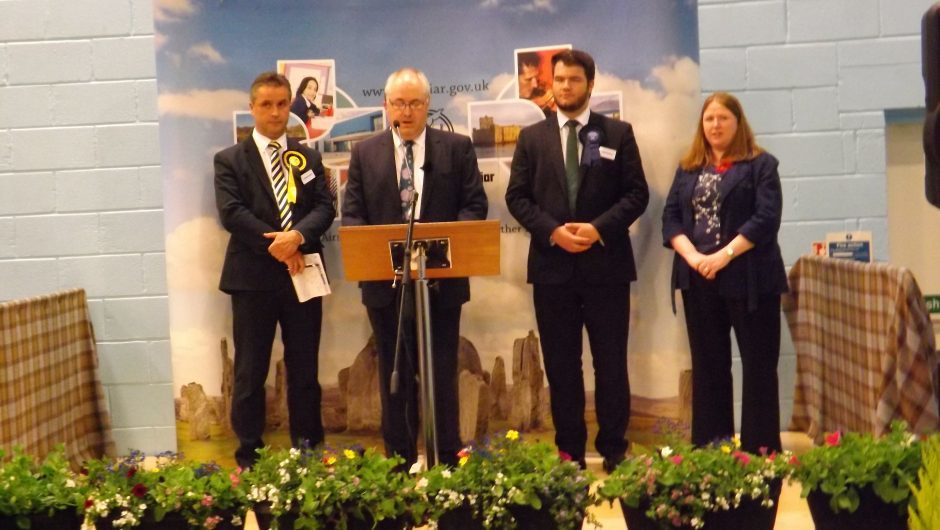 Angus MacNeil held Na h-Eileanan an Iar for the SNP but with a greatly reduced majority and with the shadow of Manchester hanging over the result.
Mr MacNeil saw his majority fall from 4102 to just over 1000 and he admitted he had been "nervous" during the count.
But he also predicted another election in 18 months with Brexit going badly wrong.
The Tories more than doubled their vote to their best result in the isles in more than 40 years.
Labour also increased their share significantly.
It was the fourth time Mr MacNeil, who was the chairman of the influential Commons all-party international trade committee in the last Parliament, has won the seat having first claimed it in 2005.
IN FULL: THE RESULTS
Angus MacNeil (SNP) 6013
Ealasaid MacDonald (Scottish Labour) 5006
Dan McCroskie (Conservative) 2441
John Cormack (Scottish Christian Party) 1108
James Paterson (Liberal Democrat) 250
Majority: 1007
Turnout 69.7 percent
35 rejected papers
electorate 21301