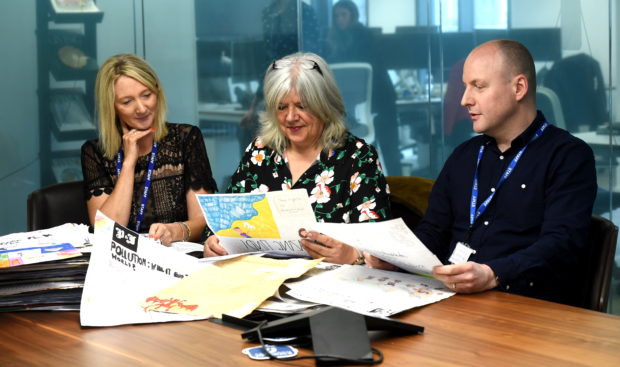 Global warming, climate change, Donald Trump, unicorns and slime are just some of the hot topics tackled by school pupils hoping to be named Junior Journalist of the year.
More than 2,000 pupils from schools across the north and north-east have taken part in this year's competition, run in association with The News Foundation.
In addition to firing imaginations, encouraging teamwork and learning about every aspect of a newspaper, the project awards fabulous cash prizes.
But who will be this year's winners?
The initial stages of judging are now under way with judges graphic artist Michael McCosh, senior marketing executive Lesley Taylor, and Menu editor and features writer Susan Welsh faced with the difficult task of going through more than 700 entries submitted from individuals and classes/groups.
What quickly became clear is that youngsters have taken on-board the issue of climate change and many featured front-page stories about the dangers of plastic pollution and its effect on the oceans.
But the project, which sees youngsters get their hands on physical copies of the P&J for six weeks, also allowed those taking part to let their imaginations run riot.
President Donald Trump featured in many a story with one entry even depicting him behind bars, while another suggested his hair was a separate, living entity.
The Queen, a popular subject in previous years, also featured regularly this year, as did stories on alien invasion, unicorns, slime, pets and football.
Entrants were asked to create their own adverts, with youngsters dreaming up ways to market their ideas for tomato sauce flavoured ice-cream and flying shoes to talking doughnuts and an edible computer.
Win or lose, those taking part in the Junior Journalist project have benefited greatly from taking part.
Principal teacher at Auchtertyre Primary School, in Kyle of Lochalsh, Fanny Fraser said: "All my pupils learned much about newspapers and their different parts, and some even taught new information to their parents."
The competition previously ran in 2015 and 2017, and judge Ms Taylor praised the high standards of entries once again.
She said: "So much work has gone into them all making it very difficult to judge.
"Well done to everyone who took part. I wish everyone could be a winner."
Entries have now been whittled down to a shortlist, and the winners will be revealed soon.
The top prize is £1,000, with two runners up each receiving £500. Four schools will receive £250 each.