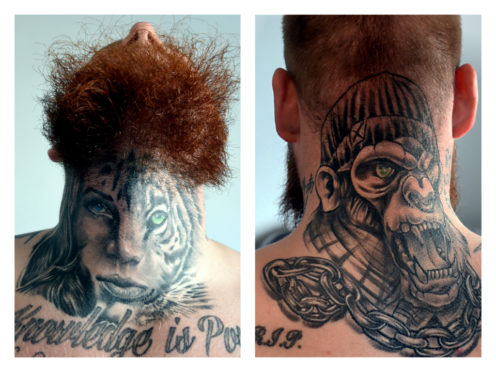 Kev Bailey inspects his canvas, before sterilising the surface and selecting his tool of choice.
He carefully glides a razor over the skin, and presses a stencil on to the forearm. Satisfied, he gets to work, and the vibrating murmur of the tattoo gun is barely audible.
Kev's client doesn't flinch, and within 45 minutes the permanent inking is complete.
It is the latest in his collection of body art, and he is just one of thousands of customers who Kev has tattooed in the past 40 years.
Working from his studio on the outskirts of Aberdeen city centre, which is aptly called Kevs Inkhouse, he now sees a wide range of customers.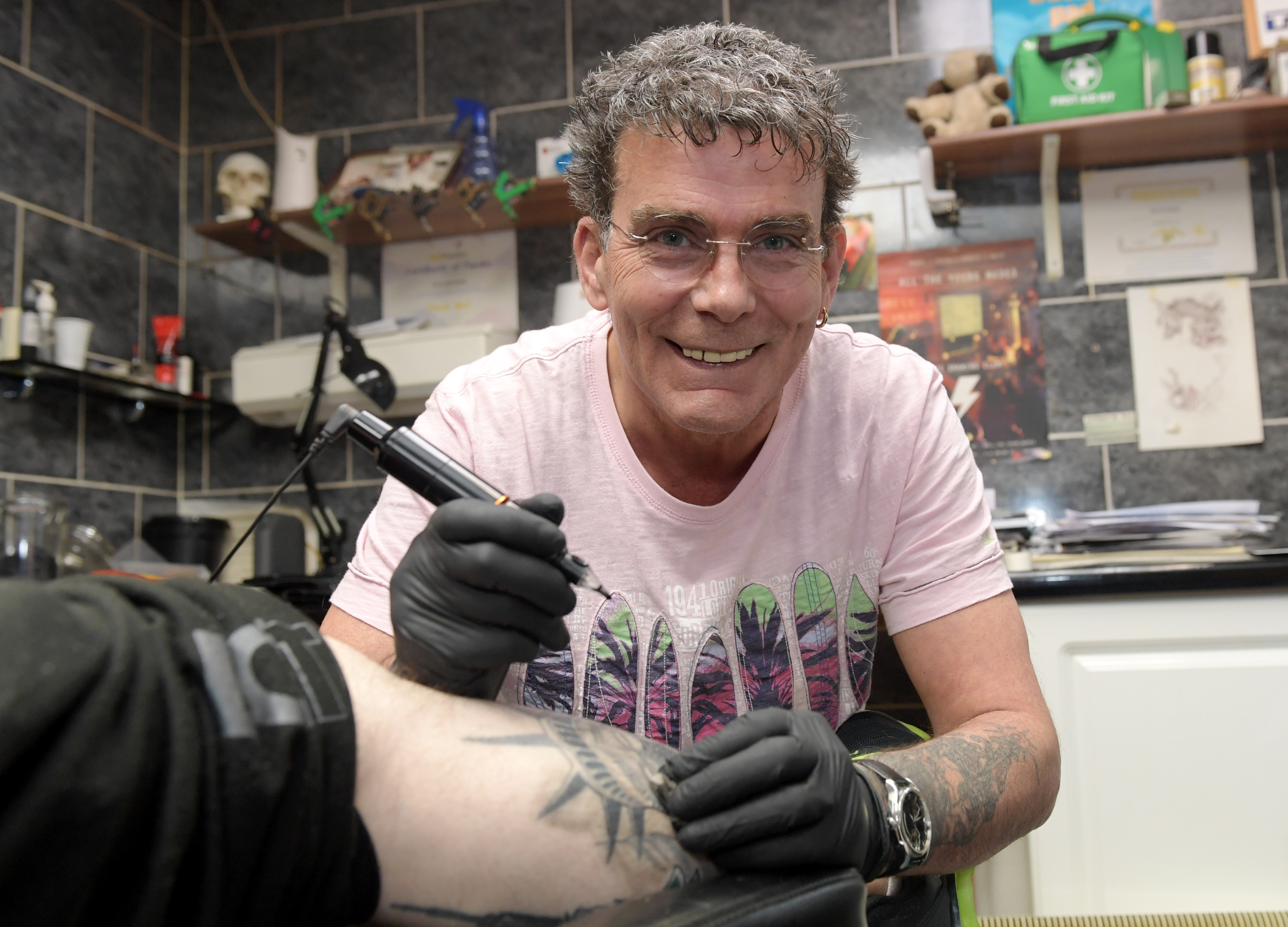 Lawyers, consultants, teachers, it would seem that tattoos are now mainstream, and no longer raise eyebrows.
Least shocked of all is Kev, for after decades in the trade, he has seen, or rather tattooed, it all.
With a dry sense of humour and straight way of talking, it's fair to say that Kev is not your average 56-year-old.
The father-of-two is also a fully qualified electronics engineer, and spent a stint working in the Middle East before returning home to open his own tattoo business.
Kev admits to using his own legs for practice during his years as a tattoo artist apprentice, but doesn't believe he is "covered" by today's standards.
It is estimated that roughly one in five people in the UK have tattoos, and the figure rises to one in three in young adults.
Yet only 30 years ago, tattoos were often seen as something to be frowned upon – favoured bikers, heavy rock bands and all-round bad boys.
Now a full sleeve, whereby the entire arm is tattooed, no longer looks out of place, and the chances are your boss, colleague or even grandparent has a tattoo lurking under their clothes.
While the tattoo boom can only be a good thing for artists like Kev, will it ever go out of fashion, leaving a generation of youngsters seeking painful laser treatment for tattoo removal?
"I do a lot of covering-up work, where someone has got a tattoo they regret and they want me to use more ink to try and conceal it," said Kev.
"I've seen tattoos go completely out of fashion the first time round, and I'm sure it will happen again.
"I first trained as a tattoo artist in 1979 and by 1981 you couldn't get into a pub if you had tattoos.
"The music would literally stop as you walked in, before the bouncers came to throw you out.
"It coincided with all these new rules for nightclubs: you couldn't wear jeans and trainers, and tattoos gave the wrong image as well.
"In 1981, there were nine tattoo shops in the whole of the UK.
"Tattoos were seen as a sick thing, they were big blurry horrible looking things, and kids grew up not wanting to have tattoos like their parents.
"And there was no way you could get a job with tattoos."
Following the downturn in popularity of tattoos, Kev became a fully qualified engineer but found his work took him away from his young family for months at a time.
"I wasn't seeing my two kids, Mikey and Alex, and thankfully tattoos became popular again," he said.
"I put it down to people like Robbie Williams and David Beckham, they made tattoos the fashion.
"Now people get a tattoo simply because they want one, or they get inked for a milestone event.
"The hipster movement has contributed massively as well, where you get these kids with a beard, top knot and two full sleeves.
"Fashion has changed and now people want their necks and hands tattooed."
Kev's customers range in age from 18 to 80, although he says elderly people are more difficult to tattoo due to the thinness of their skin.
The split between men and women getting inked is now equal and women often opt for one of the more painful spots to get tattooed.
"A lot of women want their wrist tattooed and that's really nippy," said Kev.
"Anywhere there isn't much muscle but you're close to bone and tendons, that's sore.
"I get a lot of middle-aged women coming in for their first tattoo, because when they were teenagers, tattoos weren't the done thing.
"People normally have an idea of what they want because they've looked on Google for designs.
"The most nerve-wracking tattoo I've ever done was my own son, who chose to get his first tattoo when he was 28.
"I was so nervous; as a kid he wanted tattoos of everything, but he waited all this time to be sure.
"My wife, Amanda, who runs the business with me, has two half sleeves, but we've got a few rules in the studio.
"I'd never do a tattoo on someone's face because I've never met anybody who has gone ahead and not regretted it.
"And I don't tattoo breasts or down pants, we're a family business, after all."
It would seem that family is everything to Conan and Nathan Beattie, who grew up wanting tattoos just like their parents.
Their grandmother has also just got her first tattoo, which depicts the family tree.
The brothers, who both live in Aberdeen, have dozens of tattoos between them, and won't rule out getting more work done in the future.
Conan, who is 27, has 26 tattoos and got his first inking at a friend's house when he was 15 years old.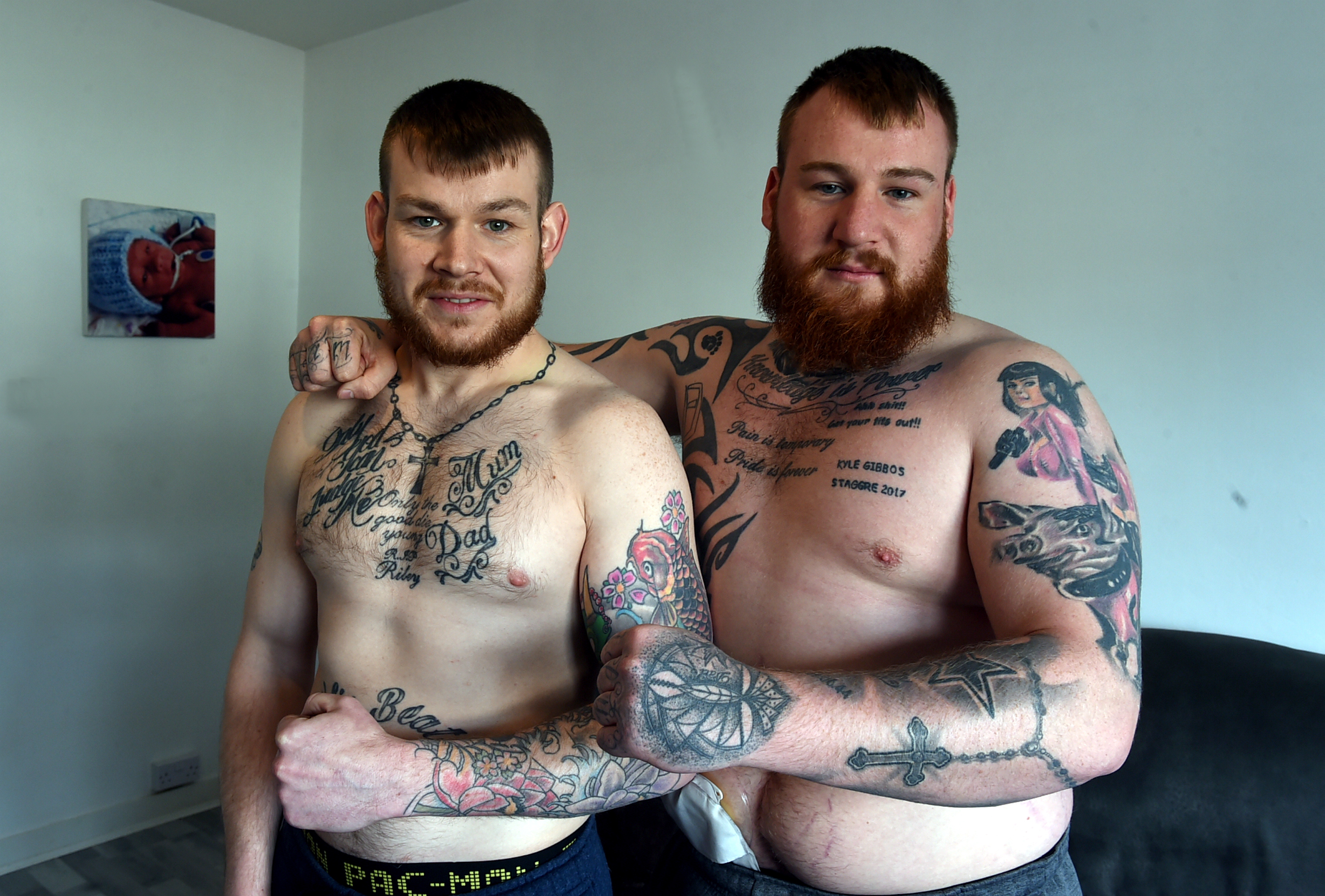 His body art includes a large neck tattoo, a tattoo on the back of his neck and head, and a tribute to his late son, Riley, on his back.
The former oil and gas worker is also fighting Crohn's disease and has been fitted with a permanent colostomy bag.
He has previously spoken up about the disease in your life magazine and a morphine patch now sits on the tattoo of a dog on his arm.
"I got my first tattoo long before I was diagnosed with Crohn's disease; I'd say that my tattoos are all my memories," he said.
"I don't regret any of them, even the two that I got done when I was on holiday in Magaluf.
"I'd never get them lasered off, I've heard it's more painful than getting a tattoo in the first place."
Some of Conan's tattoos have required hours of painstaking work, with one sitting lasting six hours. His son, Riley, passed away seven years ago after he was born premature, and a tattoo of his face is now on Conan's back.
"It was done from a photograph and it is my way of keeping Riley with me always," said Conan.
"I have my daughter's name, Heidi, tattooed on me – she's six – and my son Mac, who is five months old.
"Heidi knows all the names of family on my hand and I don't think people have a problem with tattoos any more.
"When I worked offshore, plenty of people had them.
"The older generation might judge a little bit, but it doesn't bother me."
Conan's brother, Nathan, has 13 tattoos, and believes they come in handy in his sport of professional boxing.
"I would say 99.9% of boxers have tattoos and in the boxing world they can make you look tough," he said.
"I don't have a tough face, though, and I've been told I smile too much.
"Both my parents have tattoos, so we grew up wanting them, but I didn't get my first tattoo until I was 18.
"I think celebrities and reality TV stars have made tattoos popular.
"The amount of tattoo shops in Aberdeen is also unreal, and most of them are booked for months in advance.
"My next tattoo will be 'Natedogg' because that's what everybody has always called me."
For Kerry Allison, her first tattoo aged 17 was a way of rebelling against a conservative upbringing.
She is now a senior business consultant at the Scottish Rural College in Aberdeen and considers herself to be heavily tattooed.
"I have tattoos on every limb, but I originally hid my tattoos from my family," she said.
"When I finally revealed my tattoos, they were horrified.
"They said I had mutilated my body, I would never get a job and no one would want to marry me."
Kerry's family now thankfully accept her body art, but she occasionally chooses to cover up her tattoos at work.
"I didn't tell anyone for the first year in my job, I think I assumed that people would judge me," she said.
"My assumption was wrong because they couldn't have been more lovely about it when I finally revealed my tattoos at a dinner dance.
"I sit on a board of directors and I choose to wear high-necked shirts in the boardroom.
"I like separating my two identities, work and home, but I also cover up for some clients who are of a certain age and standing.
"I worry they will take me less seriously and judge me.
"But I've carried on getting tattoos because they became part of me when I was young.
"The process is addictive and once I had my first tattoo, the door was pushed open.
"Tattoos are a creative way to express yourself as well.
"Some people get their hair cut, I get a tattoo.
"At first glance, my tattoos are pretty.
"But they actually contain hidden messages on my political views.
"Rarely do I get a bad reaction, except when I go swimming.
"Some people will get out the pool immediately, especially if they have kids.
"It's as if they think I'm dirty.
"Attitudes are changing, though, and their response reflects their ignorance.
"Tattoos are no longer associated with prisoners and prostitutes.
"And for me, they're part of who I am."
Witold Andrzejewski is well known in the tattoo industry, having won several tattoo conventions.
The father of three runs his studio, Reign in Blood, on Holburn Street in Aberdeen.
Originally from Poland, he is currently learning English and believes his tattoos are another way of expressing himself.
"Tattoos are my life, my passion," he said.
"Sometimes people stare, especially on holiday, and they ask questions.
"I don't mind that, my entire head is tattooed after all.
"My studio specialises in realism, which is very difficult to master.
"My eldest son, Marcin, works alongside me, and he is very talented.
"I think it is a privilege, to love what I do."