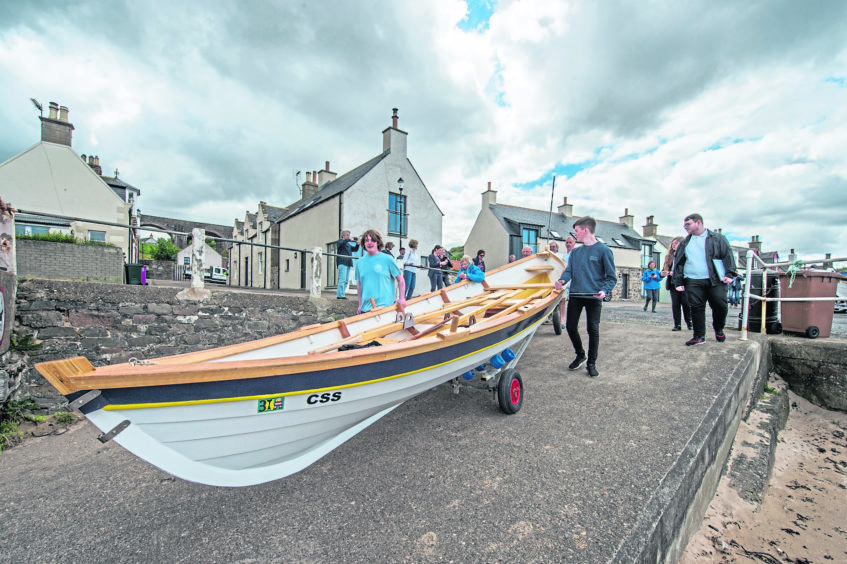 The sound of pipes filled the Cullen air yesterday as the Artemis set out on her maiden voyage in the harbour.
Built by a team of Buckie teenagers, along with help from three retired veteran boat builders, the Wemyss skiff was officially named and unveiled at a ceremony hosted by the Cullen Sea School.
Crowds of locals flocked to the coastal village to catch a glimpse of the new vessel while it was piped down from the school to the slipway at the harbour after being blessed by the Lord Lieutenant of Banffshire Clare Russell.
It was constructed by four Buckie High School pupils as part of a SQA accredited woodworking course run by the Cullen Sea School which aims to promote traditional boat building skills.
Once at the harbour, Alexander Mair, Lewis Grant and Brandon Runcie, all 16, were given the accolade of rowing their new boat for the first time.
Named the Artemis after a local fishing boat, the youngsters described the whole ceremony as "an honour" in which to be involved.
Mr Mair felt a "sense of accomplishment" after taking something which they had built themselves out to sea.
He said: "It is quite fun to row what we have made in the water so it made feel proud building a boat like this and then rowing it out to sea."
Mr Grant added: "It's quite rewarding to see that the boat didn't actually sink in the water and we even had a little go on it with the oars."
The three hope to continue to work with the sea school in the future.
Chairman of the organisation, Ashley Mowatt, is convinced this kind of event can attract younger people who want to get involved in the traditional boat building.
He said: "It's very gratifying to see such a crowd out to acknowledge the efforts of the Buckie High School pupils in building the small skiff here.
"These retired shipwrights can pass on their skills to the younger generation and the idea is that we need to get youngsters involved and get them in the water to do healthy exercise like sailing or kayaking."