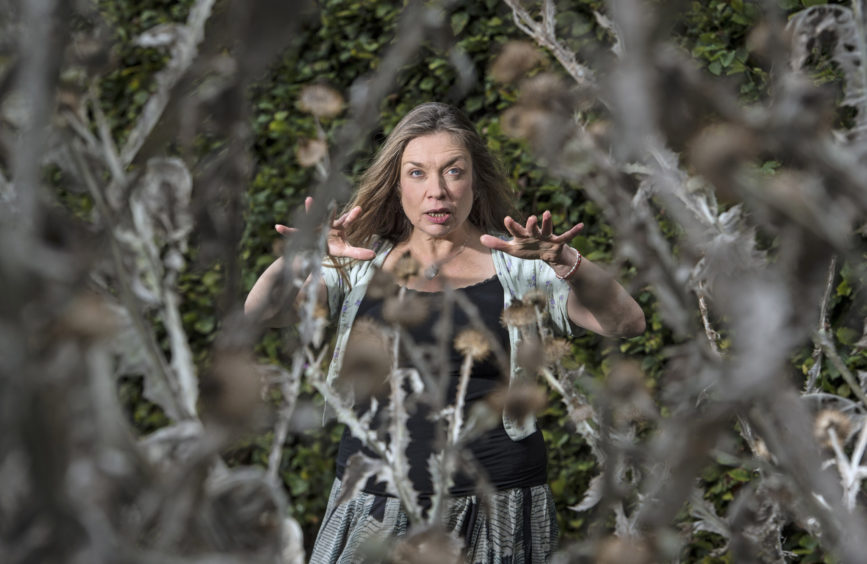 There are no shortage of spooky legends and ghostly tales across the north east of Scotland.
Indeed, macabre chapters in Aberdeen and Aberdeenshire's history even include a killing at Marischal College which featured in one of Charles Dickens' periodicals and a Lazarus-style event which explains the derivation of one little shipping community.
The region is rich in myths and folklore and now the Scottish Storytelling Forum is casting its net across the country to discover local chillers and paranormal accounts and celebrate these tales with an online discussion, workshop and a ghost story event on the last day of the Storytelling Festival – which just happens to coincide with Hallowe'en.
Aficionados of ghoulish tales are being encouraged to unearth and share the best stories from their local area. These could include the tale of Richard Downie, a sacrist who was scared to death by students at Aberdeen University or the story behind the name of the settlement Rosehearty which was christened after a young man helped a ghost to find rest.
Of course, not all these stories are found in castles or cemeteries and the perfect scary tale may be right under your nose. So if readers know of a White or Green Lady spectre which haunts a derelict house, a ghost train that is still making stops or arcane reports of witches and warlocks, they are being encouraged to get involved in this new initiative.
The SSF has partnered with Edinburgh University's School of Scottish Archives and is offering research tools, expertise and archive portals on how to unearth dark tales.
The forum's social media channels will be alive with paranormal activity on Monday October 19 with an online discussion, which will showcase all things ghoulish and gory from Scotland's past and present.
This will be followed by an online How to Tell a Good Ghost Story workshop, hosted by a professional storyteller, on October 19 from 6.30-7.30pm for those keen to discover the perfect ingredients for sharing ghostly tales such as tone, atmosphere and suspense.
Audiences will then be welcome to tune into a free ghost story sharing event on Saturday October 31 as part of the climactic celebrations and last day of the Scottish International Storytelling Festival's programme.
Fiona Herbert who is leading the workshop said: "The storytellers in Scotland go by the proverb 'A story is told eye to eye, mind to mind and heart to heart.'
"That sense of connection is why I love telling stories. When I'm telling a ghost story something else is at play; a sense of unease shared by both the teller and the listener.
"I only tell stories that frighten me too. Scotland's history is so long and so dark, that is has birthed a plethora of ghostly tales, well suited to its brooding landscape.
"Our ghosts don't just lurk in castles, they are in our cities, our towns, our country lanes, and the most terrifying place of all – our own imaginations."
Although Charles Dickens travelled north of the border on a regular basis, there are few mentions of the country in his own novels and myriad other literary works.
Yet there were many articles and fictional creations about the Scots in the journals he edited, including a sensational story set in Aberdeen, which appeared in Household Words in 1852 under the grisly title Who Murdered Downie.
The offering highlighted the author's penchant for crime writing – he also championed the famous Wilkie Collins story The Moonstone – and although the tale was published anonymously, the journal's office book revealed it was one of six pieces written by James Knox, Scottish editor of the Daily News, which Dickens edited briefly in 1846.
Dickens expert Dr Paul Schlicke said: "The article recounts the mock trial and execution of Richard Downie, Sacrist of Marischal College in the late 18th century, by a group of undergraduates who were seeking revenge for Downie's officiousness in reporting student misdemeanours to the university authorities.
"Having lured the poor man to a darkened room, the masked students enacted a ceremony in which they convicted him of 'conspiring against their just liberty and immunities' and made him kneel before a block to be beheaded.
"However the prank went horribly wrong when Downie, struck on the neck by a wet towel, died of fright. The students vowed one another to silence and the truth emerged only in the deathbed confession years later of one of the students."
It sounds like an early version of the script for a horror film such as I Know What You Did Last Summer, but Dr Schlicke isn't surprised that the story appealed to Dickens.
He added: "The version in his magazine is an entertaining morsel of Gothic titillation, of the sort known today as an urban legend: a sensational fictitious event, presented with abundant local detail as being authentic historical fact.
"Characteristically of Dickens, the tale which he printed casts a romantic aura over the location described.
"The granite city of Aberdeen is shown by him to hold mysterious secrets."
Elsewhere, in Aberdeenshire, the tale has been told of how a young Traveller was given lodgings in a farmer's barn.
However, he was subsequently woken up by a young man who asked for help, because he had been murdered and buried under the barn, and couldn't rest without a Christian burial.
The lad thought it was just a nightmare, but he told his host what had happened and after the experience occurred two more times, the farmer eventually went to the minister.
The three men then dug under the barn and eventually found the bones, which they interred in proper fashion.
That night, it was averred that the dead man appeared in front of the Traveller to thank him for his efforts in ensuring he had received a decent burial.
Next morning, the lad "rose hearty", and that is how the village of Rosehearty got its name.
Or is it? The truth is out there and the SSF wants to hear your stories.
Further information is available at www.sisf.org.uk