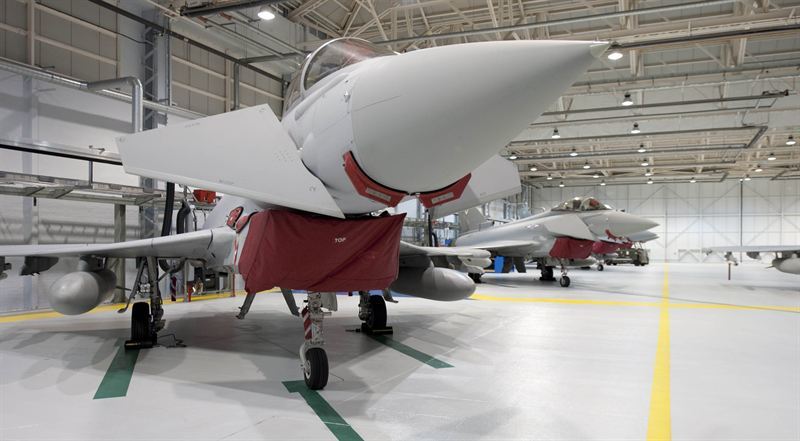 RAF Lossiemouth is preparing for an influx of new fighter jets as it increases its fleet of Quick Reaction Alert squadrons.
Military officials yesterday unveiled a new building designed to help accommodate three squadrons of Typhoon aircraft which are soon to relocate from RAF Leuchars to Moray.
Since becoming a Quick Reaction Alert site last year, Typhoon jets stationed in Moray have been launched into action at a moment's notice to intercept threats to UK airspace.
An annex has now been created alongside a hangar at the base, which will be used to plan and prepare for missions.
Representatives from the Defence Infrastructure Organisation (DIO) visited yesterday to mark the opening.
Wing Commander Chantal Baker said the new complex would play a pivotal role in helping pilots to protect the nation from aerial threats.
She said: "The programme of infrastructure works at RAF Lossiemouth has been essential in the transition of the station from a Tornado to Typhoon main operating base delivering Quick Reaction Alert services.
"DIO has provided essential facilities for the frontline Typhoon personnel of 1 (Fighter) Squadron to operate from.
"This phase of investment continues to support RAF Lossiemouth's mission of protecting the UK's skies and preparing for global operations."
The additional complex will house operation briefing rooms from which missions will be planned.
The facility was built in stages, which meant it was able to provide space for arriving squadrons last year before it was fully completed.
DIO project manager Duncan Taylor added: "This is a great example of DIO investing in the infrastructure our armed forces need to live, train and deploy.
"It was a real team effort and our contractor worked closely with us to ensure a very high quality of work."
The Quick Reaction Alert force was established during the cold war, with its aim being to detect and intercept enemy aircraft at a moment's notice.
Pilots remain on high alert at all times, and the aircraft are maintained so they ready to launch into action at any time. Generally they respond to alerts within 10 minutes.
The squadron was relocated from RAF Leuchars to the Lossiemouth base last September, when it was decided that the Fife airbase would no longer operate as a fast jet station.