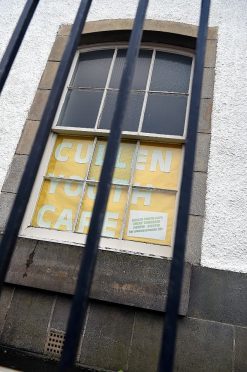 A youth group is fearing for its future as budget-conscious Moray Council reviews hall charges.
The local authority is to investigate fees at many of the facilities it rents out to community clubs as it tries to shave millions of pounds from its budget over the next two years.
The Cullen Youth Cafe group, which rents out a room at Cullen Town Hall every Thursday, is concerned that if a price-hike is approved it could close them down.
Group leader Tam McLellan said the club offers a safe haven for vulnerable youngsters aged between 10 and 18, helping them socialise and grow in confidence.
"Most of the kids are from low-income families, and some parents are sending two or three children each week," he added.
"We charge £1 per child right now and average about 30 at every session.
"But as soon as we found out about the increase, only 11 parents came back and said they were able to pay £2 per child.
"We can't survive if Moray Council increases our charges, it's ridiculous this is being considered."
During a meeting of the council's policy and resources committee this week, officers suggested the group should pay an increased amount for use of the venue.
Head of Lifelong Learning, Culture and Sport, Graham Jarvis, said such measures were necessary at a time when budgets were being increasingly squeezed.
He said: "If we didn't have a budget issue I would like to see everybody using every facility for free, but that's a utopia and not realistic."
Fochabers Lhanbryde member Douglas Ross questioned the wisdom of forcing them from the building unless there was a similar community group willing to take its place and pay higher rates.
Mr Ross described the proposal as akin to "cutting off our nose to spite our face".
Last night Cullen councillor Ron Shepherd said it would be a "travesty" if the group was forced to abandon its activities.
Councillors agreed to defer a decision until they have a "deeper look" at bookings charges and hall use throughout the region.