Animal rescuers saved a young seal pup after it became trapped in a ditch on a steep north-east cliff face.
A dogwalker spotted the young animal on the cliffs around Slains Castle, near Cruden Bay, on Tuesday afternoon during stormy weather.
After his dogs stopped to sniff at a ditch, roughly 4ft deep, near a small walkway he spotted the stranded seal "looking up at him".
Unable to hoist the animal – which was a male – from the deep hole, he called Keith Marley at Auchnagatt animal rescue sanctuary, the New Arc, for assistance.
He in turn alerted British Divers Marine Life Rescue who sent local medics Lee Watson and Dave Hawkins to recover the animal.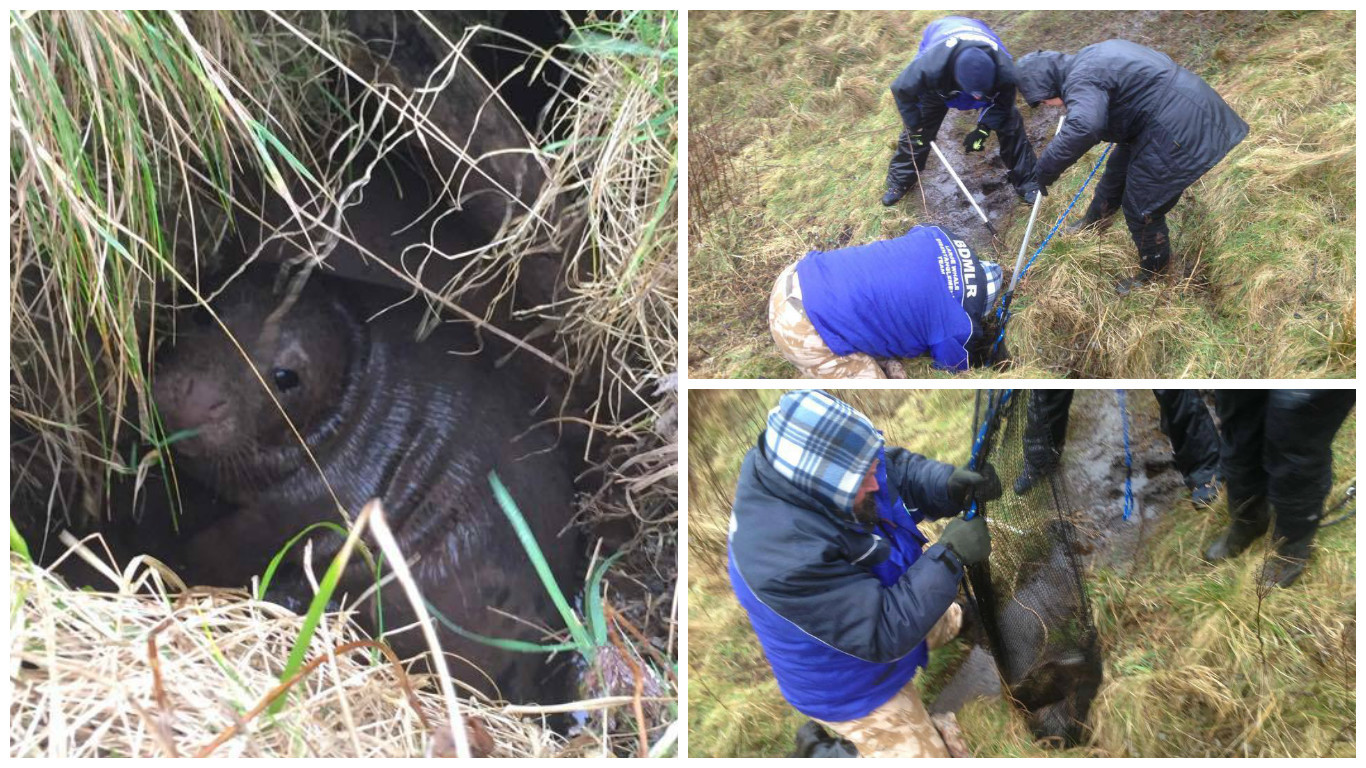 Mr Marley said that if the animal been left out for more than a couple of days, it would have died from the distress or from starvation.
Seals are known to seek shelter on land during nasty and turbulent weather, which makes the sea particularly dangerous for them.
Marine mammal medic Mr Watson, 35, of Hatton added that, although seal rescues are common, this one was out of the ordinary.
He added: "That was a very unusual one, it had climbed quite a bit up the hill. The seas were really rough.
"When I got the call, I thought it would just be a case of lifting him out, but when I got there, it was really difficult to access and get down.
"I'm not sure if it had fallen or crawled in looking for shelter. They can tend to do that when the weather is bad."
Unable to get in the hole with the seal, the pair used a butterfly net and coaxed it in, then hoisted it out.
With help from local residents, they brought the seal back up the hill, after which it was passed into the care of the Scottish SPCA.
The charity took it into their care of its Fishcross centre where last night it was "doing alright".
Mr Marley added: "I know they have got enough blubber to last three or four days, but it would have been so stressed even by the next day it might have been too weak to make a movement. It was very lucky, well done to the guys at the BDMLR."