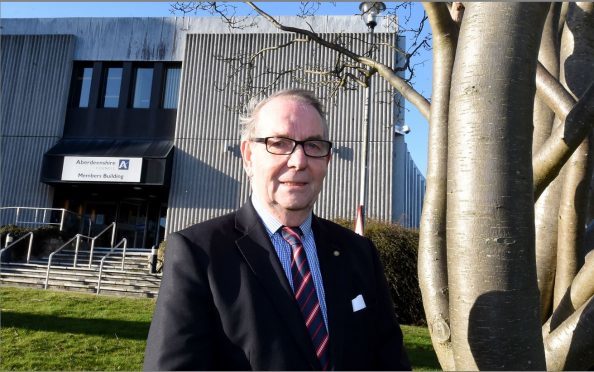 Aberdeenshire Council has slashed teacher vacancies since the start of the new term- while neighbouring Aberdeen is facing record numbers of unfilled posts.
New figures show that there are now just 48 vacancies down from 87 in August. But the city authority is now looking to fill 137 places- from just 93 at the start of the term.
Last night high profile drives to bring more of the professionals into Aberdeenshire to tackle the historic crisis were praised while opposition figures in the city asked why the shire's success couldn't be replicated.
But city council chiefs laid the blame at the door of the Scottish government for not doing more to help the Granite City shortage.
Last month, Education Secretary John Swinney announced a £3million funding boost to train hundreds of new teachers.
The deputy first minister announced the boost while giving the keynote speech at the Aberdeen Learning Festival, and said the cash will help increase places at universities throughout Scotland and allow for the training of an extra 371 teachers a year.
It has been one of a number of high profile drives to tackle the historic problem, including a re-training fund for oil and gas workers to get them into the classrooms and subsidised housing.
Last night , Aberdeenshire education convener Alison Evison said ???
She was backed by fellow committee member Ron McKail who said: "We have had long running issues with the likes of the cost of property and a relatively high cost of living based on historically high wages.
"From my perspective, the solution is about councils and government working together."
But north-east Conservative MSP Ross Thomson said:"Aberdeen City Council has tried just about everything to attract teachers to this area, and we have said repeatedly that we need more support from the Scottish Government.
"People want to see the government focus on the bread and butter issues like education, health and the economy, not drag us back to more constitutional chaos."
Council education convener Angela Taylor said: "There is a shortfall of 137 teachers in Aberdeen – this is the worst figure we have ever seen.
"Aberdeen City Council has worked tirelessly to overturn this situation, offering reduced price accommodation, a 'golden hello' of £5,000, and a relocation package of up to £7,500.
"We also appealed to the Scottish Government for probationers, trainers who have graduated but are in their first year of work, but got no response. Unfortunately, nothing has worked.
"I'm delighted Aberdeenshire has made inroads into the problem but they, of course, do not face the same pressures around cost of living as we do in the city. We are one of Britain's most expensive places to live which puts many people off coming here."
But SNP education spokesman at the city council Alex Nicoll said the new figures were "very concerning".
He said: "The cost of living in Aberdeen has been falling in recent years so it is very concerning that the teacher numbers appear to be rising.
"If Aberdeenshire can manage to recruit teachers then you have to ask why the city council can't?
"To me this seems absolutely unacceptable and the administration should maybe tone down their rhetoric on the Scottish Government and look to solve the problem themselves."
A spokeswoman for the Educational Institute of Scotland (EIS) union, who represent teachers, said that local authorities would have to look to tackle the crisis themselves.
She said:  "The EIS is willing to engage constructively with councils to explore ways to improve processes for teacher recruitment and retention. Attracting teachers to some parts of the country – for example rural or remote areas or areas with a lack of affordable housing – is an ongoing challenge for a number local authorities. While pay and conditions for teachers will continue to be agreed nationally through the Scottish Negotiating Committee for Teachers, it is open to local authorities to explore additional incentives or other means of attracting qualified teachers to come and work in their schools."
Scot Gov