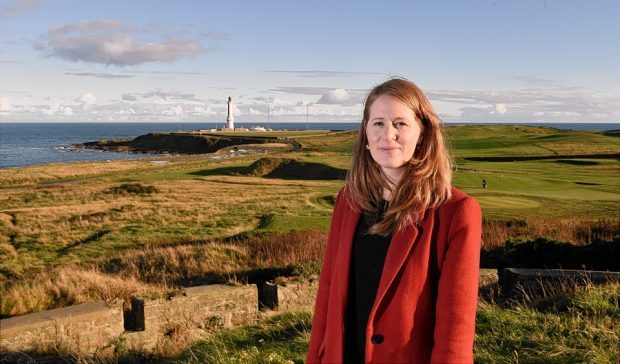 A charity campaign, sponsored by the Press and Journal, is striving to transform the north-east into a world-class destination for dolphin watching.
Greyhope Bay has launched plans for a £10million marine science and heritage centre at Nigg Bay.
The proposed centre at Greyhope Bay, near Torry, will feature a wildlife viewing platform and a variety of amenities to encourage interest in science and education through performance and art, with conference rooms, a restaurant and theatre space
Now, the developers, whose official media partner is the P&J, have announced a charity dinner next month and a family gala day to raise funds for the scheme.
Both events will offer people a virtual reality experience, which will present the public with an immersive insight into the features and scope of the project.
The initiative is the brainchild of marine biologist, Fiona McIntyre, who envisages that Greyhope Bay could be up and running in five years, subject to raising funds.
Ms McIntyre said: "The aim of these events is to raise awareness and the profile of the project and establish an interest in what is a major development which will change the face of Aberdeen.
"We're hoping to give people a real understanding of the facility and what it could mean for the north-east.
"It's going to be a quite spectacular night of entertainment, hopefully people will have a great night and will have sight of a dolphin or two."
Both events will be held in a glass-faced marquee which will face out onto the bay, a popular haunt for bottlenose dolphins.
Already, the event has the support of a number of sponsors, including Nexen Petroleum, The Big Partnership and the Village Hotel Club.
Meanwhile, local food and drink firms, Salt and Sauce and 10 Dollar Shake are providing the catering.
The dinner event is expected to attract 300 guests on Friday, May 12. It will be hosted by broadcaster Dougie Vipond and will feature music from 1980s pop favourites Hue and Cry.
The event will have an underwater theme, which is being put together by Campfire Creative, a production design company that has previously worked with the Royal Edinburgh Military Tattoo and the Scottish Music Awards.
Meanwhile, the free family event on the following day will feature stalls with interactive games and marine education, dolphin watching and a fun heritage trail as well as a life-sized blow-up minke whale.
The fun day runs from 11am-3pm.
Tables of 10 at the dinner event, which runs from 6.30pm-12.30am, cost £1,300 and can be reserved by contacting the Big Partnership via events@bigpartnership.co.uk.
The Greyhope Bay project
The Greyhope Bay project has been a passion of Ms McIntyre since she arrived in the Granite City eight years ago.
The marine biologist moved to the area to study after receiving a degree in zoology from Trinity College in Dublin.
She subsequently studied both a masters and doctorate in fisheries ecology at Aberdeen University. And she now spends most of her time working at the Marine Scotland laboratory on Victoria Road, Torry.
It was here that she realised the "wonderful coastline" and marine wildlife the region boasts and the potential to make the area a globally renowned destination for dolphin-watching.
She said: "The fact that we have dolphins visiting the area is fantastic and something that should be highlighted.
"In Ireland, we had one dolphin visit and we built a whole tourism industry around it.
"I think it's something that we don't highlight enough, we have got quite a unique setting here – there are two rivers and a wonderful coastline.
"If we are trying to boost tourism and understand what's distinct about the north-east and Aberdeen, I firmly believe that marine life and ecology should be a part of that narrative and not just industry.
"It's important that people do not just associate the area with oil and gas, we can tell both of these stories."