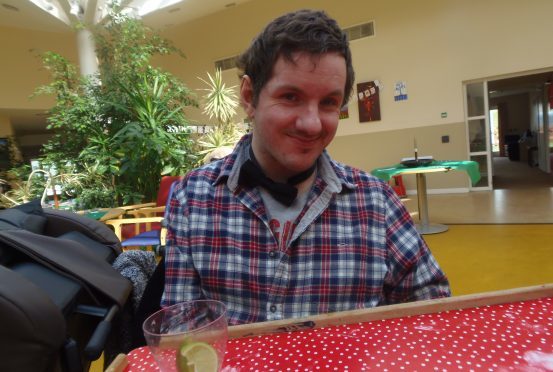 Mark Cordiner's life was happy back in 2014. The Aberdeen father to cherished son, Leo, was a quiet lad who enjoyed socialising with his friends, going shopping, watching football and climbing on his bike and soaring off into the blue yonder.
He was just 27, a loon with a youthful spring in their step. But then, suddenly, he was involved in a devastating road accident while cycling in the Granite City.
And that led to a situation where he found himself facing the possibility of staying in the same old people's home as his grandmother.
Mr Cordiner was thrown several metres from his bike during the incident, suffered extensive head injuries and subsequently spent many months in hospital. And, as a result of his accident, he sustained a long-term traumatic brain injury which changed his life for ever.
He can't walk, he can't feed himself, and he struggles to talk. He has made progress, but he needs help with every aspect of everyday living.
Which is what brings us to Sue Ryder Dee View Court, Scotland's only specialist neurological care centre in the Kincorth area of Aberdeen, which provides round-the-clock care to 24 residents including Mark.
Nobody is pretending there are any easy answers to the obstacles which lie in front of him. But at least, he is now in an environment which allows the possibility of him improving and making strides forward as time passes. His mind and his body are being exercised – which was not the case in the aftermath of the road collision.
His parents were understandably devastated after learning what had happened to their son three years ago.
As his father Norman said this week in an interview with the Press and Journal: "We struggled to find a suitable place for Mark. We spent a long time researching and visiting different care homes and centres, but none of them were appropriate for his needs and his age.
"Most of the places we were offered were in old folks' homes – not a place for a 27-year-old.
"Indeed, we even got offered a place at the same care home his grandmother was in.
"We were desperate, so we even considered the possibility of building our own adapted house.
"But, realistically, it just wasn't viable and it still wouldn't have given Mark the care which he needed."
"We were running out of options…"
It was at this point that Sue Ryder Dee View Court began to surface on their radar. And yet, despite the incredible work carried out at the centre – by a team of dedicated staff members with a determination to do every possible thing they can to help the residents – Mark's parents were forced to be patient.
That's partly because demand is so high at Sue Ryder Dee View Court and partly due to the stark fact it is a unique facility, dealing with a wide range of people from across Scotland, aged 18 and above, who have Motor Neurone Disease, multiple sclerosis, stroke, Huntington's Disease, Parkinson's syndrome and acquired brain injuries.
There is no one-size-fits-all solution for these conditions, and the residents require constant care, which explains why Sue Ryder has just launched a £3.9million appeal to expand their facilities and help another 20 people.
A recent Freedom of Information submission by the organisation revealed there are an estimated 1,000 people "living in older people's care homes" because there aren't the purpose-built specialist homes to live in like Dee View Court.
Elinor Jayne, Sue Ryder's policy advisor, said yesterday:  "We suspect this number is an underestimate, because most local authorities do not even record this information.
"Unfortunately, there is no reliable information on how many people in Scotland have neurological conditions like these.
"We've been campaigning for the Scottish Government to start collecting this information – and they are now starting to look into how they could do this – because without knowing how many people there are and where they live, there is no way of planning and delivering care and support they need to live their lives as fully as possible.
Ms Jayne believes it's important to create more centres across Scotland to reinforce the positive impact made by Dee View Court. But she is realistic.
As she told The Press and Journal: "There is a definite need for these places because people with neurological conditions of any age should not be placed in older people's care homes that do not have the specialist trained staff or specialist facilities and support for people with such complex conditions.
"Without specialist homes like Dee View Court, there is a risk people end up in hospital too as there is nowhere for them to go that will meet their needs.
"One of the main reasons there aren't more places like Dee View Court is there's not enough known about the number of people with neurological conditions and where they live.
"Therefore, services such as this are not being put in place – and, as a consequence, people are being placed in homes that are not appropriate or are left in their homes without the specialist care and support they need.
"That's why we want the Scottish Government to find a way to collect this information and then support Scotland's health and social care partnerships to put in place the urgently needed specialist services, including residential care where necessary.
Politicians yesterday reacted by calling for greater support for those with neurological conditions.
Richard Lochhead, the Moray SNP MSP, said: "There is more awareness of neurological conditions these days and, hopefully, we can find ways of avoiding a situation where young people are being treated in old people's homes.
"This is one of the issues which we have to respond to, because there seems to be an increasing number of people with these conditions and the clear preference would be to treat them in specialist centres, rather than places which are designed for people with different needs."
Mark's parents are certainly advocates of that initiative. After all, as they explained, life has improved significantly for their son since he moved into Sue Ryder Dee View Court.
His father added: "Nobody told us about it at the outset. Mark's mum stumbled across it in her research, and immediately scheduled a visit to the centre.
"Straightaway, it felt to us as if it was the right place for Mark. It was much more appropriate for his age.
"Dee View Court is a happy place. It enables Mark to do the things he enjoys and the things a young man in his 20s should be doing.
"The staff take him out and about and they organise trips for him. He is very well looked after at Dee View Court and he is well fed!
"It's a weight of our minds, knowing he is cared for so well."
Everybody accepts there will be no quick fix in this story. After an extended waiting period, Mark is receiving the specialist medical care he needs.
He is also working on improving his communication which will help him in dealing with other people and relaying his needs and wishes.
His mother, Jennifer, added: "Mark has come on in leaps and bounds with the help of the staff and we have found a big difference in him, especially in his communication skills."
At 29, he is now able to live as full a life as possible. He regularly takes part in the centre's daily activities with his fellow residents, including trips to the cinema, playing dominoes and watching Countdown.
He especially enjoys visits from the therapet dog, Mika, for whom he has a particular soft spot. And he continues to follow his cherished Aberdeen FC and regularly goes to watch them at Pittodrie, with the assistance of the Sue Ryder care team.
He also loves visits from his parents and his aunt and uncle and especially the chance to see Leo.
The Sue Ryder Dee View Court Appeal recently screened a photographic exhibition which highlighted the diverse personalities of all those who receive assistance from the organisation throughout the United Kingdom.
It was called "Don't Write Me Off."
Mark's parents are glad they found somewhere to give their son the care and support he needs.
How you can support the Capital Appeal:
Send a cheque made out to 'Sue Ryder' to Sue Ryder Dee View Court, Caiesdykes Rd, Aberdeen AB12 5JY.
Or go to:
http://www.sueryder.org/deeviewdonate
To make a gift over the phone, please ring: 0207 554 5985 (Monday-Friday, 9am-5pm) with your debit/credit card ready.