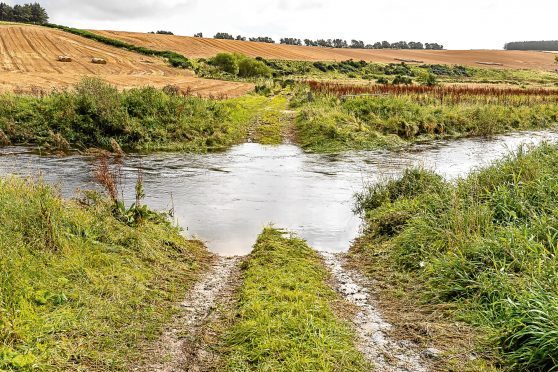 A 23-year-old who died after his car was swept away during heavy flooding was visiting relatives when the tragedy happened.
Police yesterday named Michael Atkinson as the victim of Wednesday afternoon's incident.
It is understood the Banff man was attempting to cross the usually shallow burn not far from the old station house at Tillynaught to reach a field when the 4×4 was swept away. Relatives were too upset to speak last night.
Emergency crews from the police, ambulance, fire brigade, Coastguard and lifeboat services worked for hours to first find and then recover the car which was dragged more than a hundred yards downstream.
A farmworker offered assistance with his tractor to free the vehicle, but declined to comment about his role in the search and rescue effort.
Last night, a police spokeswoman said: "We can confirm the man who sadly died following the car going into water at Tillynaught, Portsoy, was Michael Atkinson, 23, of Banff. Police had been called in relation to a concern for a man in a vehicle shortly after 4pm on Wednesday.
"The vehicle was recovered at around 5.30pm and the body of a man recovered shortly after." She added that there are no apparent suspicious circumstances but  that, "as is standard", a report will be submitted to the procurator fiscal.
A spokesman for the Macduff lifeboat which supported the rescue operation warned that it only takes four or five inches of fast-flowing water to move a car. He said: "After yesterday's incident of a car being swept away by flood waters near Portsoy and the very sad conclusion to this, our thoughts are with the family and friends of the deceased."
Banff councillor John Cox has offered his condolences to Mr Atkinson's loved ones. He said: "It's a tragedy for his family and friends. All we can do is think about them at this hopeless time. We as a community express our deepest condolences."
Dozens of messages for Mr Atkinson have poured in on social media.