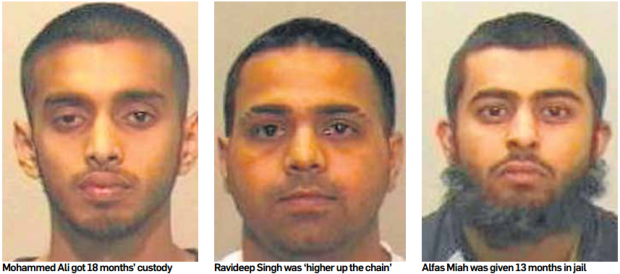 Scammers managed to con an Aberdeen company out of £1.5million by using actors' voices and hi-tech phone technology in a nationwide fraud.
The sophisticated fraudsters used actors' voices and fake dialling tones to convince customers to hand over their account details, before stealing millions of pounds.
Police are still hunting for the scammers, who managed to steal £1.5million from an Aberdeen company's business account, and a further £1.47million from a firm in Northern Ireland.
But yesterday, three men were jailed for helping the culprits launder the cash.
At Newcastle Crown Court, a judge said the scale of the sophisticated, nationwide fraud was "breathtaking" and duped vulnerable pensioners, as well as senior officials within international firms.
The court heard criminals used personal data obtained from unknown sources to contact bank customers.
The caller would convince the customer they were a genuine bank official by telling the account holder to hang up and call back, but kept the line open.
As well as the businesses in Aberdeen and Northern Ireland, the world-famous Pirbright animal disease research centre lost more than £700,000.
Personal banking customers also lost thousands of pounds.
Judge Tim Gittins said: "The scale was breathtaking. It wasn't just vulnerable, older victims targeted and manipulated but financially literate senior officers within international companies."
The court heard once the criminals had access to the victims' accounts, cash would be moved out at high speed and then processed through various "mule" accounts to try to hide it from the authorities.
And yesterday, three men – who prosecutors accept were not directly involved in the phone calls – were jailed for helping clear the cash through their own bank accounts. Mohammed Ali, 24, of Hatfield Square, South Shields, was locked up for 18 months for allowing almost £240,000 of the stolen money to pass through his accounts.
Father-of-two Ravideep Singh, 30, of Westmarcroft Drive, Middlesex, laundered smaller sums of cash – between £20,000-£25,000 – but prosecutors said he was "higher up the chain". He was jailed for eight months.
Former waiter Alfas Miah, 26, of Anderson Street, South Shields, admitted allowing £160,000 of stolen cash to go through his bank He was jailed for 13 months.
A fourth man, HMRC worker Asif Amin, 24, of Ebor Street, South Shields, was given a five-month suspended sentence for allowing around £4,000 to go through his bank.
He was also given a nine-month curfew.