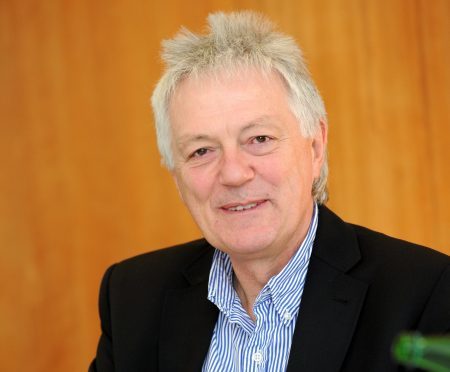 A millionaire Dons director has been accused of placing nearly 600 bets on football matches – including one on his club to lose against Celtic earlier this year.
Duncan Skinner, who joined Aberdeen Football Club's board as a non-executive director in January 2015, has been charged by the Scottish FA.
It is alleged he placed 81 bets involving Aberdeen, backing them to win on 73 occasions and draw seven times.
It is understood the 60-year-old – who is the chairman of the AFC Community Trust – also bet on Celtic to beat Aberdeen on February 1 earlier this year. The Hoops won the match 1-0 thanks to a goal from Belgian defender Dedryck Boyata.
However, there is no suggestion that match-fixing is involved.
According to Scottish FA disciplinary rule 31, "no club, official, team official or other member of team staff, player, match official or other person under the jurisdiction of the Scottish FA shall gamble in any way on a football match."
Mr Skinner has until January 3 to respond to the allegations.
He has now stepped down as a board member of SportScotland while the investigation takes place.
Last night, Mr Skinner refused to comment on the allegations but it is understood he had claimed he was unaware that he was not allowed to bet on football matches in his capacity as a non-executive director at Pittodrie.
A Dons spokeman said: "The club is obviously aware of the citation and, along with Duncan, is co-operating fully with the SFA, in addition to conducting its own internal review. As this is a live case, we will not be commenting further at this point."
The information on 589 bets covering 1,465 games is understood to have been passed to the Scottish FA by a bookmaker.
Mr Skinner, who was present at Aberdeen's annual general meeting on Monday, is understood to have placed 13 bets during the 2014-15 season, including one bet on Aberdeen to draw. He placed 276 bets during the 2015-16 campaign with 33 bets on Aberdeen to win and two on them to draw.
The following season, he made 282 bets with 37 bets on Aberdeen to win, three on them to draw and one on them to lose.
It is believed he has also made 18 bets this season with three bets on Aberdeen to win and one on the Dons to draw.
A hearing will take place at Hampden on January 11 with a range of possible sanctions from a fine of £1,000 to £1million as well as suspension from the game.
However it is expected that Mr Skinner is likely to receive a small four-figure fine.
The hearing will take place just weeks before Aberdeen City Council make a decision on the club's controversial new stadium at Kingsford.
The community trust has been a driving force for the £50million plans, and Mr Skinner has been a pivotal figure in campaigning for the training facilities and trying to allay concerns by campaigners.
In the meantime, Aberdeen FC are understood to have conducted their own general review of governance and procedures, reminding players and staff that they are not allowed to bet on football matches.
A SportScotland spokesman said: "This is a matter for the Scottish Football Association.
"In the interim period between now and the hearing, Duncan Skinner has stepped down as a member of the sportscotland board.
"It would be inappropriate for sportscotland to comment further at this stage prior to the outcome of the hearing."
Mr Skinner is not the first to have been accused of breaching the anti-betting rules.
Annan Athletic chairman Henry McClelland was fined £3,000 by the Scottish FA in June after admitting placing 4,011 football bets, including 430 involving his club between July 2011 and May 2017.
Four of the bets that Mr McClelland placed were on Annan to lose.
He admitted the rules breach at Hampden and £2,000 of his punishment was suspended until the end of this season.
Former Rangers midfielder Joey Barton is currently serving an 18-month ban for betting on 1,260 football matches over a 10-year period, including games he was involved in.
Caley Thistle defender Lewis Horner received a suspended eight-match ban for betting on football in May.
The 25-year-old, who now plays for Blyth Spartans, placed 355 bets between 2011 and 2017 including one against his own team.