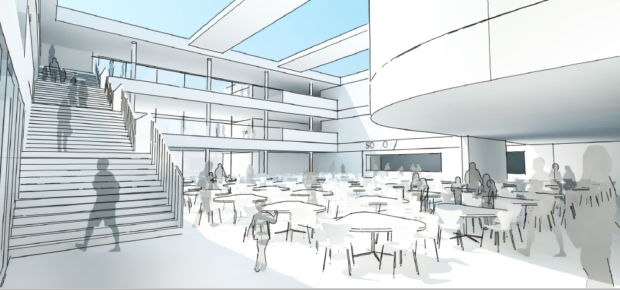 A new artist impression gives the first glimpse of how the new multimillion campus in Peterhead could look when complete.
Aberdeenshire Council last night confirmed it would be forging forward with plans to replace Peterhead Academy with a new £71million facility and released a picture of the designer's vision for the site.
It includes open spaces for dining and learning, as well as dedicated space for a community cafe and offices.
Councillors approved the scheme earlier this month as part of the local authority's budget heading into 2028.
Last night, the chairwoman of the council's education committee, Gillian Owen, said the project will make a "real difference" to the town.
"We have a longstanding commitment to regenerating and improving Peterhead," she added.
"This is why we embarked on a building programme designed to make a real difference to the community.
"Once complete, there will be a fantastic community campus which will see a state-of-the-art secondary school and primary schools, as well as provision for leisure and culture in the form of a sports village, theatre and space for the community to meet and host events."
Maria Walker, the authority's director of education, added: "Over the years we have carried out a wide-ranging investment in improving schools across Aberdeenshire.
"Our intention is to give children and young people the best possible start in life and having a modern school building plays a part in that.
"Teachers also take pride in working in these fantastic facilities."
Last year, the council suggested the school could be built out of the town centre at Kinmundy Road.
But local councillor Alan Buchan raised fears that disadvantaged pupils would "miss out" if the school was moved.
He said: "This new site doesn't even register on the Peterhead town map, so how are these kids going to afford bus fares or their parents buying cars to take them the two and a half miles to school?"
Another option for the campus is to demolish and rebuild Peterhead Academy at its current site, on Prince Street.