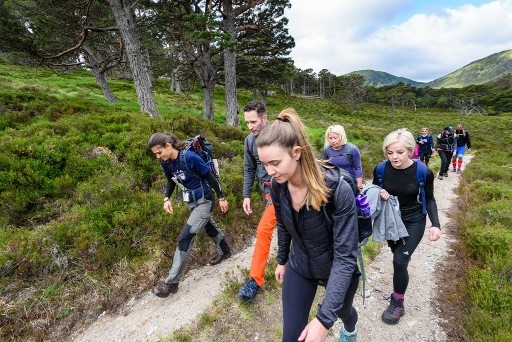 The Queen has granted permission for a special event supporting veterans to be held at Balmoral Castle again this summer.
On June 23, teams will tackle the challenging countryside around the royal residence to raise money for charity Walking With The Wounded.
Over the course of the day participants will race across one of several routes through the wilderness, ranging in length from nine to 24 miles, by orienteering using a map and checkpoints.
Each group will have the opportunity to walk with ex-military personnel who have previously been helped by the charity.
Walking With The Wounded supports vulnerable veterans with physical or mental injuries, or social issues such as homelessness, to access better care and get back into employment.
The Balmoral Challenge was held for the first time last year and raised more than £100,000 for the organisation.
William Cairns, from Walking With The Wounded, said: "This experience has without a doubt impacted very positively on our veterans who took part last year.
"It reminded them about the skills they used in the military such as teamwork, planning and communication skills.
"They also enjoyed the chance to meet new people and organisations whose support gave them hope and encouragement.
"They are even more determined to take the next step towards independence and gain a home and to gain sustainable employment or engage in education."
Three routes have been decided upon for the challenge.
The smallest of the three is a nine-mile foray exploring the cairns in the forest above the castle.
Participants in the largest race will be dropped off at a secret location, then take part in an 18-mile race over three Munros to get back to Balmoral.
Another option is a 12-24 mile challenge where teams are given nine hours to explore the wilderness and find as many checkpoints as they can.
Garry Marsden, visitor enterprise manager for Balmoral Estate, said: "We're delighted to host the challenge once more.
"Many soldiers have been stationed at Balmoral over the years and been tested on the hills above the castle.
"They're not easy, but boy are they rewarding."
For more information or to enter a team visit
walkingwiththewounded.org.uk/balmoral