The Scottish Government has rejected pleas for help to repair a landslide which cut off a community for months.
Gardenstown and nearby Crovie were both hit by landslips last year.
In Gardenstown, Harbour Road was closed – cutting off residents living at the bottom of the village for months until supervised openings could be arranged.
Work is currently under way to create a temporary fix in time for the summer season, while the Crovie project is still to go out to tender.
In the meantime, local politicians have appealed to the government to put money towards the £2million repairs.
Banff and Buchan SNP Stewart Stevenson, and deputy council leader Peter Argyle – who is also chairman of Aberdeenshire Council's infrastructure services committee – have separately written to ask for assistance.
But now Finance Secretary Derek Mackay has rejected Mr Stevenson's request, and said it is up to Aberdeenshire Council to foot the bill.
In his response, Mr Mackay said the authority has already received £454.7million in government funding, and that a council tax rise would allow it to generate an additional £19.2million.
The council is also set to be handed more than £800,000 for winter maintenance costs.
The finance secretary said: "Scottish Government policy towards local authorities spending is to allow local authorities the financial freedom to operate independently.
"As such, it is the responsibility of individual local authorities to manage their own budgets as efficiently as possible and to allocate the total financial resources available to them on the basis of local needs and priorities."
Last night his decision was condemened by rival politicans, who claimed it was proof the north-east was "not a priority" for Holyrood.
Conservative Troup councillor Mark Findlater said: "Residents in Gardenstown will be disappointed to hear that the SNP government has refused calls for help on this matter.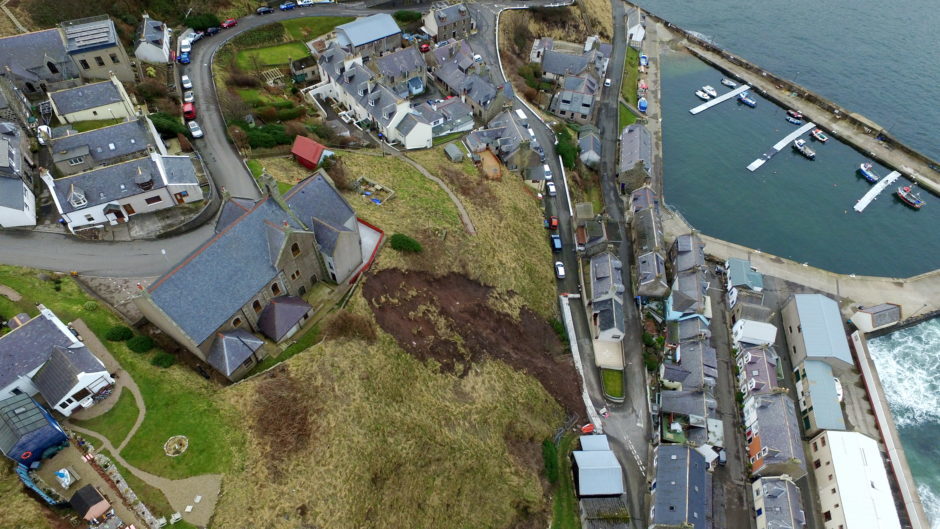 "This work is going to cost at least £2million – it is a major operation to address the landslip that has caused huge problems locally.
"Aberdeenshire Council will meet the cost, but it would have been very welcome if the government had seen fit to offer some support.
"Unfortunately, it is clear that this area is not a priority for this SNP government – even when their own MSPs have asked for assistance."
Lib Dem Mr Argyle said he was still waiting for a response to the letter he sent following a council discussion in March.
"Clearly, it will be disappointing if that is the position the Scottish Government is going to take," he said.
"It was a cross-party agreement that I should write to them in March, and I just hope they listen to what we have to say.
"But if that is the case, we will clearly continue that dialogue with them.
"There are real financial and social issues around the landslides we have."
SNP MSP Mr Stevenson, who has passed the letter on to council chief executive Jim Savege, admitted the response could be interpreted as "disappointing."
Drive to attract tourists to a tiny north-east village after a landslip battle
He said: "Although the cabinet secretary's decision might be considered disappointing, it has to be taken in the context that there are many local authorities who will be experiencing the effects of coastal erosion, and to concede to one such request would potentially open the door to an unsustainable level of demand."
Work is currently on-going to create a temporary fix to the landslip in Gardenstown, to allow the community to open for the summer season.