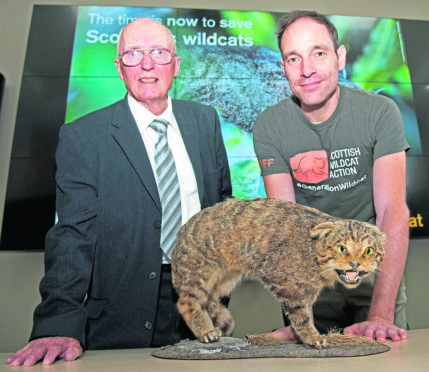 Campaigners have warned this is the "last generation" that has a chance of saving the Scottish Wildcat in its natural habitat.
The Scottish Wildcat Action (SWA) group launched its major new campaign to save the UK's most endangered carnivore yesterday and named it #GenerationWildcat.
The initiative is targeting the general public, outdoor enthusiasts, farmers and gamekeepers as well as "citizen scientists" who could help by reporting sightings of wildcats.
There are five priority areas Strathbogie, Angus Glens, Northern Strathspey, Morvern, and Strathpeffer that have the most wildcats.
Wildcat conservation group launches campaign to protect Clashindarroch Forest
The main threat to the wildcat is hybridisation by mating with feral or domestic cats but disease, snaring and lamping also have a considerable impact.
Now the SWA want to people to neuter their cats, gamekeepers to be "wildcat friendly" such as avoiding using snares, while farmers can ensure their cats are disease free.
SWA Project Manager Dr Roo Campbell said: "The time to save the Scottish wildcat is now. We are almost certainly the last generation who has a realistic chance of saving this iconic species from extinction in Scotland.
"Wildcats here face three key threats: hybridisation with feral domestic cats, disease and accidental killing. "We will only regret tomorrow what we don't do today, so I would encourage as many people as possible to join in this campaign."
He added: "It is vital that we all work together and become part of the fight to save our Highland Tiger."
The SWA want all feral and domestic cats neutered to prevent cross mating of species and have recommended that to the Scottish Government.
SWA Steering Group Chairman Allan Bantick OBE made the recommendations given to the Scottish Government public for the first time.
He said: "We sent a report from the SWA steering group outlining the position the cat was in and emphasising there was various options to deal with that – soft options right up to hard options.
"And the one that we recommended to the government is where all domestic cats within our priority areas as a first step should be neutered, vaccinated and microchipped but particularly neutered."
The recommendation then calls for that to be extended nationwide from 2025 a move that would likely "require legislation."
The Cabinet Secretary for Environment, Climate Change and Land Reform, Roseanna Cunningham, has already offered her strong support.
In a video message she said: "The key for us is to turn that support into meaningful and effective action. What we need to get across is that now is the time to save Scotland's wildcat. The actions we take today and that we encourage others to take through the #GenerationWildcat movement will determine the future of this much loved and charismatic species."