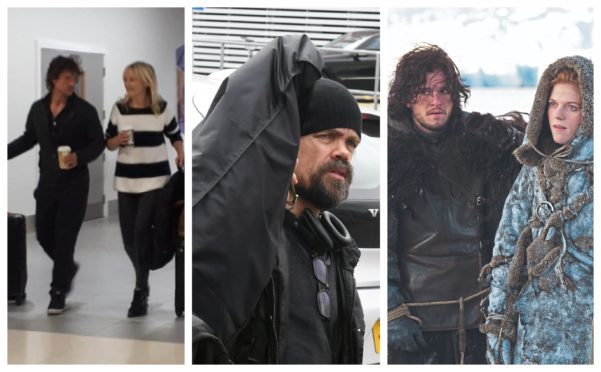 Celebrities jetted into Aberdeen yesterday ahead of the wedding of two Game of Thrones stars.
Kit Harington and Rose Leslie, whose characters played lovers in the popular show, will tie the knot today in front of friends, family and fellow cast members.
Peter Dinklage, who plays Tyrion Lannister in the TV programme, arrived at Aberdeen International Airport on a flight from Belfast shortly after 1.10pm yesterday sporting a knitted hat and headphones.
Dressed all in black, he stepped off the plane carrying a suit storage cover and walked swiftly through the arrivals area with show producer D.B Weiss.
VIDEO: Stars jet into Aberdeen for wedding of Rose Leslie and Kit Harington
His co-star Emelia Clarke, Daenerys Targaryen in the hit show, also touched down in Aberdeen on a flight from Heathrow.
She arrived in the city casually dressed wearing white jeans, a black shirt jacket and sunglasses.
Jack Donnelly, of the BBC's Atlantis who went to acting school with the groom, and his fiancee Malin Akerman, a Swedish-Canadian actress, grabbed a quick coffee from Joe's cafe in the airport before collecting their luggage.
When asked if she was excited to be in Aberdeen, Malin Akerman, said: "Very much, it's our first time in Scotland."
Mr Donnelly also confirmed he would not be donning a kilt for the nuptials.
Sansa Stark actress Sophie Turner was also spotted in the airport.
Kit Harington, who plays Jon Snow, and Rose Leslie, who starred as the wildling Ygritte, are believed to be marrying at Wardhill Castle, near Huntly, which the bride's family have owned for around 900 years.
It is thought that the couple, who are both 31, will tie the knot in an ornate drawing room inside the historic building.
A large marquee has been erected in the walled garden on the property, thought to be the location of the reception celebration.
The stunning venue also boasts a picturesque pond and church on the grounds amid vast, green gardens.
The couple announced their engagement in the Times newspaper in September after meeting on set while working on the show.
But it only emerged last month that they had planned their big day to be held in the north-east after their wedding banns were posted at the Huntly Registrar Office.