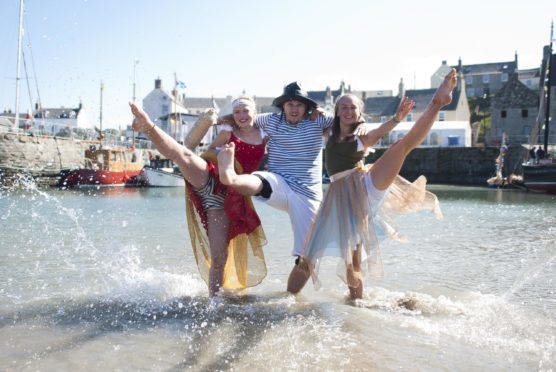 Thousands of people are expected to flock to a north-east harbour this weekend to enjoy one the country's biggest maritime events.
The Scottish Traditional Boat Festival is held at Portsoy's 17th century harbour and attracts crowds from around the world.
Classic vessels of all shapes and sizes have docked at the port for two days of festivities.
Although it does not officially open until today, the 25th festival burst into life last night with renowned songwriter Dougie MacLean playing at the Gig on the Green.
Clare Russell, the Lord Lieutenant of Banffshire, will be doing the honours with the opening speech at 11am.
The Scottish Traditional Boat Festival has always had an international flavour, but that will go further this year as it officially links up with similar events in Estonia and Latvia.
Around 30 people from each country will perform in Portsoy showcasing dancing, crafts and their own delicacies.
In return a delegation from the north-east will go out to the Baltic countries in August.
The transnational project will aim to exchange ideas, crafts, performances and knowledge.
Roger Goodyear, co-chairman of the Scottish Traditional Boat Festival, said he was "excited" about the budding relationship with Cucumber Festival in Estonia and Fish Festival in Latvia.
He said: "From the moment we had the first approach from Latvia and Estonia for a link up of festivals we were excited about the potential such a link would provide.
"The Portsoy festival has been steadily increasing its international standing and this development with these two Baltic states gives us a great opportunity to present the wonderfully rich heritage of the north-east to an even rear audience.
"It also provides a unique opportunity for us to learn about the culture of these two countries and to experience some of their food, music and dance and food. It will certainly make for an amazing weekend in Portsoy."
One of the most popular events in Scotland's tourism calendar, the ACE Winches Scottish Traditional Boat Festival, attracts up to 16,000 people to the Banffshire town of Portsoy every year, with around 12% of the visitors from overseas.
For more information about the festival visit