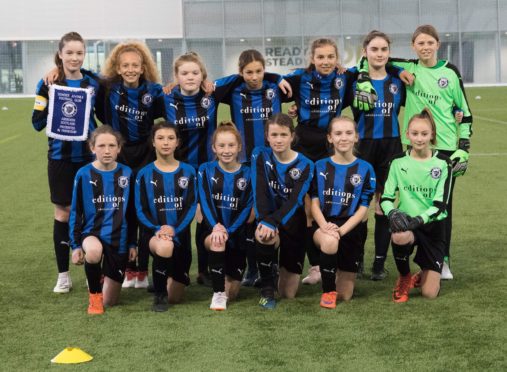 An Aberdeenshire football team hopes to score a new minibus to help the younger players travel to matches.
Donside Junior Football Club in Alford has around 300 youngsters on its books.
And now they are hoping to win the Press and Journal's minibus competition – but need fans, parents and the wider community to help.
The 17-seater Ford is up for grabs to a community group based in the north or north-east thanks to Nexen. All hopefuls have to do is collect the tokens featured in the P&J and attach 50 to each entry form they submit.
Duncan Harper, chairman of Donside Junior Football Club, revealed they have been fundraising for their own bus for years – and admitted winning the £40,000 prize would be a dream result.
He said: "Our members consist of 300 children and around 50 coaches. Due to our relatively remote location based in the village of Alford, we have to travel great distances for every away match.
"We play in the Aberdeenshire district leagues and in national competitions that encompasses the whole of Scotland.  We also appreciate that when teams go away together collectively rather than individually, it garners team spirit and camaraderie, essential to all team sports.
"We are still looking into funding our own bus, but as a self-funded organisation we only have a finite amount of money.
"We are not giving up on that idea but obviously if we can be successful in this competition we would be able to redirect funds to other equally important aspects."
He urged the Donside community to back their efforts by collecting tokens on their behalf.
Mr Harper added: "It would mean an awful lot, as travel to and from matches puts a big strain on the parents and the coaches."
Tokens are available in the P&J until February 3. Groups can enter as many times as they like, as long as each form has 50 tokens attached.
All entries must be received by February 11. To find out more, visit www.pressandjournal.co. uk/minibus