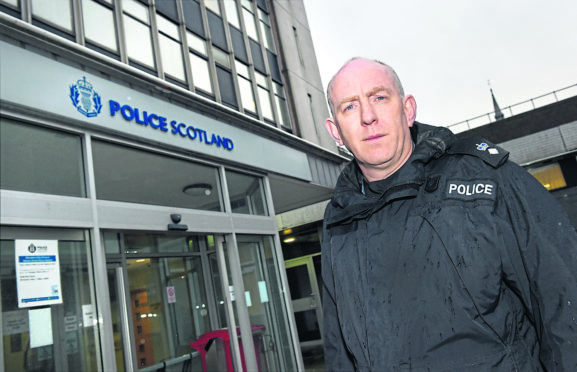 Hundreds of hate crimes were committed in Aberdeenshire over the past year.
A new report which will be discussed by councillors next week reveals there were 120 offences carried out between 2017-18.
This was an increase of 37 on the same period the year prior, however 90% were detected by police.
Between April and September there were 38 crimes, which was a reduction of nine on the same period in 2017.
In total there were 416 hate crimes reported across the north-east.
The report, authored by Superintendent Graeme Duncan, also revealed a significant number of these crimes involved emergency service workers as the victims although no figures were published.
According to police, the majority of hate crimes happened in town centres at night across the area.
---
>> Keep up to date with the latest news with The P&J newsletter
---
The report also confirms there had been an increase in the number of transgender hate crimes.
In order to help combat this, 91 officers have been given specialist training to help them better understand the issues affecting the Lesbian, Gay, Bisexual, Transgender and Intersex (LGBTI) community, to allow them to work proactively.
Supt Duncan's report states: "Hate incidents and hate crimes continue to occur across the north-east and Aberdeenshire is no exception.
"Although within the national context the number of reports of hate crime
being received within the north-east remains reassuringly low, such reports
are continually managed and reviewed by Police Scotland through the
process of daily management and monthly tactical meetings."
In June, the Press and Journal reported on the new figures of hate crimes against lesbian, gay and bisexual people doubling in the last year.
Official data showed that crime aggravated by sexual orientation jumped from 35 in 2016/17 to 69 offences last year.
However, the figures are also being viewed as evidence that more people have the confidence to report such offences to the police.
And in October Chief Superintendent Campbell Thomson said he believed racist crimes were becoming as socially unacceptable as drink-driving, where people were more likely to step in and stop a friend if they made an offensive comment in the same way they would warn them against driving under the influence.
Liam Kerr, North East MSP and the Tories' shadow justice secretary, said: "I am particularly disappointed to hear that so many of these incidents involve emergency service workers.
"This is truly despicable behaviour. Fire, police and ambulance crews put their lives on the line to protect others.
"It is an utter disgrace that they are subjected to this kind of abuse."
A spokesman for the Scottish Ambulance Service said: "Our staff should not have to suffer any kind of abuse when they are treating patients.
"We have a range of measures designed to ensure our crews are better protected when out on the road  – staff are trained in managing aggression and assessing risk, for example, enabling them to better judge when they need to wait for support from the police, or additional ambulance crews."
This latest report will be discussed by the council's communities committee on Thursday.