Jamie Williams has an infectious smile – you can't help but beam back as he makes a cheeky quip.
With his comical large glasses and blonde hair, he is Aberdeen's very own Milky Bar Kid.
At the age of 13, Jamie is slight in build, but makes up for his stature with surprising feistiness on court.
His fellow team-mates shout encouragement as opponents slam into the side of him, for this is a game that shows no mercy.
But were Jamie to find himself knocked to the ground and unable to get back up, he would be surrounded by outstretched hands in seconds.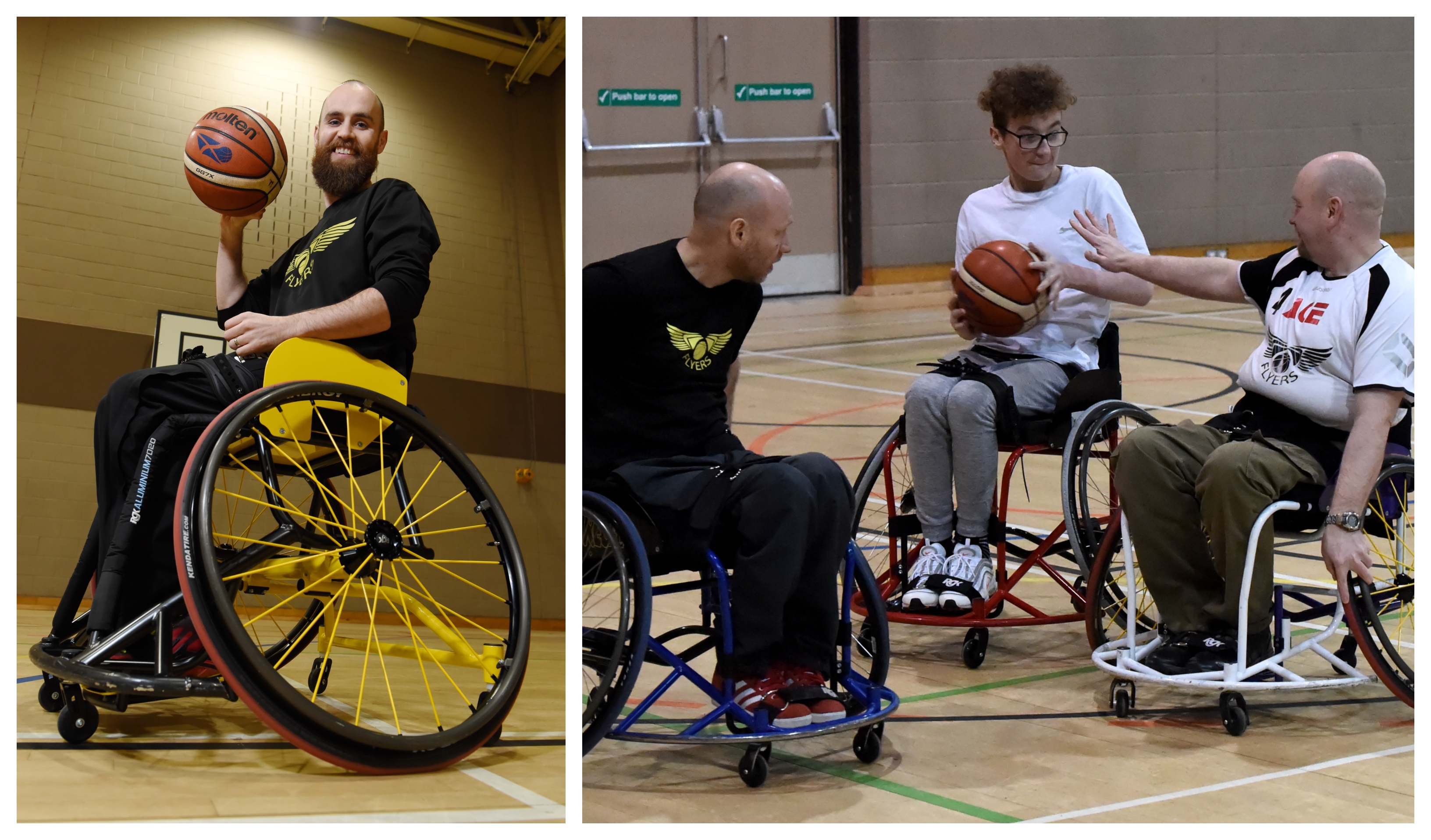 Grampian Flyers may play a full-on version of basketball, but one thing is for sure – they look after their own with equal ferocity.
As the ball is hurled from player to player before sailing through the hoop, this might be easy to forget.
It is easy to get caught up in the game, the comradeship and the cheering that echoes at Aberdeen Leisure Centre until past 9pm every Monday night.
And that is perhaps the whole point for those who take to the court after intense upper-body weight training.
This is, in fact, wheelchair basketball.
Opponents deliberately collide in a bid to block each other, the frames of their chairs scraping as the wheels clatter.
For players like Jamie, this is a rare opportunity where the wheelchair is to his advantage.
Disability becomes a leveller, not a mark of difference in a city where wheelchair sport is limited.
Grampian Flyers was set up by Grant Wilson, who is an active sports co-ordinator and helps those with additional support needs.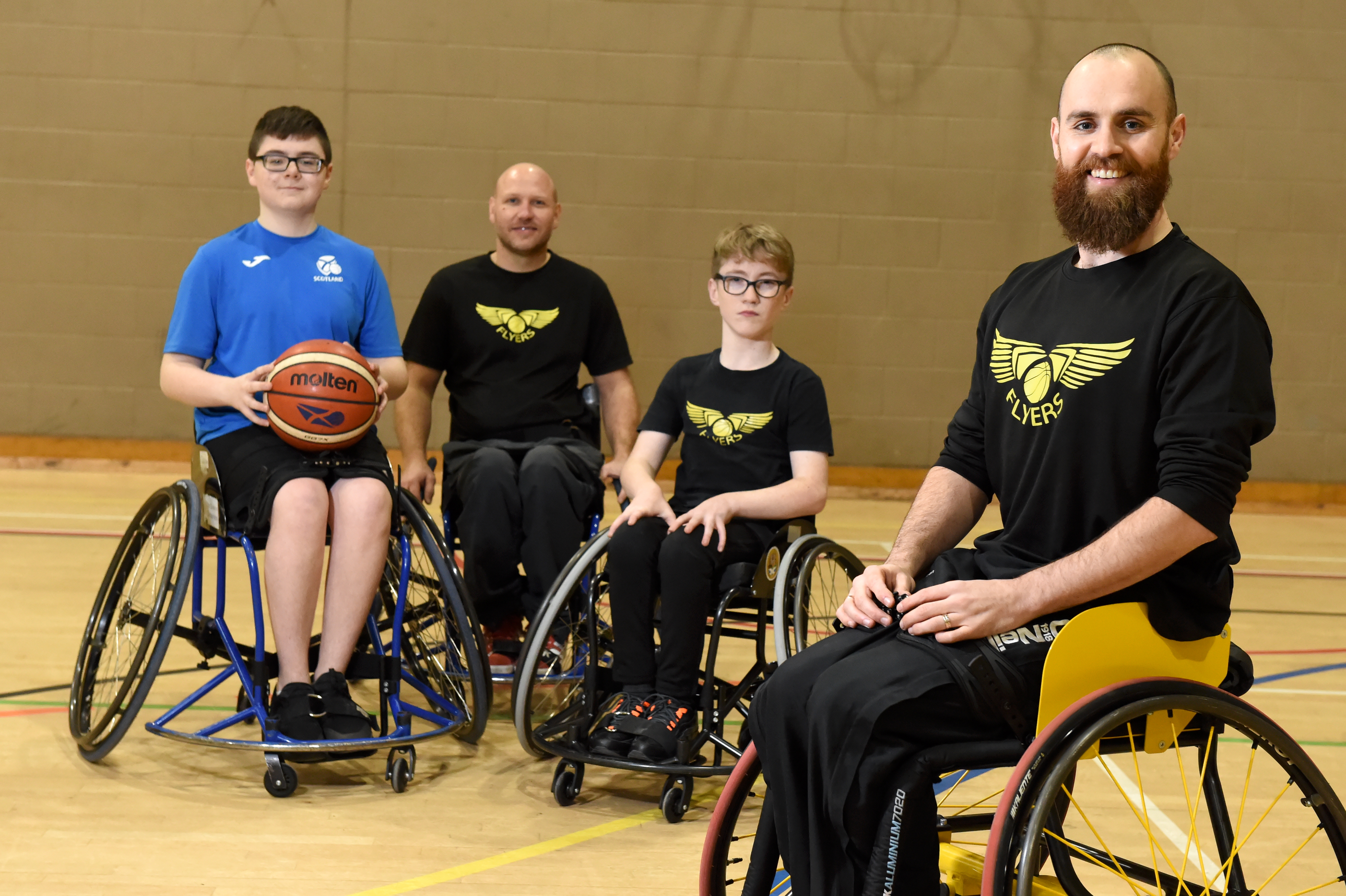 He decided to set up a wheelchair basketball team five years ago and started out with just two people.
With the support of Sport Aberdeen, the group has storage space for wheelchairs and further disabled parking spaces.
The team now has what Grant describes as a "wide cohort" of players, with 34 members who play regularly.
Games can be mixed – there is an adults team and a junior team who play in wheelchairs.
Grant is able bodied and you don't need to have a disability in order to join the team – the team tries to be as inclusive as possible.
But you do need to be prepared for the rough and tumble.
"There is a lot of contact," said Grant.
"Just because this is wheelchair basketball, we aren't going to limit contact.
"The only difference is that it is chair-to-chair contact.
"The chairs are designed to protect you and cost up to four-and-a-half thousand pounds.
"They can be adapted to the player depending on their disability.
"I can obviously sit tall when I play because I don't need the additional spinal support.
"Originally, wheelchairs were donated by Basketball Scotland and I think we have about 30 chairs in total. The majority of our players have lower-body impairments and we use a classification system for disabilities.
"We also have a handful of able-bodied players and often end up roping in friends and family.
"We have never turned anyone away."
The team trains every Monday night, with the juniors starting at 6pm before the adults play at 8pm.
Grant is often packing equipment past 10pm, but the commitment is clearly worth it.
"I've played in a lot of different teams and coached a lot of games, including Scotland's international team," he said.
"But this group here show up every single week – the team is like nothing on Earth.
"They are truly like family, like brothers."
Jamie's story
Jamie has cerebral palsy and relies on a wheelchair day to day.
Prior to joining Grampian Flyers, he struggled to become involved with team sports at school and often felt left out.
Forever positive, he simply got on with things.
"My disability can sometimes be a really hard thing to accept, but you have got no choice other than to carry on with things," said Jamie.
"I started playing wheelchair basketball two years ago and it has changed everything for me.
"It gives me something to do.
"Physically, I am so much stronger since I started playing because of all the weight training.
"Grant is a brilliant coach and I love the team.
"When we are playing, we are not disabled. We are the same."
Jamie plays basketball alongside his best friend, Callum Smith.
The pair met when they went to nursery together and have been friends ever since.
Callum's story
Callum is supported by his mum, Kirsty, who attends every training session.
He joined the team 18 months ago, much to his mum's delight.
"Callum is partially sighted and also has other medical issues, so he is excluded from quite a lot at school," said Kirsty.
"He would need to wear special sports goggles to play every day sports, but they cost hundreds of pounds.
"He always felt like he didn't quite fit in.
"Then, after his first session here, he turned to me and said he felt like he finally fitted in somewhere.
"I was over the moon."
Callum has recently progressed to playing with the adult team and is one of their youngest members.
He plays once a week and is aiming for a place on Scotland's playing squad.
"He has been the youngest player for ages and the guys are so patient with him," said Kirsty.
"There has been a major change in his confidence in general and his core is a lot better – he is stronger."
Kirsty is used to spending hours at the leisure centre, as Callum's brother and sister are both figure skaters.
Grampian Flyers has enabled him to find a sport of his own.
"This is something that only he does, something he can excel in," said Kirsty.
"I spend my whole life between here and the rink.
"I think disability sports in general are overlooked and they need to be encouraged a lot more.
"It's worth it."
Callum is surrounded by mentors, including Richard Craig who was the very first member of the team.
He has used a wheelchair for 15 years after a motocross accident.
Richard's story
"I got involved after seeing a flyer, so I decided to go along for a taster session," said Richard.
"You're really limited in a chair as to what sport you can do, so this was a chance for me to play competitive sport and keep myself fit.
"I was 27 when I had a motocross accident which left me paralysed from the chest down.
"Looking back, I knew it was a danger of the sport and that was part of the thrill in risk taking.
"I used to be an electrician and obviously I've had to get used to a very different life.
"I used to play football and Grampian Flyers offered the chance to become part of a team again.
"It is the comradeship that I love.
"We all have different disabilities, but a wheelchair is a leveller."
Junior coach Sarah Hawken agrees.
Sarah's story
Sarah travels from Aboyne each week after her friends persuaded her to give wheelchair basketball a try.
She now teaches some of the team's youngest members and has no regrets.
"I found myself in a wheelchair pretty unexpectedly," said Sarah.
"I have epilepsy and felt ill one day – it was a complete snap change.
"Doctors think it's something neurological, but either way, I've had to get used to it.
"I was putting on weight and my friends pretty much forced me along – and I'm so glad they did.
"It doesn't matter what your disability is, we have so much fun.
"It can sometimes look like chaos, but helping the kids gives me an enormous sense of achievement.
"It's hard to put into words.
"The game can be brutal, but we're like family."
What: Grampian Flyers is currently sponsored by RGK, who provide the team's wheelchairs.
How: Grant is eager to work with more companies and hopes to provide taster sessions for anyone who is interested.
Contact: Visit the group's Facebook page, Grampian Flyers Wheelchair Basketball.