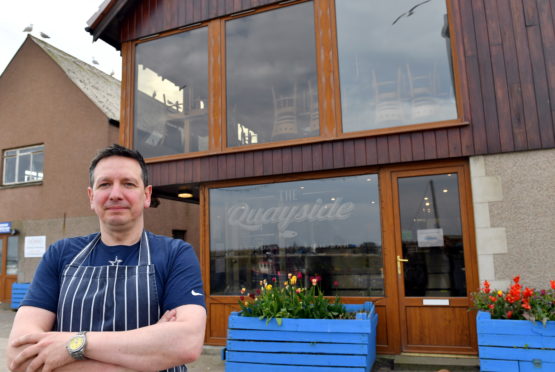 Quayside Restaurant and Fish Bar in Gourdon has been awarded the Best Seafood Week Campaign Award as part of the 2019 National Fish & Chip Awards.
This award category was open to entry from all businesses that participated in Seafood Week (5–12 October 2018), an annual event coordinated by Seafish that encourages consumers to eat more fish, more often.
Another Aberdeenshire business, Low's Traditional Fish & Chips, took third place in the UK Fish & Chip Shop of the Year category.
Marcus Coleman, Chief Executive at Seafish, commented: "Our annual Seafood Week campaign is a celebration of all things fish and shellfish and is a highlight in the seafood industry's calendar.
"The initiative encourages all fish and chip related businesses to engage with their customers to promote the fantastic flavours and health benefits of fish and shellfish to inspire more people to eat fish more often.
"With robust promotional campaigns that combined innovative marketing materials and techniques, it's evident how passionate Quayside are about increasing seafood consumption. Congratulations to them!"
Our finalists and guests are ready to take their seats. The stage is set and we're ready to get things underway. Follow the excitement with #FishnChipAwards pic.twitter.com/ojHadcN84S

— Fish & Chip Awards (@FishNChipAwards) January 24, 2019
Ben Bartlett, celebrity chef and awards judge, said: "The Best Seafood Week Campaign category is a fantastic way to celebrate the great taste experiences to be enjoyed by eating fish and shellfish, and I was extremely impressed by the standard of entries.
"The team at Quayside developed an array of innovative ways to target their customers and it was great to see them promoting the natural and nutritional elements of fish and chips. I would urge other businesses to get on board with Seafood Week 2019 so that they can enter this award category next year."
The fish frying Oscars
Recognised as one of the most prominent and respected seafood industry events in the UK and widely considered as the 'Oscars' of the fish frying industry, the National Fish & Chip Awards celebrate the great British tradition of fish and chips by rewarding the best talent, quality and choice offered by fish and chip businesses.
Now in their 31st year, the awards seek to:
Reward individual excellence in a range of different award categories.
Raise quality standards and provide a benchmark for businesses to aspire to.
Provide a robust platform for a wide variety of media activity.
Promote the sector and its many diverse facets and encourage the continued consumption of fish and chips amongst both the UK population and visitors to the UK.
There are a variety of award categories to enter and businesses are appraised on criteria ranging from sustainable sourcing practices, customer service, hygiene and staff training, and most importantly, the quality of fish and chips.
The 2019 National Fish & Chip Awards ceremony took place on today at the Royal Lancaster Hotel in London.