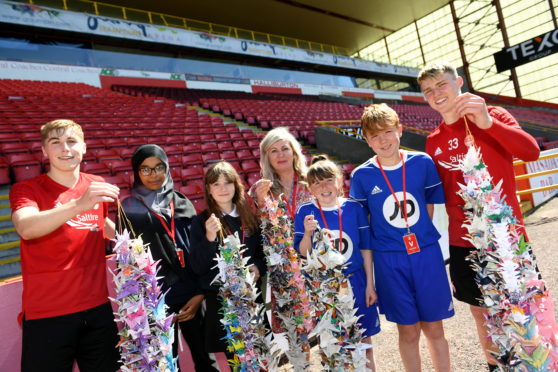 It is hoped 1,000 paper birds could help the Dons soar into European competition next season.
Emerging Aberdeen FC stars Dean Campbell and Ethan Ross took delivery of the staggering number of origami cranes at Pittodrie yesterday.
The side is all-square with Kilmarnock in the Premiership table going into the final day of the season and vying for third place in order to lock down a place in the Europa League.
Four Hazlehead Academy second year pupils led efforts to craft the cranes, in the belief that it could bring the team good luck.
Ancient Japanese legend promises anyone who folds 1,000 origami birds, known as a Senbazuru, "will be granted a wish by the gods".
Maybe the good fortune arrived early for Ross, 17, as he penned a new two-year deal with Aberdeen this week and was named development player of the year at the club's annual awards dinner.
Both he and 18-year-old Campbell came through the SFA Performance School at Hazlehead – and two of the origamists are hoping to emulate them.
Findlay Marshall, who plays for AFC under-14 boys team, came up with the idea after seeing Japanese fans present Liverpool player Alex Oxlade-Chamberlain with a similar gift.
He said: "I wanted to give Dean and Ethan good luck to hopefully break into the starting line-up.
"It's great to see them in the first team squad and I hope to follow in their footsteps."
Fellow SFA school pupil Brodie Greenwood added: "Hopefully the team will manage to get into Europe at the weekend.
"Seeing people come through my school and into the first team is really inspirational, it makes me want to follow in their footsteps."
Brodie has played for Scotland under-14 girls, as well as belonging to Brechin boys and Forfar girls teams.
Artistic classmates Noor Suliman and Chelsea Gove ensured that the bird-making project really took flight.
Noor said: "It was quite fun and I found it pretty relaxing to do with my friends at lunchtime.
"We started practising by making origami hearts and turtles before moving on to birds."
Chelsea added: "We must have made a few hundred each.
"I'm not sure what we'll choose to make next."