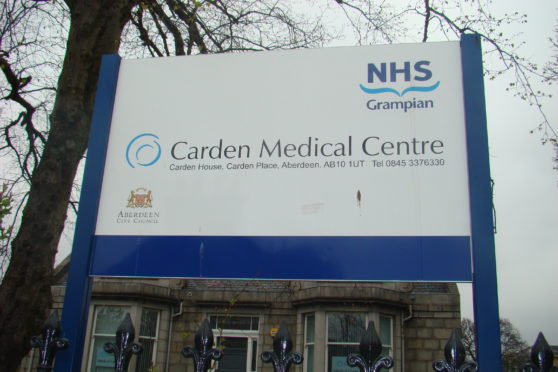 Aberdeen health bosses have pledged that a city clinic will not close despite the partners choosing to end their contract with the NHS.
Carden Medical Centre, with 9,000 registered patients, will continue to offer GP services while a search is launched to find new management to take it on.
Should that fail, the NHS will take it on directly and it will be managed by the Aberdeen City Health and Social Care Partnership (ACHSCP).
All the GPs, bar one, will continue at the practice.
There have been a slew of clinic closures in the city in recent years, with Rosemount Medical Group having to transfer 4,000 of its patients to other facilities across the city last year.
The number of surgeries in the NHS Grampian area, meanwhile, has declined from 84 in 2008 to 73 in 2018.
But last night health chiefs were quick to reassure patients that the Carden Place clinic would not become another victim.
ACHSCP chief officer Sandra Ross said: "The GP partners have informed us of their intention to end their contract with NHS Grampian to provide general medical services at Carden Medical Centre.
"In response to this, the partnership will now make efforts to discover whether any other practice is interested in taking on the Carden practice.
"If not, the practice will be transferred to NHS Grampian and it will then be directly managed by the partnership.
"We are working closely with the Carden doctors and the wider Carden practice team and services will continue as usual during this time of transition.
"This will be an opportunity to reshape services to make sure they meet the needs of the local community for the future."
Ms Ross added: "All practice staff have been informed of the situation and letters have gone out to patients.
"They and the practice staff will continue to receive communications at each stage of this transition process.
"There is no need for patients to worry or to change their practice."
Carden practice manager Shona Alexander said: "As with many other practices, Carden has a mixture of salaried GPs, locums and GP partners who own the business.
"One partner is moving on from Carden for career reasons and the remaining two partners have taken the decision to work with Aberdeen City Health and Social Care Partnership (ACHSCP) to look at different ways of working to secure the future of the practice.
"We want to reassure our patients that our services will continue as normal throughout and our staff remain available to deal with all primary care needs."
Rosemount and Midstocket SNP councillor Bill Cormie, whose ward includes the clinic, said: "Obviously I am aware of the situation and some of my neighbours attend the practice.
"It doesn't sound as severe as some of the other recent situations given the guarantees it won't close but I understand the concerns of patients and staff."
Aberdeen South MP Ross Thomson added: "More than 9,000 Aberdeen patients are being notified of a potentially massive change in how their GP care is delivered.
"I will be in touch with the health and social care partnership to make sure any transition is smooth and no one is adversely affected."