VIDEO & GALLERY: Chaos for drivers and householders as flooding hits the north-east
Commuters ground to a halt last night as heavy rain battered the region – with more expected today.
The Scottish Environmental Protection Agency (Sepa) issued a flood warning for today as as "heavy and persistent rain" battered Aberdeen and Aberdeenshire.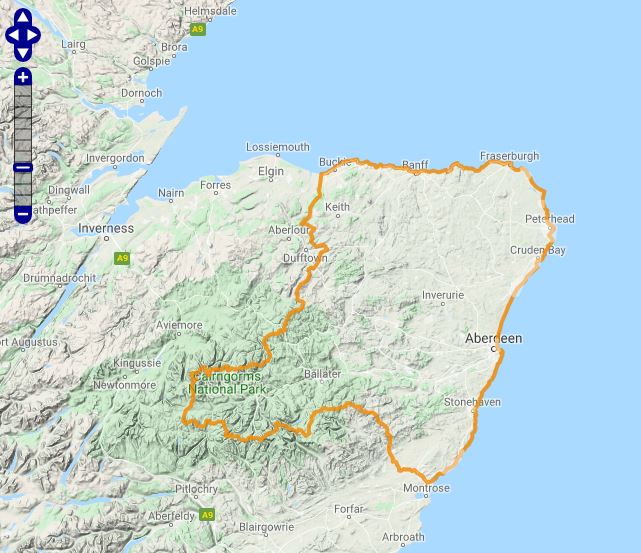 Major roads and routes across the region were affected causing massive traffic tailbacks as commuters struggled to make it through the weather.
Duthie Park, South Deeside Road, the Lang Stracht and the Berryden, Westburn, Morningside and Cults areas of Aberdeen were badly hit.
The A90 Aberdeen to Fraserburgh road was also affected.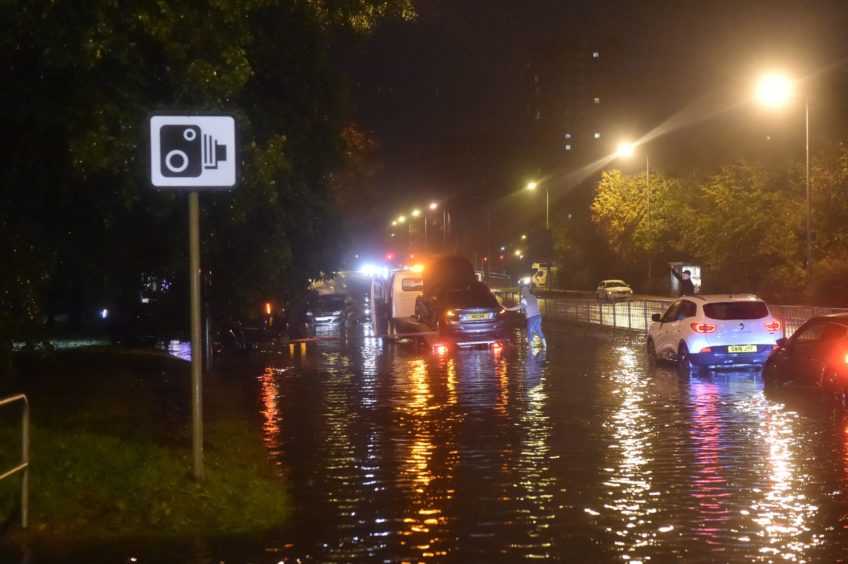 Supermarket Lidl on Hutcheon Street in Aberdeen was forced to close following a severe downpour yesterday afternoon.
Meanwhile, energy workers based in Westhill – and youngsters at a local nursery – were given an unexpected day at home after a water pipe burst.
Old Skene Road was flooded yesterday morning, leaving businesses on the south side of the town without water for a large portion of the day.
Office staff from across the nearby Arnhall Business Park were sent home due to the lack of running water, with youngsters from The Bridges Pre-School Nurseries also given a day off.
A Scottish Water spokesman said engineers had isolated the damaged pipe, allowing water to be re-routed through the unaffected parts of the network.
However, the firm was on standby for further issues as the heavy rain continued.
Just last month, a deluge hit the north-east sending torrents of water pouring down streets, flooding homes and businesses and destroying roads and historic bridges.
Fans pitch in as Highland League club fights back from flood
Rosemount and Midstocket councillor Bill Cormie last night described the downpours as as "Biblical" and said he hoped flood prevention measures would be effective.
He said: "Given Rosemount's proximity to the Denuburn there can be a lot of problems when the weather gets bad.
"Previously there have been dead rats coming out of the overflowing drains.
"Hopefully the measures put in place will be effective and I would encourage any local residents to plan well in advance before travelling over the weekend."
A city council spokesman said teams would be attending local "flooding hot spots" and that electronic signage had been activated on major routes.
He said: "Aberdeen will be affected locally with standing water on most roads with localised flooding.
"We have three or four response squad teams who have been out looking at the hotspots including gullies and hakes to make sure these are cleared."
The warning from SEPA reads: "Surface water flooding is most likely to affect transportation routes and urban areas while ponding and standing water may occur in low-lying areas.
"Flooding from small watercourses and rapidly responding rivers may also occur with flooding also likely from larger rivers throughout the night and into Saturday morning.
"The risk of flooding is expected to continue until later on Saturday.
"Remain vigilant and remember, it is your responsibility to take actions which help protect yourself and your property."
Forecasters last night said the heaviest rain had now passed, with 0.5in in just one hour yesterday afternoon "making the evening commute unpleasant"
Steven Keates, from the Met Office, said: "With the weather warning in place, we expect to see between 10mm (0.3in) to 20mm (0.7in) of rainfall. In the Aberdeen area there was about 19.2mm (0.8in).
"Into the weekend, the rain will stagnate and the system will move further south.
"We will see drier weather today with some sunshine and a few more showers.
"There is a brisk north-east wind developing and we could see temperatures of about 11C or 12C.
"Not a lot of change for Sunday, but probably a few showers – but with the Moray coast seeing a bit more rainfall."
Meanwhile, a lightning strike forced the shutdown of a major North Sea pipeline yesterday.
The Forties pipeline system, the largest by volume in the UK, had a temporary shutdown after a power surge in Cruden Bay in the early hours of the morning.
Operator Ineos said the outage was caused by a lightning strike.
The firm said all safety systems responded accordingly and a shutdown took place in line with safety protocols. Ineos managed to reopen the pipeline by 1.30pm.