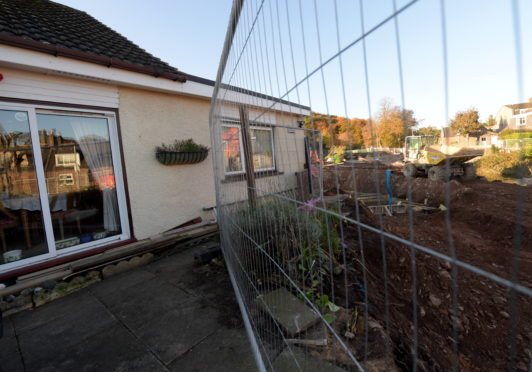 An Aberdeenshire family claim they are in a "living nightmare" as they watch their home becoming transformed into a building site.
Cynthia and Roddy Leslie live on Dunnottar Avenue in Stonehaven, close to where the ongoing works on the flood prevention scheme are taking place at the River Carron.
The elderly couple claim JCBs and workmen surround their home – which backs onto the river – from Monday to Saturday, and say they are now at their wit's end.
Aberdeenshire Council claim that the family always knew the extent of the works.
But Mrs Leslie, 80, said cracks have appeared on their walls as a result of the works and each day the fence separating them from the building site creeps closer and closer.
"It is hellish," she said.
"Our patio has been destroyed and now they're trying to excavate in our garden.
"We were initially told the flood work wouldn't start near us until next year – but here we are.
"We have a monitor at one side of the wall due to one bad crack on the wall, and another on the other side of the house."
Mrs Leslie said she and her husband, 89, fear their house will slip and collapse after similar problems in Carron Gardens.
"The entire thing is a nightmare," she added.
"At our time of life this is stress we would prefer to avoid."
Construction of the flood protection scheme began in March and the main works are due to be complete by next September.
The couple's daughter, Mhairi Leslie, said: "It has had a horrendous effect on all of us.
"It's a nightmare and not fair for pensioners to have to deal with that in their back garden.
"Every day we think it can't get any worse, but then the line gets closer and closer."
An Aberdeenshire Council spokesman said: "The works currently taking place at the River Carron are an essential part of the Stonehaven Flood Protection Scheme.
"The plans have been agreed for some time and discussed in detail with those directly affected, as well as the wider community.
"We appreciate that some of the development is taking place close to properties but would stress that we have agreed in advance how these works will be conducted and will be reinstating garden space within the new boundaries once construction is complete. We will remain in contact with those affected throughout the project.
"Ultimately, the design and routing of the scheme is the best solution for the town, offering the highest level of protection for the money available, while causing the least disruption."