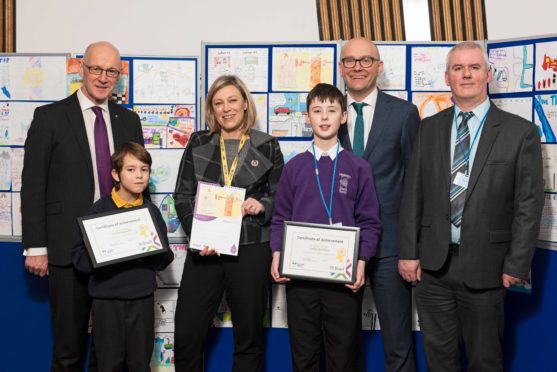 Primary school pupils from across the north-east have been recognised for their work in highlighting the importance of using water wisely.
A special ceremony at the Scottish Parliament congratulated the 13 winners of this year's Scarf school calendar competition.
Pupils were challenged to illustrate the ways we could all save water, with more than 600 entries of pictures, paintings, photos and illustrated poems submitted.
Each of the winners was presented with a certificate and goody bag by Education Secretary John Swinney.
The children, from across Aberdeen, Aberdeenshire, Moray, Dundee, Angus and Perth and Kinross, were then given a guided tour of Holyrood.
Mr Swinney, who is also deputy first minister, said: "We are facing a global climate emergency, and if we are to meet our ambitious climate targets then it is more important than ever that we find ways to save energy and cut our carbon footprint.
"There are things that we can all do in our day-to-day lives to achieve this, and these have been captured brilliantly in this calendar by all the pupils, providing creative ways for people across the north east to use water wisely."
Scarf has been running the competition for the last 16 years to encourage children to consider energy use in the home and get them thinking about their impact on the environment.