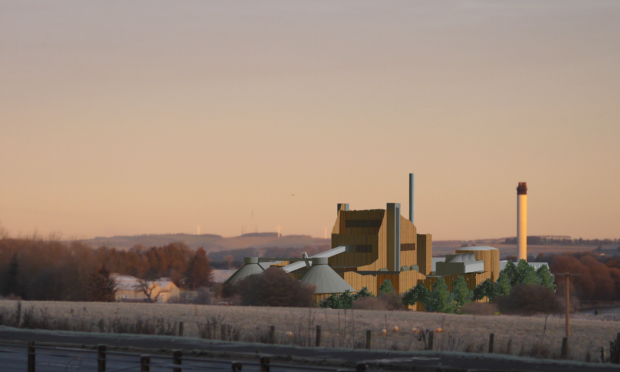 Plans have been submitted for a £200 million incinerator on the edge of an Aberdeenshire town.
North-east firm Agile Energy wants to build the facility near Port Elphinstone.
The modern incinerator is seen as "vital" to the developer's proposals for a "world-leading, low carbon" energy park in Thainstone
The plant, in Kirkwood Commercial Park, would process around 200,000 tonnes of non-hazardous waste, which would otherwise be destined for landfill, every year.
Once any remaining recyclable materials have been removed, the rubbish would be processed to generate heat and electricity.
The firm estimates the incinerator would generate around 80 megawatts of heat, enough for at least 32,000 local homes and businesses, and approximately 20 megawatts of electricity, which could supply around 62,000 homes.
Using a district heat network and heat batteries, the developer plans to deliver heat to consumers through a community-owned energy company at a competitive price.
A similar £150m facility in Tullos in Aberdeen is expected to burn around 150,000 tonnes of non-recyclable waste a year.
Agile Energy has now applied for planning permission from Aberdeenshire Council for the Thainstone plant, following public consultation events at the turn of the year.
A change of name for the wider development from Inverurie Energy Park to Thainstone Energy Park is one outcome of the consultation, after input by Kintore Community Council.
Managing director of Agile Energy Alf Robertson said: "I am delighted to have submitted the application and we would like to thank all our partners in this effort and those who have taken the time to review the proposals and importantly provide feedback during the consultation phase.
"This feedback, as well as the technical and environmental assessments has helped shape and inform the proposals.
"As the first phase of our vision to develop Thainstone Energy Park, a world-leading, low carbon energy development, the energy recovery facility is a vital component and the main catalyst for achieving this.
"We are also delighted to be bringing significant inward investment and employment to the area particularly at a time when this is badly needed everywhere following the virus pandemic."
Agile Energy believes the facility would help Scotland address a shortage of waste incinerators, which will be needed when a ban on landfilling non-recyclable waste comes into force in 2025.
It was pushed back from 2021 due to a shortage of such facilities.
Around 300 jobs would be created during construction, with another 40 permanent roles once the facility is fully operational.
The firm claims a number of existing waste management jobs would be secured by the investment and it would improved the sustainability of local business and communities, address emissions and help tackle fuel poverty.
If plans are approved, the three-year construction would begin next summer.