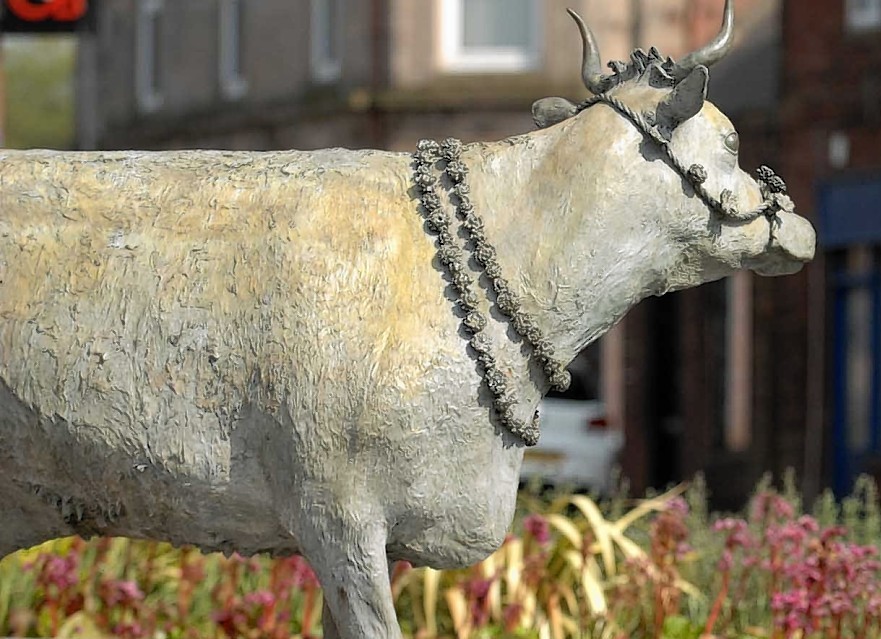 Police are hunting vandals who defaced an iconic north-east statue.
A bronze memorial to the legendary Turra Coo stands proud in Turriff town centre and was officially unveiled by first minister Alex Salmond four years ago.
But the life-size sculpture has been targeted by thugs who hauled off a steel rope attached to the cow's harness.
The offence has been condemned by locals who campaigned for a lasting tribute to the town's world famous white Ayrshire-Shorthorn cross, which sparked an agricultural workers' uprising more than a century ago.
Rioting broke out on the streets of Turriff in 1913 after government officials confiscated a beast belonging to a local farmer who had refused to pay the newly introduced, and deeply unpopular, National Insurance tax.
The dairy cow had been due to be sold at the town's mart, but the auctioneer was forced to take refuge in a stable and the sale was abandoned. It was later taken to Aberdeen, where a group of farmers bought it and returned it to its owner, Robert Paterson, of Lendrum.
Last night, Kate Ferguson, who chairs the Turriff Tourism Action Group, said: "Its really disappointing that this has happened.
"The rope is a vulnerable piece of the sculpture, but it is also a very important part of the Turra Coo story.
"Its also the part that children hold onto when they're getting their photos taken."
She said: "Luckily we were able to find the rope nearby. We have contacted some local welders who have agreed fix it back on."
The same piece was ripped off once before, two years ago, but never recovered. A new one had to be created and fitted at a cost of around £400.
A police spokesman said inquiries were ongoing and have appealed for witnesses to get in touch. It is unclear when the statue was damaged, but it is believed to have happened sometime last week.
In November, residents came out in force to celebrate the coo's 100th year anniversary.
Youngsters from Markethill Primary School re-enacted the story around the Turra Coo memorial sculpture.
A book commemorating the event was launched at the Auld Post Office Museum and locals were treated to a procession by the Turriff and District Pipe Band.