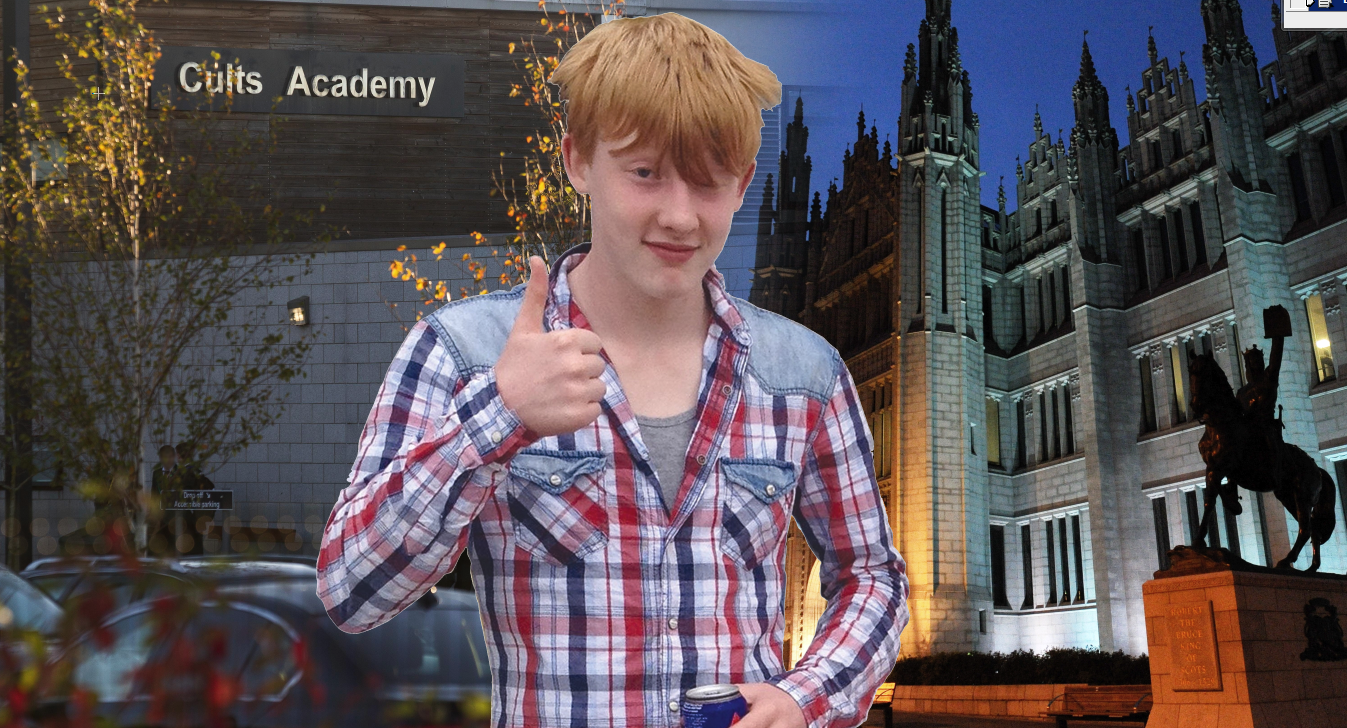 Council bosses in Aberdeen have suspended meetings and official engagements in tribute to a teenager who was stabbed to death in a city school.
Last night, a senior councillor said that education was "on hold" in the Granite City as a mark of respect to Cults Academy pupil Bailey Gwynne and his family.
Local authority chiefs confirmed that they have cancelled a meeting of the council's education committee which was due to be held this week.
The group was expected to convene on Thursday but will not now meet again until next year.
Yesterday it also emerged that the official opening ceremony for the new Brimmond Primary School had been postponed.
It had been scheduled to take place the day after Bailey's death.
Councillor Angela Taylor, education committee convener, said it would not have been right to hold this week's meeting.
"The decision was taken as a mark of respect to Bailey's family. I had held discussions with our director of education, Gayle Gorman, and we felt it was the appropriate action to take.
"Even the fact Bailey's family has not had the time to lay him to rest, as a mother I felt it was the right thing to do."
Bailey, who was 16, was found seriously injured at Cults Academy on October 28.
Despite desperate efforts by teachers and paramedics to save him, the teenager later died at Aberdeen Royal Infirmary.
Councillor Alan Donnelly, the education committee's vice-convener, said: "This is the right decision, at what is a very difficult time for everybody.
"We thought it would be a bit insensitive to the family to hold these things so close.
"A lot of our officers have been engaged with the fall-out from the incident and the school and pupils have still to return to normality."
Their views were supported by their administration colleague, Councillor Willie Young.
He said: "The decision was taken by the convener of the education committee, and in my opinion, it was the right thing to do at this difficult time."
Another teenager has since been charged with Bailey's murder.
The 16-year-old is accused of killing Bailey by allegedly striking him on the body with a knife.
He is also charged with being in possession of a "bladed" weapon and an "offensive weapon" while on the grounds of a school.
On Friday, the teen applied for bail to be allowed home to stay with his family while he awaits his next court appearance.
However, Sheriff John Rafferty dismissed the request and he was remanded in custody. He could remain there for up to 140 days before the case has to go to trial.
His solicitor said he intends to appeal the sheriff's decision based on his client's age.
Peter Shepherd said on Friday an appeal was likely to be lodged this week.
In the days following the death, hundreds of pupils gathered to lay flowers and hand-written notes outside the school.
The tributes have now been used to make a memorial garden on the school grounds.
Bailey was described by friends at his school as a quiet teenager and a fitness enthusiast who had dreams of joining the Royal Marines when he was older.
Cults Academy was closed for two days following the incident as police carried out investigations.