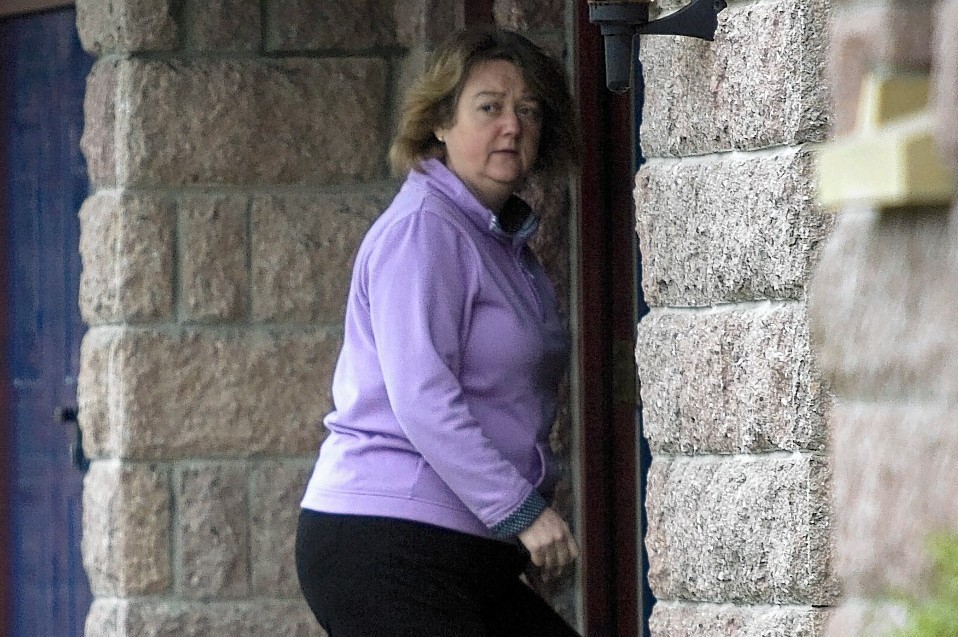 A north-east midwife faces being struck off from her profession after she was found guilty of deliberately drugging 15 pregnant women.
The nursing watchdog yesterday ruled that Kirsteen Stewart, from Newmachar, had committed the offences in an apparent bid to make her job easier.
The Nursing and Midwifery Council (NMC) will now determine what sanction she will receive at a hearing later today.
And following the ruling, the Crown Office said it would not rule out opening up criminal proceedings against her.
Last night, the 49-year-old maintained she was innocent and said there had never been any evidence she was culpable.
Speaking at her home at Coubert Road, she said: "I didn't do anything wrong and they (the NMC) never had any evidence to prove otherwise."
At yesterday's hearing in Edinburgh, the NMC's case presenter, Michael Collis, claimed the midwife had acted out of self-interest.
He said: "The only logical explanation that has been put forward as to why the registrant might have behaved in this way… is a desire to speed up the women's time in labour in order to serve the registrant's own interests.
"This is, of course, an explanation that has already been accepted by this panel as a plausible explanation."
The NMC found that Mrs Stewart's actions had caused 13 mothers to undergo emergency caesarean sections after they were given Syntocinon, a drug which causes the uterus muscles to contract.
No babies died as a result of the surgeries, but two had to be resuscitated at birth and one had to spend time in a neonatal unit.
One woman, referred to in documents as Mother O, had to have a Category 1 caesarean section, a situation where there is an immediate threat to life of the mother or fetus.
Giving evidence at the hearing last month, consultant Dr Tara Fairley told the panel that she had never seen such drastic and unexplained drops in babies' heartbeats.
Dr Fairley revealed that one baby's heart rate fell from a healthy 110bmp to a critical 66bmp in under four minutes, and that an intravenous dose of a labour-inducing drug was the only logical explanation.
She added that the drug, Syntocinon, could only be prescribed by a doctor.
Mrs Stewart was suspended from Aberdeen Maternity Hospital in 2010 after her colleagues raised concerns about her clinical practice.
It later emerged that a number of expectant mothers had been administered with a labour-inducing drug which caused unborn babies to develop bradycardia, a condition when the heart beats very slowly.
She was later sacked by NHS Grampian and suspended from her profession for 18 months by the NMC.
However, her suspension has been extended several times after the original order lapsed.
Police launched an investigation when concerns were first raised, but decided in 2012 they would not take action.
However, yesterday the Crown said it could reopen the investigation if more evidence became available.
Last year, Mrs Stewart unsuccessfully attempted to overturn the NMC's suspension in the Court of Session due to the delays in the case.
But the court dismissed her challenge and ruled that the watchdog could proceed with disciplinary proceedings.
Last night, a spokesman for the Crown Office said: "We can confirm that the Procurator Fiscal at Aberdeen received a report concerning a then 45-year old female in connection with alleged incidents occurring between April 2001 and March 2010 at Aberdeen Royal Infirmary.
"Following an extensive investigation by Grampian Police, and after full and careful consideration of the facts and circumstances of the case, including the available evidence, independent Crown Counsel instructed that there should be no proceedings at this time.
"The Crown reserve the right to proceed in the future should further evidence become available."
NHS Grampian said it was unable to comment until the case had been formally concluded.