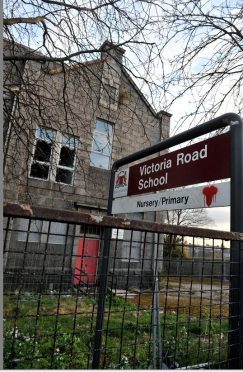 Dorothy Bothwell can remember when bombs rained down during the Aberdeen Blitz.
And she is among the many people who cherish the granite buildings which are part of the city's heritage.
However, as somebody who went to Victoria Road Primary School two years after it was bombed during the Second World War, she has hit out at plans to demolish the building.
The school closed its doors in 2008 and Barratt Homes launched plans to convert it into 62 flats in 2014.
But the controversial proposals have been met with 266 objections and a demonstration is planned against the demolition in advance of a public hearing on Wednesday.
Retired headteacher, Mrs Bothwell, 79, has said that getting rid of the granite building would be "a awful example to our children."
And she added: "We ignore the historic environment at our peril.
"Whether there is a school or not, the building should not be demolished, because it is a wonderful building which could be used for many purposes.
"There is still a need for a school, so why spend £20 million on a new school when we can use this building?
"It is almost as if Torry does not count, this would not happen to Broomhill school or Ashley Road school.
If Mrs Bothwell is passionate about the subject, that springs from her conviction that, once the granite has gone, it will be lost for ever.
She said: "We're setting an awful example to our children if we ignore history."
"It is a shocking indictment of how we are managing our assets."
Mrs Bothwell left the school in 1949 and moved on to Torry Junior Second School and Aberdeen Central School.
After a period at the Stoneywood paper mill and the Forestry Commission, she took training qualifications at Aberdeen College of Education and served as headteacher of Westerton Primary School between 1988 until her retirement in 2002.
She also spoke of her memories at the Victoria Road Primary School and recalled: "There were huge granite blocks in the playground when I first went there, but the walls were still standing because it had been so well built.
"They must have got it up and running pretty quickly even though most of the men were away in the war.
"It was a big school, you started as an infant nearer Abbey Road and, by the time you were in primary six and seven, you were nearer Victoria Road.
"Since I retired, I have got back in touch with people who went to school there."
Mrs Bothwell will make objections to the demolition during the public hearing in the Town House, which will take place at 11am on Wednesday.
And she isn't prepared to allow another piece of the city's history to be consigned to oblivion.