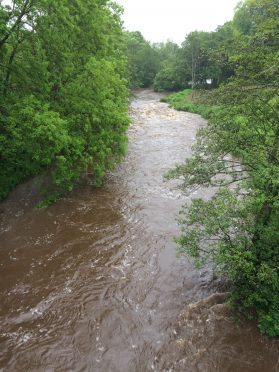 Communities across the north-east were on edge last night after two days of incessant rain prompted a flood alert.
Those battered by the deluge which accompanied Storm Frank over the winter were among those fearing for their homes as the rivers Dee, Don and Deveron all surged.
The Scottish Environment Protection Agency (Sepa) placed a flood alert on Aberdeen and Aberdeenshire.
In Craibstone and Aboyne, almost three inches of rain fell in 36 hours.
Residents in the Millside and Paddock areas of Culter were sent sandbags as a precautionary measure, while in Huntly and Inverurie residents were keeping a close eye on water levels – with one woman already planning to move her belongings upstairs to safety.
Last night, Aberdeen City Council cancelled the Highland Games scheduled for Sunday due to flooding at Hazlehead Park.
Several routes, including the B974 Fettercairn to Banchory route at Strachan, and the Chapel of Stoneywood to Newton Kirkhill at Marshall Trailers, were closed due to the downpour – along with one southbound lane of the A96 Aberdeen to Inverurie road.
A yellow rain warning was in place across Grampian until midnight, with a further 1.5in of rainfall expected.
And Met Office forecaster Graeme Whipps warned: "Generally it is not going to be nice for the next 24 to 48 hours, right the way through to Friday."
As the "persistent rain" continued to batter down yesterday, Sepa issued a flood alert.
A spokesman said: "Some rivers and smaller watercourse across Aberdeenshire are now responding to this rain and some localised flooding of low lying land and roads is possible from this afternoon and through the evening."
Residents of the Meadow Burn area of Huntly have frequently been flooded out of their homes, and were paying heed to the warning yesterday.
One woman who lives in the Meadows area said: "I am thinking of taking stuff upstairs because I have heard it is going to be like this tomorrow as well.
"I will be starting tonight just to be on the safe side and I'll get the rabbits inside the house."
Neighbour Sheila Andrews added: "The first time was so unexpected, we had all out cars lost, but now everything is in place.
"If it is bad, all the neighbours move the cars to the top of the road, if it looks really serious we start moving things from downstairs."
The scare comes just as those who lost their homes and businesses when the Dee, Ury and Ythan burst their banks this winter during Storm Frank are beginning to reestablish themselves.
Frank Duguid, spokesman for the residents of Riverside Park, Port Elphinstone – which was affected by the Don overflowing on January 7 this year – said last night: "Certainly some of the lower end of the street could be a little bit concerned.
"I know from experience here if that continues on for another day, it will begin to creep up again. Let's hope not."
And David MacNeill, whose home in Ballater was flooded by 4ft of water, said there was a nervousness in the village as residents watched the Dee rise.
Mr MacNeill added: "Everybody is worried now. The Dee is quite high here. It really needs a bit of respite. But there is nothing
like these volumes that came in December.
"It is not up in the streets. Nobody wants to be thinking they are going back down the same road again."
Stonehaven Flood Group chairman, Mark Irvine, said he was keeping an eye on the River Cowie, which has burst its banks twice in recent years.
He said: "It is not such a concern here, it is more towards Inverurie and possibly Huntly and Kemnay area, but you just can't take anything for granted, things can change so quickly."
In Peterhead, harbour master John Wallace said his staff were monitoring the weather
He said: "It would seem as if there's nothing outwith as far as flooding goes for the harbour just now. We're not looking at
having any problems with the rain."