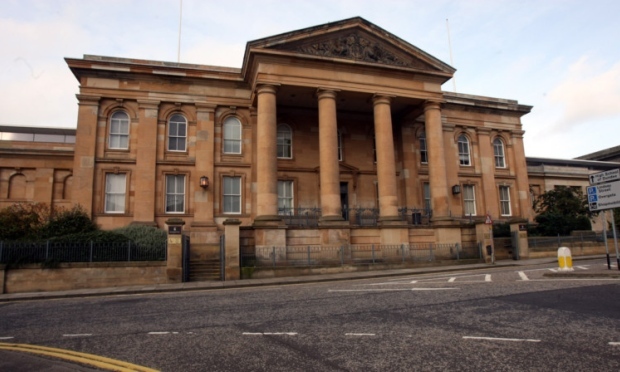 Two teenagers who carried out a brutal robbery on a randomly selected victim after being "inspired" by violent "drill" rap music were today spared jail.
The boys – who are aged 15 and 16 cannot be named – followed Mark Coats then smashed him over the back of his head with a rock before demanding money from him behind a Tesco store in Dundee's South Road.
But the thugs – one of whom admitted he carried out the attack because he was "short of cash" – succeeded only in getting 35 pence and an 18-pack of Bud Light beer from his victim.
The pair, who cannot be named because they are under the age of 18, then attempted to sell the beer using social media app Snapchat.
They were caught after CCTV images of the pair lurking near the supermarket were released – prompting one of the boy's friends to tag him in a Police Scotland Facebook post after recognising him in the image.
A sheriff today told the pair that if they were adults they'd have been jailed for up to five years.
He added: "You had been listening to violent music which makes it seem big or grown up or clever to be violent. It seems to have been an influence on you two."
Dundee Sheriff Court was told that one of the boys – who wept in the dock after giving evidence – had spent an afternoon playing massively successful online video game Fortnite and listening to what a prosecutor described as "violent rap music".
The court heard one of the boys later told police that the drill songs they had been listening to were the "inspiration" for the crime.
Drill music has been linked to a spike in knife crime in knife crime and killings in London – with some of its exponents being jailed for murder and drug dealing in recent months.
Critics say its lyrics promote a hedonistic criminal lifestyle and glorify the use of weapons including blades and guns.
A two-day trial heard Mr Coats was walking from the Tesco store to his nearby home when he became aware of the two teens following him.
They were caught on CCTV walking through an underground car park at the shop having identified Mr Coats as their target.
They followed him up a dark path before the older boy ran up a set of stairs beside Mr Coats as the younger boy smashed him over the back of the head with a rock.
He stumbled forward as the pair stood in front of him where the younger boy threatened to stab him if he didn't hand over cash.
The older boy then re-iterated that threat before Mr Coats threw a handful of change to the pair and laid down his rucksack, containing an 18-pack of lager and nothing else.
The younger boy, giving evidence during the trial of the older teen, said he had drank two of the beers before trying and failing to sell them to other teenagers in the area via Snapchat.
Mr Coats told the court how he had been left with long-term mental health issues as a result of the attack and could no longer be in social situations where people stand behind him and avoided the area where he had been assaulted.
The boys, now aged 16 and 17, of Dundee, faced a single charge of robbery committed on November 26 last year.
The 16-year-old admitted the charge at a pre-trial hearing while the 17-year-old was found unanimously guilty by a jury of nine women and six men who deliberated for just half an hour before returning their verdict.
Fiscal depute Eilidh Robertson told the court: "Police became involved with the younger accused after he was identified following a press release by police.
"He initially gave a no comment interview but in a later statement said he needed money for cannabis.
"The inspiration to commit the crime had come from listening to violent rap music."
Solicitor Ian Houston, representing the older boy, said: "It was a very serious offence."
Defence solicitor Douglas McConnell, for the younger attacker, said: "I can't get away, nor can he, from the serious nature of this offence.
"But what he can change since the offence is himself.
"He is trying to drag himself away from the group he was in."
Sheriff Alastair Brown imposed restriction of liberty orders on the pair, confining them to their homes for 12 hours a day on electronic tags.
The younger boy was sentenced to a nine-month tagging order with the older given a 12 month sentence.
He said: "If you had been over 21 when you committed this you would have been going to prison for between four and five years – that's how serious it is.
"The law requires me to make substantial allowance for the fact that you were very young when you did this.
"It seems to me that you have been looking at material and listning to music which makes it seem big or grown up or clever to be violent.
"It seems to have an influence on you two.
"It is not big, grown up or clever.
"The man you assaulted had gone to Tesco and was going home when you two set upon him. That's not on."
The younger attacker's Facebook page is littered with images of drill artists, including Brixton rappers Skengdo and AM.
Their lyrics reference murder, Rambo knives, guns and drug taking.
They are associated with the 410 gang – who have been involved in a violent feud with another drill collective in London.