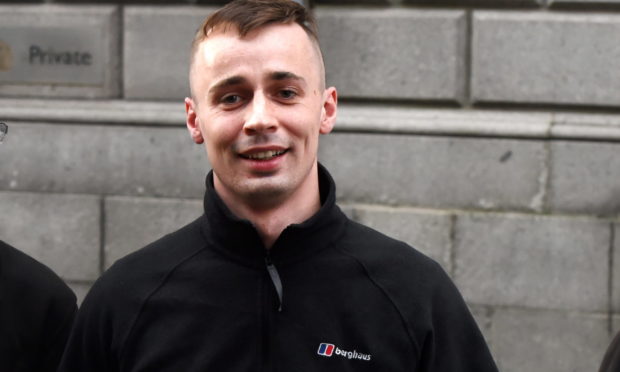 An Aberdeen man will spend the next year behind bars after punching a woman at a barbecue and threatening to burn down her house.
Graeme Hunter had been visiting friends in Kincorth on May 26 when he shouted to one of their neighbours, asking for her Snapchat username and phone number.
But the woman, finding the request "strange", shrugged it off and went back inside.
That evening she received an abusive message from him on Facebook then overheard him saying "negative things" about her.
The woman's husband and a friend headed over, and Hunter began shouting and swearing while his pals held him back from trying to climb over the garden fence to reach them.
He then told the woman he would: "Burn the house down with your kids inside".
Worried that the men would begin fighting, the woman rushed over and stood between them.
But Hunter began "flailing" his arms and hit her in the face, leaving her with "slight reddening".
The 30-year-old admitted the assault and behaving in an abusive manner at Aberdeen Sheriff Court yesterday.
Defence agent Alex Burn said Hunter had "clearly" drunk too much alcohol.
He added: "Perhaps it was not the most serious of assaults, more worrying is the remarks he made.
"These were very much hollow threats."
Sheriff Graham Buchanan said Hunter had an "unenviable" criminal record, and had been released 98 days early from a previous sentence at HMP Grampian.
In November he was jailed for 14 months following a five-hour stand-off with police in Sheddocksley, where he told officers he would give himself up in exchange for some fried chicken.
Yesterday Hunter was ordered to serve the remainder of this sentence, and a further 11 months behind bars for the assault and threats.