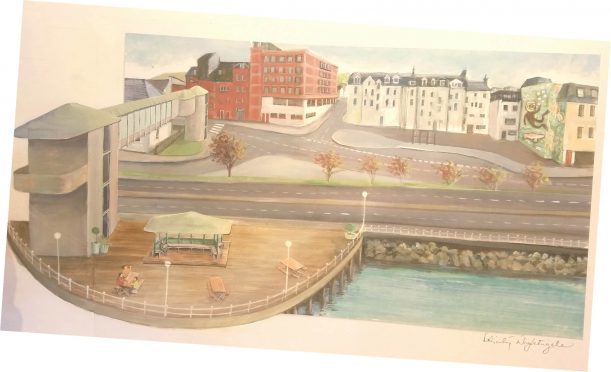 A new vision for a waterfront development in Fort William has been voted winner of a Scotland-wide town design competition.
The design was submitted by the Fort William Town Team, an organisation of community volunteers dedicated to maintaining and regenerating the Highland town's centre and surrounding areas.
A series of ideas are proposed to help Fort William reconnect with its waterfront and take advantage of the rise in marine tourism.
These include semi-circular balconies over Loch Linnhe, and canopy protection for entertainers and other users in the new High Street entertainment space.
The design was one of eight shortlisted entries in the second annual FutureTown Design Competition, which is run by national agency, Scotland's Towns Partnership (STP).
The competition is organised to stimulate conversations and provoke new ideas to highlight what a possible future town could look like.
Other shortlisted entries proposed a variety of interesting designs for Ayr, Cupar, Denny, Dumfries, Edinburgh City Centre, Gorgie, and Edinburgh Leith Walk.
Public voting took place online during the national Scotland's Towns Week, which ran from November 7-13.
Delegates to the annual Scotland's Towns Conference also voted in the competition.
The Fort William Town Team will now be invited to present their idea at one of STP's flagship events during the coming year.
STP chief officer Phil Prentice said: "On behalf of Scotland's Towns Partnership, I would like to congratulate the Fort William Town Team on their winning entry to the FutureTown Design Competition, which proved very popular with voters across Scotland.
"The design demonstrates how creative thinking about the future of a town by the local community can highlight ways that towns can flourish to the benefit of all who live in them."
Fort William Town Team, in a collective statement, said: "The Fort William Town Team committee are absolutely delighted that their idea in partnership with other local voluntary organisations has won the Scotland's Towns Partnership FutureTown Design Competition. It is a well-known fact that due to historic misfortune Fort William has turned its back on its waterfront.
"We believe that reconnecting the town centre to the water will be the key to the regeneration of An Gearasdan. We look forward to working with our partner groups including Fort William Marina and Shoreline Company and Friends of the Old Fort together with the Highland Council and other bodies to put the wheels in motion for realising this ultimate goal."