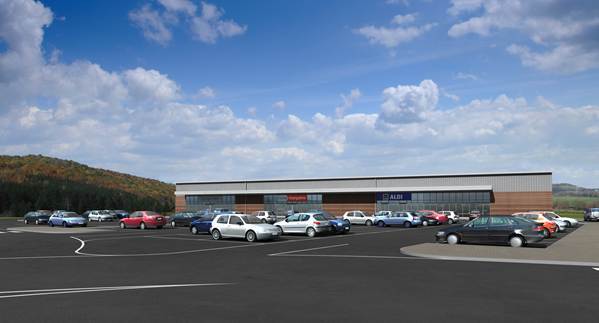 Work on a new £10million retail park in Aviemore is being fast-tracked in order that the amenities are open for Christmas.
The development off Grampian Road will include a new Aldi supermarket and a Home Bargains discount store.
A third retail unit is currently being marketed – while planning permission is also being sought for four further smaller shops.
The development is expected to bring more than 100 long-term retail jobs to the village. And it will also support around 40 jobs during this year's construction phase.
A £5million contract to create the retail park has been awarded to Fife firm Muir Construction, but a pledge has been made to fill many of the construction jobs locally.
The site was formerly earmarked for a new Tesco store, but the supermarket giant subsequently axed their plans.
The plot was then taken on by London and Scottish Investments who initiated plans for the retail park.
The company's development director, Bryan Wilson, said: "We always aim to ensure our tenants can open their doors as quickly as possible.
"But obviously, Christmas is a key trading period for any retailer and their customers, so we are pulling out all the stops to ensure Aviemore Retail Park is open for business in time for the festive rush.
"We will fast-track work on the units themselves, so we can give our tenants time to fit out their premises, while we finish off some of the external parts of the development like the 333 parking spaces and the landscaping."
The developers are confident that the third unit, which had been previously linked with an M&S food store, will be filled quickly.
Mr Wilson added: "The combination of Aviemore's tourist trade, and the opportunity to be located beside Aldi and Home Bargains, with all the footfall they generate, makes our remaining unit a very marketable proposition".
London and Scottish's commitment to opening Aviemore Retail Park in time for Christmas chimes with the site's history.
Before it was bought and resold by Tesco the site was previously home to Aviemore's Santa Claus Land.
U