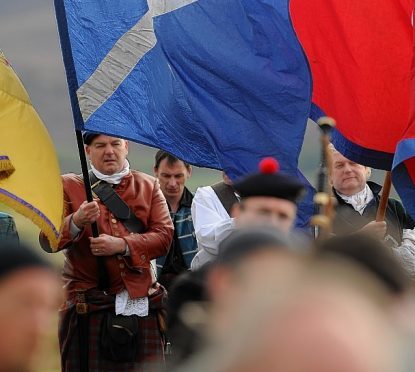 Organisers have promised a spectacular series of events at Culloden Battlefield this month to mark the joint anniversaries of the conflict and 80 years of National Trust for Scotland guardianship at the site.
The 271st anniversary of the battle will be commemorated with three days of events during the weekend of April 14 to 16.
In 1937, farmer Alexander Munro presented two areas of land to the charity. More has since been gifted and the NTS now conserves the southern section of the battlefield.
Colourful and emotive re-enactments of the blood and gore of the 1746 battle have become a must-see annual event for history lovers.
It offers a sense of the sights, sounds and even smells of the Jacobite Rising reaching a brutal conclusion with one of the most harrowing battles in British history.
On the fateful day, Jacobite supporters seeking to restore the Stuart monarchy to the British thrones gathered to fight the Duke of Cumberland's government troops.
It was the last pitched battle on British soil and, in less than an hour, claimed the lives of about 1,300 men – more than 1,000 of them Jacobites.
Upcoming events include a 1745 Association annual talk by Professor Christopher Duffy on April 14. It is free but ticketed.
A tour of the battlefield is also available and an NTS team will provide an insight into the myriad stories of men, women and children as the battle approached.
Tickets must be purchased online prior to the event and outdoor footwear is advised for the tour. It costs £5 per person (concession £4.50). There will be an 11am memorial service on Saturday, April 15.
Visitor numbers at the venue have been boosted recently with a surge of interest prompted by the TV series Outlander.
According to the Association of Scottish Visitor Attractions, the show contributed to a 21% increase in business with numbers rising to 139,691 last year.
There are full details of the weekend's events online at
http://www.nts.org.uk/Event/Culloden/