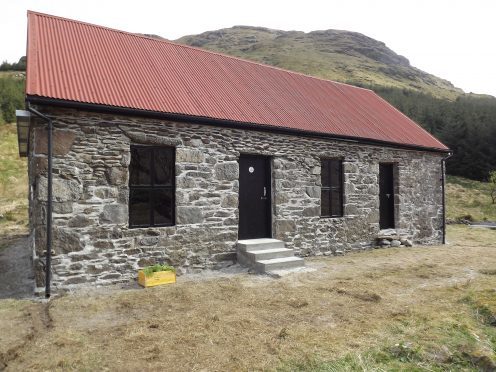 A new bothy has opened at the Rest and Be Thankful in Argyll.
Following the efforts of 50 volunteers, the building known as Abyssinia in Glen Kinglas at the north side of the foot of the Rest is now available for use.
Neil Stewart, trustee of the Mountain Bothies Association (MBA) said: "We are extremely grateful to Strone estate for allowing us to renovate and maintain this building and for the assistance that they gave us both before and during the work party.
"While the bothy is now open for use, there are a few jobs left to do including unblocking the chimney. It is hoped that these will be tackled during the summer."
He added: "This particular one is the only bothy in that area. They are becoming increasingly popular. They take people into the heart of remote countryside, especially mountaineers, walkers and cyclists.
"They provide basic shelter. It's really camping without a tent. If the weather is bad or the midgies are bad, it is great to find a building you can get in to shelter and stay the night. It saves you having to carry a tent with you."
Work undertaken by the volunteers included strengthening the gable wall, pointing the walls, repainting the roof, partitioning the existing single room into two rooms, replacing a window with a door into the new room, installing a wooden floor, installing a ceiling in the main bothy area, and digging a drainage channel.
The bothy is situated 2.5miles up a private estate road. It is in a popular walking area. Among the mountains that can be climbed from it are the Munros Beinn Ime, Ben Vorlich, Beinn Narnain and Ben Vane, as well as Corbetts such as the Cobbler, Beinn Luibhean, and Binnein an Fhidhleir.
Abyssinia is the third new bothy to be opened by the MBA in 2017, following Flittingford in the Kielder Forest and Cae Amos in Snowdonia.
The charity was established in 1965. With the consent and support of their owners, the association restores and maintains old cottages, huts and similar buildings in the wilder parts of Scotland, England and Wales for use as open shelters for use by walkers and other outdoor enthusiasts.
It currently looks after 102 bothies including 82 in Scotland, 11 in England and nine in Wales.