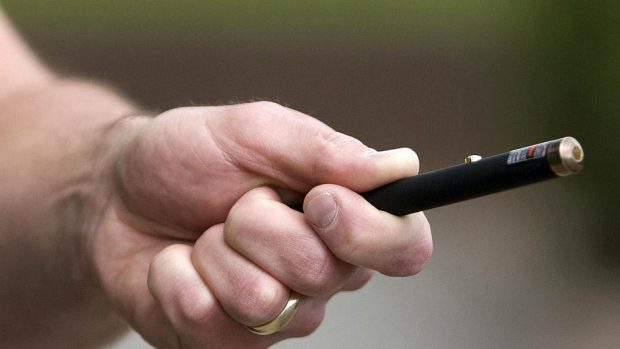 Police have launched an investigation after a girl suffered permanent eye damage in a laser pen attack on a school bus in the Highlands.
The 13-year-old pupil has been left with impaired peripheral vision on one side after a classmate shone the light next to her eyes on a bus to Fortrose Academy on the Black Isle.
And now the secondary pupil's father has spoken out over the dangers of laser pens – calling for a ban on selling them to children.
The incident happened on September 12 and the girl only found out that the damage was likely to be permanent on Saturday after an optician examined her.
It is understood that the boy, who was in the same year at school, received a two week ban from the school bus.
The victim's father told the Press and Journal: "She was on the school bus. He turned around and put it in her face. She covered her face but he put it next to her eyes.
"She reported it to the teacher that her eye was sore and a bit blurry. I wouldn't make any criticism of the teachers – they do a difficult job in difficult circumstances."
Her eye remained sore and her vision was still blurred when she returned home from school, so the family took the girl to Accident and Emergency that night and to an ophthalmologist the following day, and were initially told there was no physical damage to the eye and that her vision should improve.
She returned to school after a week off, but on Saturday she was examined by a local optician and told that there was damage to her peripheral vision on her left side and it was likely to be permanent.
Her father added: "I was angry. I was shocked on Saturday, I was hoping it would get better. My daughter was upset. It has knocked her confidence.
"What I'm really bothered about is the availability of these pens. These laser pens are a danger and people should be aware.
"I'm intending to write to local MSPs and the MP about it. I don't think any children should be able to buy them. You can buy them in supermarkets and on Amazon – I don't think that's right. I think the legislation has to be changed."
Last night, a police spokesman said: "We can confirm that an incident involving a laser pen on a bus travelling to Fortrose Academy on Tuesday, September 12, has been reported to police.
"Inquiries into the incident are ongoing and officers are working with the school and the Highland Council to establish the full circumstances.
"We would urge that anybody who owns a laser pen uses it responsibly. Directing the laser at people or vehicles can have very serious consequences and we will act on any reports of people misusing this type of device."
A Highland Council spokeswoman said: "We are aware of an incident involving a laser pen on a bus travelling  to Fortrose Academy and can confirm that the school and Highland Council are working with police on this matter."
Local MSP Kate Forbes said: "First and foremost I am very sorry to learn about what happened on the school bus to Fortrose Academy and I hope there is no lasting damage to the pupil's vision.
"There have been a number of near misses with laser beams in the Highlands over the last couple of years, particularly with laser pens being shone at aircraft and ships.
"I am surprised at how readily available laser pens are, and the consequences of this is demonstrated by the unfortunate incident on the school bus.
"Certainly better education regarding their dangers is a constructive suggestion and something for local authorities to consider."
Laser pens and the law
The UK Government is currently considering whether to introduce a new licensing scheme for laser pens, with a call for evidence concluding last week.
Last year former business minister Anna Soubry announced plans for a crackdown, saying the idea of selling them to children "seems perverse", and added: "I cannot see how that can possibly be legal — actually, I am of the view that it must be illegal."
A survey of UK ophthalmologists reported more than 150 incidents of eye injuries involving laser pointers since 2013, the vast majority of these involving children.
In addition, the Civil Aviation Authority (CAA) has reported an increase in incidents of laser pointers being directed into the cockpits of helicopters and planes on take-off and landing.
The review will consider licensing schemes, advertising bans, and an awareness raising campaign to educate people about the dangers of laser pointers.
The government also said it was already working with online retail sites such as Amazon to ensure that where unsafe laser pointers are identified they are removed from sale.
Under current regulations, only laser pointers that are considered safe for their intended use should be sold to consumers.
But there is evidence that the rules are not always adhered to, and there have been reported cases of high-powered lasers being sold for general use.
Whilst owning a laser pen is not illegal, if a person had one in the street and was using it to shine in people eyes, at cars or aircraft etc, then they would be committing an offence.