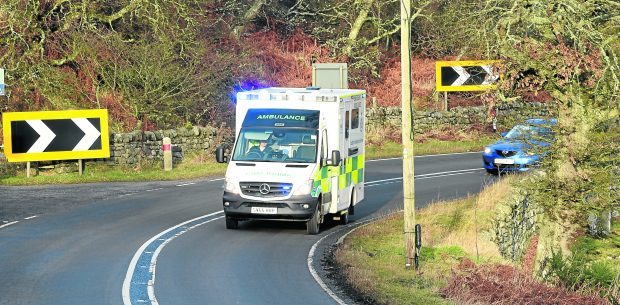 Protesters and union chiefs opposed to the downgrading of health provision in Caithness have welcomed a major cash boost that will ease pressure on the "over-stretched" ambulance cover in the region, claiming it will ultimately save lives.
Nine new paramedic and technician jobs are to be created, while an additional ambulance will be put on duty in the far north thanks to funding being increased to £491,000 from the originally planned £400,000.
Liz Gordon, Scotland Regional Officer of the GMB Union, said: "We were central in the campaign to get this money so we are delighted this extra funding is being made available. In face of closures and cutbacks, in particular to maternity services, this is welcome relief in terms of the safety of the public."
Peter Todd, of campaign group Caithness Health Action Team (CHAT), welcomed the extra cash, but stressed more action was needed to cut the high number of transfers to Inverness – which totalled 616 last year.
He said: "The added investment will provide more ambulance cover for Caithness and North Sutherland.
"However, what also needs to be addressed is the high volume of cases being transferred from Caithness to Inverness – each with a round trip averaging 250 miles on a road with difficult and sometimes very challenging driving conditions.
"Many of these are due to facilities being shut in Caithness, staffing shortages and more and more being centralisation."
Caithness MSP Gail Ross said: "This will go a long way to giving people in Caithness more peace of mind when it comes to ambulance provision."
The investment announced yesterday, being split between NHS Highland and the Scottish Ambulance Service (SAS), means there will be a 24/7 on-shift service at both Wick and Thurso, which was previously part time, with an additional vehicle on duty for 16 hours a day between the two stations.
The new posts, to be in place by April, will remove the current practice of needing to locate 'on call' staff on rotation at either Caithness General Hospital in Wick or the Dunbar Hospital in Thurso.
The investment follows a review which showed an increase in inter-hospital transfers between Caithness General and Raigmore in Inverness.
Milne Weir, SAS's northern division general manager, said: "This funding boost has allowed us to further improve both patient-centred care and staff welfare in Caithness. This new model will allow us to address changing patient needs, increase resilience and remove the need for on-call working.
"We will continue to work closely with healthcare partners, staff and local communities to monitor demand and review performance to ensure we are providing a safe and effective level of cover at all times."
Michelle Johnstone, NHS Highland's North and West area manager, said: "This investment boost will improve the resilience of the health and social care service we provide in Caithness. Having the extra SAS staff and ambulance based in Wick or Thurso will give us an increased responsiveness that will support clinical decision-making within our hospitals."