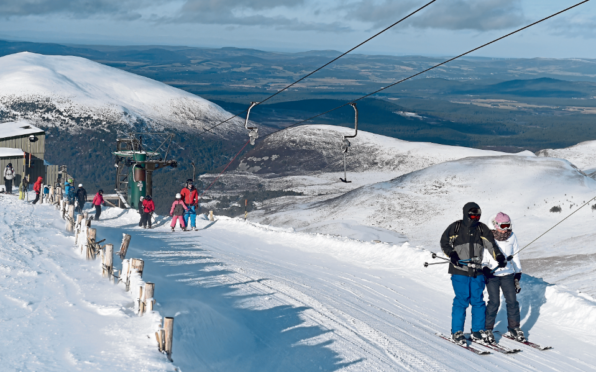 A trust attempting to buyout Cairngorm Mountain from Highlands and Islands Enterprise is being given a helping hand in their ambitious bid – by HIE itself.
The Aviemore and Glenmore Community Trust formed to seek community ownership of the Cairngorm ski area and its infrastructure, including the famous funicular railway and Scotland's highest restaurant.
They are progressing with their plan to take over the country's biggest ski centre – saying an application for an asset transfer would hopefully be lodged within the next year.
The trust claims action is needed in order to ensure that the centre, currently leased by HIE to private leisure firm Natural Retreats, is more effectively managed for visitors, employees, and the local and wider community.
Director Mike Dearman said: "We are having very positive discussions with HIE in taking over the estate and its assets.
"The trust is working with various bodies in regard to community ownership, including talking with HIE."
A spokeswoman for HIE, said: "HIE owns Cairngorm Estate, including the ski area which is critical to the Strathspey economy."
She confirmed: "Our community assets team are working with the Aviemore and Glenmore Community Trust, helping them understand the legislation and what is required of them in order to succeed with an asset transfer.
"These discussions are ongoing and we have yet to receive a formal proposal from the trust."
Cairngorm Mountain is home to the UK's highest funicular railway and restaurant and attracts more than 200,000 visitors each year, providing vital rural employment.
The main basin is Coire Cas, which includes the funicular railway and six of 10 surface ski-tows. The other four tows are in the upper part of the second basic, Coire na Ciste.
HIE announced a review of uplift facilities and infrastructure at the ski centre had started earlier this year.
The agency has invested £1.7million over the past three years for repairs to buildings and to prolong the life of the operating ski-tows,
The review will also explore options for redevelopment in the lower part of Coire na Cist, following a clear-up of disused chairlifts.
Buyout bid opposed by GM Scotland
The buyout bid is being opposed by trade union GMB Scotland, which claims the takeover talks are causing disquiet among staff.
Liz Gordon, GMB officer for the Highlands, said: "Cairngorm has gone through many difficult years and is presently enjoying a level of stability that should be celebrated. We should all be supporting the long-term future of Cairngorm and its links to the community."
A spokeswoman for current leaseholders Natural Retreats said: "The GMB raises important concerns about our staff at CairnGorm Mountain.
"We are proud of our team who do a difficult job in challenging conditions and are just as much part of the local community. The ongoing discussions around the proposed community buy out have been stressful for our employees.
"Together with HIE, the landowner of the Cairngorm Estate, we have been working on a long-term sustainable plan for Cairngorm Mountain to attract people to this first-class resort.
"We appreciate there are frustrations, which have led to the proposed community buyout. As operators, we have been working hard since 2014 to stabilise an extremely seasonal business.
"We have just closed our winter season, which although significantly better than last year, still posed challenges in terms of being able to open the resort as often as we would have liked due to adverse weather.
"We are working on plans to establish year-round activities and improve the visitor experience, reducing the risk to the business if we have further poor winter seasons."