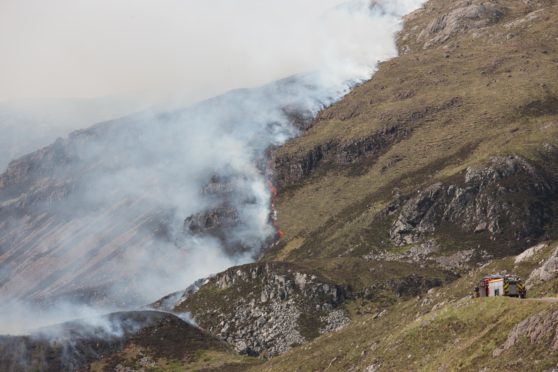 Wildfires which took hold at the weekend leaving properties without power raged on yesterday.
And a warning of an increased risk of wildfires is in place across the country until Thursday.
Crews yesterday worked to contain and extinguish a number of wildfires across the Highlands and Islands.
VIDEO: Fire crews battling three major wildfires in the Highlands
They were still in attendance in the Sligachan to Carbost area of the Isle of Skye, where a large wildfire first took hold at 9.51am on Sunday.
Firefighters were also still tackling a wildfire in the Torridon area of the Highlands ongoing since 10.30am on Sunday.
Wildfires knock out power to over 1,000 properties on the west coast
A wildfire in Achintee, Strathcarron, saw firefighters working hard with water and beaters to extinguish the grass blaze.
Engineers from Scottish and Southern Electricity Networks (SSEN) were alerted to a high-voltage fault near Achintee around 2pm on Sunday affecting 1,138 properties.
Some properties in the Shieldaig and Kishornhill area could not be restored until the fire passed and damaged electricity pole was repaired. Power was restored to all customers by 5.21pm.
Yesterday SSEN engineers were still standing by to help the fire service where required.
A spokeswoman for the energy firm said: "We would like to apologise to our customers for any inconvenience caused and thank them for their patience as we worked to restore their power as quickly and safely as possible."
Members of the public are being urged to play their part in preventing further potentially devastating fires.
Area manager Bruce Farquharson is chairman of the Scottish Wildfire Forum.
He said: "A great many people will be enjoying the outdoors in the good weather, we urge everyone to make sure that they don't increase the chance of wildfire – be aware of the risks and follow the Scottish Outdoor Access Code.
Wildfire at Aberdeenshire beauty spot believed to have been started by barbecue
"Wild and grass fires can start by the careless disposal of cigarettes and barbecues or campfires left unattended.
"They then have the potential to burn for days and devastate vast areas of land, wildlife and threaten the welfare of nearby communities.
"Many rural and remote communities, such as those in the Highland area, are hugely impacted by wildfires, which can cause significant environmental and economic damage.
"Livestock, farmland, wildlife, protected woodland and sites of special scientific interest can all be devastated by these fires – as can the lives of people living and working in rural communities."
Police were still investigating the cause of the Torridon fire yesterday. They want to trace the occupants of two campervans seen in the area. A small red van which two men had been travelling in and a white camper van believed to have a Dutch registration.